Find out more about Hawaii before you travel. Order tourist brochures then research things to do and places to stay in Hawaii.
Book a Rental Car - Check out Flights - Compare Hotel Rooms.
Choose a City in Hawaii
US Hostels:
Ideal for backpackers and those travelling on a budget: dorms, shared accommodation and private rooms.
Become an Hawaii City Guide:
You really know the Hawaii scene - where to eat, where to stay, and what to do. Tell our visitors more about the sights and delights and how to make the most of their time in Hawaii.
Hawaii at a Glance
Honolulu, Hawaii:
Situated on the southern shore of Oahu, the Honolulu area includes the historic Pearl Harbor, the downtown business district, the shops and restaurants of Chinatown, the 760-foot-high extinct volcanic crater called Diamond Head, and the 1.5-mile Waikiki Beach, perhaps the world's most famous beach
Graced with a garland of white sandy beaches woven along the waves of the majestic Pacific Ocean, Honolulu is a spellbinding vacation and business hot spot drenched in the aloha spirit.
Lodging comes in all price ranges -- from functional hostels with dorm style accommodations to luxury hotels. The best way to avoid disappointment, and stay within your budget, is to book well in advance.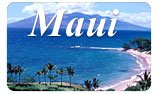 Maui, Hawaii:
Maui's endless days of sunshine and balmy year-round temperatures make it the ideal destination for a visit anytime during the year. Most travelers arrive during the summer and the period between Christmas and Easter.
With 80 gorgeous beaches nestled along a 120-mile coastline, Maui sings a siren song to every stripe of traveler. The second-largest island in the Hawaiian chain, this tropical Eden offers a bounty of natural beauty, a wide array of leisure activities, and plenty of lodging.
Hawaii Attractions
Ala Moana
Bishop Museum
Coconut Coast
Diamond Head
Downtown Honolulu
Ehukai Beach Park
Fern Grotto
Haleakala
Hale Pa'ahao
Hamakua Coast
Hanauma Bay
Hanalei Valley Lookout
Hawaii Helicopters
Heavenly Road to Hana
Honokaa/Waipio Valley
Island of Lanai
Kaanapali/Kapalua
Kailua
Kaneohe
Kilauea Point
Kohala Coast
Kona
Kualoa
Lahaina
Lanikai
Luakini Street
Lao Valley
Magic of Polynesia
Makapuu
Maui Ocean Center
Maui Sunset Dinner Cruises
Maui Tropical Plantation
Mauna Kea Summit
Na Pali Coast
National Memorial Cemetery
North Kohala
North Shore
Old Koloa Town
Paia
Pearl Harbor's Arizona Memorial
Pololu Valley Lookout
Polynesian Cultural Center
Princeville
Puuhonua O Honaaunau
Puukohala Heaiau
Sandy Beach
Sea Life Park Hawaii
Sleeping Giant
South Maui
Spouting Horn
Tree Tunnel
Upcountry Maui
Waikiki Beach
Wailua Falls
Waimea Valley Adventure Park
Waimea Canyon
Hawaii @ Travel Notes:
Travel and tourism links for Hawaii.
Honolulu, Oahu
Hawaii: A Guide to the Islands: by Lottie Tagupa.
Although Oahu is not the largest of the Hawaiian Islands, it is the most populated and the most visited. The vast majority of accommodations are located in a two-mile stretch on the south shore of Oahu called Waikiki.
Hawaii Vacation Tips: by Lottie Tagupa.
Getting the most out of the time and money you spend while vacationing can be the difference between a good vacation and a great vacation. Consider these Hawaii travel tips when planning your trip to the Hawaiian Islands.
Hawaiian Island Airports: by Lottie Tagupa.
There is no large-scale ferry service between the islands because of the distance between them, not to mention the ocean conditions that exist in Hawaii. Therefore inter-island air travel must be fast, efficient and frequent.
Hiking Diamond Head: by Lottie Tagupa.
The trail up the dormant volcano is scenic, adventurous and best of all free. The 0.7-mile hike up Diamond Head is considered a moderate climb. It'll take about an hour to reach the summit, and half that time for the return.
Sightseeing Oahu the Trolley Way: by Lottie Tagupa.
One of the best ways for those who are interested in a simplified method of getting to all the hot spots on Oahu is by the Waikiki Trolley - the fun way to get around Hawaii.
Volcanoes - The Fiery Side of Hawaii: by Margaret Malsam.
Rivers of fiery red molten lava pour down the slopes of the volcano, lighting up the inky blackness of the night. As it slithers into the ocean, billows of steam rise around the fiery spectacle like a protective fog.
Take a Big Island volcano tour from Oahu on a day trip to Hawaii's Volcanoes National Park.
Kauai, Hawaii
Kauai: The Old and the New: by Sandra Carpenter.
Maybe the ingredients you seek in a vacation mimic those of a good marriage: love; luck; lust; and laughter. That recipe makes up the sweet confection that is Kauai.
Maui, Hawaii
Love, Hawaiian Style: by Adam and Linda Jackson.
In addition to being one of the most popular honeymoon destinations in the world, Hawaii is also one of the easiest (and most romantic) places to recite or renew your vows, or participate in a commitment ceremony.
Maui Weather: by Adam and Linda Jackson.
Like all of the Hawaiian Islands, Maui has a dry Leeward (western) side and a wet Windward (eastern) side. Unlike the other islands, Maui has two of each.
Write For Travel Notes
Submit an Hawaii Travel Article:
If you're on the road or have just returned from somewhere in Hawaii, send us your updates for publication.
Sightseeing Tours, Events and Attractions.
Hawaii Travel Guides:
Browse Amazon's best-selling list of books on travel in Hawaii.
Backpackers:
Budget accommodation around the United States and Canada.
Travel by Car:
Driving distances between major cities in the United States.
Travel Industry
Add Your Tours - Add Your Property

Add a Business Listing - Add a Destination Guide - Add a Place to Stay.



If you find Travel Notes useful, please take a moment to like us on Facebook and share with your friends on social media.
North America Index - North America Tourism - North America Websites.