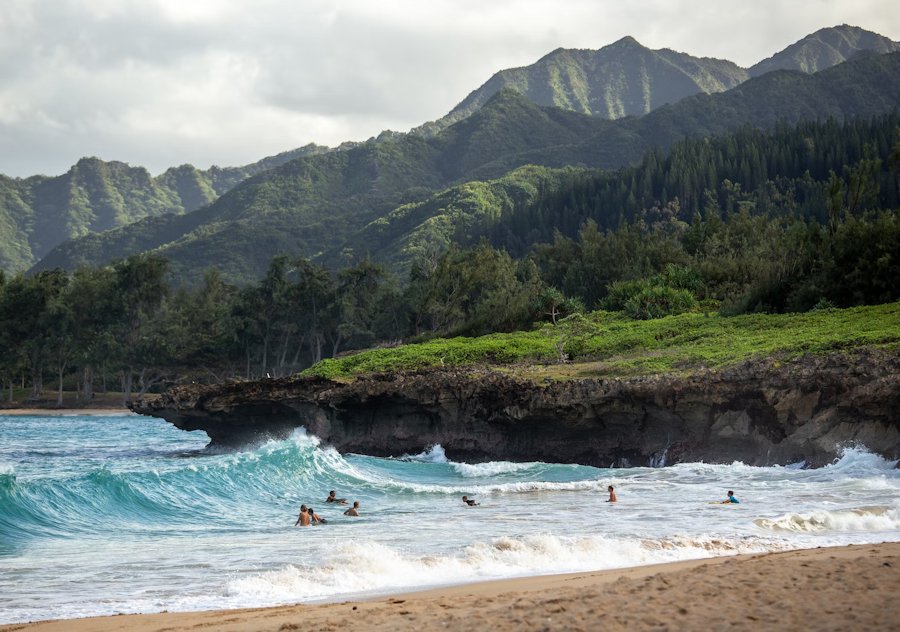 Oahu Northern Beaches, Hawaii by Luke McKeown on Unsplash.
Travel Notes: North America - United States - Hawaii Travel Notes.
Short URL: https://tnot.es/usHI
Hawaii Travel and Tourism on Travel Notes

Find Hawaii Travel and Tourist Information with links to official travel and tourism websites and state resources for visitors to Hawaii.
About Hawaii
No matter which Hawaiian island you choose to visit, or where you prefer to stay, you'll have the opportunity to experience the time of your life in Hawaii.
Just relax and enjoy the experience in the Aloha State.
Map of Hawaii
Hawaii is a group of islands located in the central Pacific Ocean, about 2,400 miles south-west of California.
The capital of Hawaii is Honolulu, on the island of Oahu.
Ahhh, Hawaii ... those celebrated islands in the Pacific Ocean a mere five hours from California.
And what do you get for those precious hours of flight?
You get year-round balmy temperatures between 80 and 90 degrees Fahrenheit.
You get infinite choices of activities and endless options of beaches.
You get boundless variations of climate to explore, from tropical rainforests to snow capped mountains.
You get the world's friendliest culture and most vivid history.
Hawaii is the 50th and most recent state to join the United States, having gained statehood on August 21, 1959.
A tropical paradise, Hawaii is a popular destination for travellers from around the world with its mix of stunning natural beauty, diverse culture, vibrant history, and warm hospitality.
Cuisine
Hawaii's cuisine is a fusion of various influences, with a focus on fresh seafood, tropical fruits, and unique flavours.
Some popular dishes include poke (marinated raw fish), kalua pig (roasted pig), and plate lunch (a meal consisting of rice, macaroni salad, and a choice of meat or seafood).
Eco Tourism
Nature enthusiasts will find plenty to explore in Hawaii.
The islands are home to diverse ecosystems, including lush rainforests, cascading waterfalls, and stunning valleys.
The Na Pali Coast on Kauai and the Road to Hana on Maui are famous scenic drives that offer breathtaking views of the islands' natural beauty.
Hawaiian Culture
Hawaii is rich in cultural heritage, influenced by Polynesian, Asian, and Western cultures.
The native Hawaiian culture is deeply rooted in the islands, and you can experience it through traditional music, hula dancing, and the unique Hawaiian language.
The Aloha spirit, which emphasizes love, peace, and hospitality, is a fundamental part of the local culture.
Hawaiian Islands
The state of Hawaii consists of eight main islands: Hawaii (also known as the Big Island), Maui, Oahu, Kauai, Molokai, Lanai, Niihau, and Kahoolawe.
Each island has its own unique features and attractions.
The islands have a pleasant tropical climate, making it an ideal destination year-round.
Outdoor Activities
In addition to its natural and cultural attractions, Hawaii also offers a range of outdoor activities such as hiking, snorkelling, scuba diving, surfing, and whale watching.
Picturesque Beaches
Hawaii is renowned for its picturesque beaches with crystal-clear waters, palm trees, and soft white sand.
Some of the famous beaches include Waikiki Beach on Oahu, Kaanapali Beach on Maui, and Poipu Beach on Kauai.
These beaches offer excellent opportunities for swimming, snorkelling, surfing, and sunbathing.
Volcanic Landscapes
The islands of Hawaii are volcanic in origin, and their volcanic landscapes provide breathtaking sights.
The most prominent volcano is Mauna Loa on the Big Island, which is one of the world's largest active volcanoes.
Visitors can explore Hawaii Volcanoes National Park to witness the power of volcanic activity and marvel at the lava flows and unique geological formations.
Visiting Hawaii is an excellent choice if you're looking for a tropical getaway with stunning natural beauty and a vibrant culture.
Suggested Itinerary for a Visit to Hawaii
Plan your visit to Hawaii according to your interests and the time you have available as each island has its own unique attractions and natural wonders to discover.
Whether you prefer relaxation on the beach, adventurous activities, or immersing yourself in Hawaiian culture, you're sure to have an unforgettable experience in Hawaii.
Island of Oahu
Start your trip on the island of Oahu, where you'll find the bustling city of Honolulu.
Explore the historic sites of Pearl Harbor, including the USS Arizona Memorial and the Battleship Missouri.
Take a stroll along the famous Waikiki Beach, visit the Honolulu Museum of Art, and hike up to the Diamond Head State Monument for panoramic views of the island.
Don't forget to try some delicious local cuisine and experience the lively nightlife in Waikiki.
Island of Maui
Take a short flight to the island of Maui, known for its stunning beaches, lush landscapes, and the famous Road to Hana.
Spend a few days relaxing on the beautiful beaches of Kaanapali or Wailea.
Explore the charming town of Lahaina, known for its historic whaling village and vibrant art scene.
Don't miss the opportunity to drive the scenic Road to Hana, where you'll encounter breathtaking waterfalls, lush rainforests, and stunning coastal views.
Island of Hawaii (Big Island)
Fly to the island of Hawaii, also known as the Big Island, to experience its volcanic landscapes and diverse ecosystems.
Visit Hawaii Volcanoes National Park to witness the power of active volcanoes, walk through lava tubes, and explore the park's unique flora and fauna.
Take a scenic drive along the Hamakua Coast, visit the stunning Waipio Valley, and relax on the black sand beaches of Punaluu.
Island of Kauai
Continue your journey to the island of Kauai, often referred to as the 'Garden Isle' due to its lush greenery and dramatic landscapes.
Explore the breathtaking Na Pali Coast by hiking, taking a boat tour, or even a helicopter ride for an unforgettable view.
Visit the Waimea Canyon, known as the 'Grand Canyon of the Pacific', and take a leisurely boat ride along the Wailua River to see the Fern Grotto.
Smaller Islands
If you have more time, you can explore the smaller islands of Molokai, Lanai, Niihau, and Kahoolawe.
Molokai offers a glimpse into traditional Hawaiian life, Lanai boasts beautiful secluded beaches and luxury resorts, while Niihau and Kahoolawe are largely uninhabited and accessible only by special permission.
Honolulu, the capital city located on the island of Oahu, is a bustling metropolis and the gateway to Hawaii for many visitors.
Map of Honolulu
It offers a blend of modern amenities, historic landmarks, and vibrant nightlife.
The Pearl Harbor National Memorial, located near Honolulu, is a significant historical site commemorating the World War II attack on Pearl Harbor.
Best Beaches on the Big Island of Hawaii
Some people who come to the Big Island of Hawaii could go home feeling a little disappointed with the island if they aren't lucky enough to discover at least one really good beach.
Best Beaches on Kaui
Kauai is the Hawaiian island used by Hollywood the most to portray long, white, sandy beaches and lush tropical areas.
The island is covered with valleys, gulches, rivers, mountains, gardens, waterfalls, parks, and even a canyon; but even with all that, the beaches are still its best feature.
Best Beaches on Maui
Maui is second in popularity and visitors only to Oahu, and for good reason. Maui has a little of something for everyone.
Hawaii is a chain of over 20 islands, of which the main islands are Hawaii, Oahu, Kauai, Maui, and Molokai.
Experience Hawaii
Hawaii's rugged slopes and abrupt changes in elevation are a result of the erosion of the volcanic surfaces, by moving water. As stream erosion has heavily dissected much of the lava surfaces, canyons lace many of the domes.
Sea cliffs cut by waves form a spectacular edge to parts of the islands and waterfalls several hundred meters high are not uncommon on the Hawaiian islands.
Hawaii's primary industry is tourism mainly due to the incredible beauty and year-round mild temperatures of the islands.
Hawaii - The Big Island
The Big Island is the newest and largest of the Hawaiian Islands.
It boasts black, green, and white sand beaches; one of the most active volcanoes in the world; and 11 of the worlds 13 climates.
It even snows on the mountains.
Kilauea Volcano (pronounced 'kil ah way ah') has a long reputation for erupting on the Big Island of Hawaii.
Kauai - The Garden Isle
Kauai, sometimes called the 'Garden Isle' because of its lush tropical vegetation, is heavily eroded into a spectacular scenery of mountains, canyons, cliffs, and waterfalls. The floor of Waimea Canyon is more than 800m below the surface of the surrounding land.
As a result of this intense erosion, Kauai is particularly rugged; with the only lowlands formed as a thin coastal fringe.
The topography of the island also creates extreme variations in precipitation from one location to another. While Mount Waialeale receives 1,234cm of rain annually, making it one of the world's wettest spots, Waimea only receives about 50cm annually; yet these two sites on Kauai are only 25km apart.
It's this dramatic physical environment that attracts an increasing number of visitors to Kauai each year.
Lanai - Pineapple Island
A very small and quiet island, Lanai is the ultimate hideaway - good for relaxing.
Maui - The Valley Isle
In Maui there is plenty of nightlife to accompany the day's pursuit of gorgeous beaches and huge volcanic craters.
Molokai - The Friendly Isle
Molokai is a small, quiet island with long, empty beaches. Home of Father Damiens famous leper colony.
Niihau - Forbidden Island
Unless invited you cannot stay on this tiny island.
Oahu - The Gathering Place
The most populated Hawaiian island, Oahu is the sun and fun capital of the Hawaiian islands with an array of sea, land and sporting activities from which to choose.
Visitors will enjoy hiking through rainforests, biking along mountain ranges and swimming in the azure blue waters of the Pacific.
There are also many historic military sites and of course many beautiful beaches and hotels.
Maui Sport-fishing:
This is the site to tackle if you intend on swapping the surfboard for rod and line.
Pearl Harbor Tours:
Honolulu, Hawaii based family-run, local sightseeing land tour company.
Hawaiin Island Cruises
Whether you just want a one night dinner and dance cruise or two weeks sailing around the Hawaiian Islands dock in here for cruise discounts.
Hawaiian Island Hopping
After more than 60 years of serving Hawaii, Aloha Airlines is no longer operating.
Snorkelling in Hawaii
Snorkelling is one of the most popular activities in Hawaii - for good reason.
Getting Married in Hawaii
Want to get married or renew your marriage vows in Hawaii? It's easier and cheaper than you think.
Hawaiian Language
The Hawaiian language is a very old and beautiful language. It is spoken only in Hawaii and is one of the officially recognised languages. The other is English.
Although Hawaiian is an official language you will not hear it spoken ordinarily. More likely would be to hear it sung, or chanted (as in hula dances).
Hawaiian Music
By learning the meaning of the words, your Hawaiian cultural experience - be it hula or song - is bound to be more inspired and meaningful.
Hawaii Travel and Tours
Panda Travel works together with Pan Tours Hawaii as part of The Panda Group; serving the Hawaii travel market since 1978.
Hawaiian waters are full of whales all year long.
The humpback whales only migrate here from December through May but pilot whales, sperm whales, false killer whales, pygmy killer whales, beaked whales, and melon headed whales are always around.
Hawaii Travel Guides - Hawaii Maps.
About Hawaii - Honolulu Weather:
Find out more about Hawaii before you travel there.
Travel Notes Online Guide to Travel
Africa - Asia - Caribbean - Europe - Middle East - North America - Oceania - South America.

The Travel Notes Online Guide to Travel helps visitors plan their trip with country and city travel guides, local tourist information, reviewed web sites, and regular travel articles.
Travel and Tourism Guides on Travel Notes
If Travel Notes has helped you, please take a moment to like us on Facebook and share with your friends on social media.


Travel & Tourism With Industry Professionals.

Idaho.