Find out more about Oregon before you travel. Order tourist brochures then research things to do and places to stay in Oregon.
Book a Rental Car - Check out Flights - Compare Hotel Rooms.
Choose a City in Oregon
US Hostels:
Ideal for backpackers and those travelling on a budget: dorms, shared accommodation and private rooms.
Become a Oregon City Guide:
You really know the Oregon scene - where to eat, where to stay, and what to do. Tell our visitors more about the sights and delights and how to make the most of their time in Oregon.
Oregon at a Glance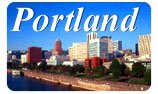 Portland, Oregon:
Whether visiting for business or pleasure, you'll find plenty to do in the Portland/Metro area and a bounty of nearby hostels, motels, hotels and bed-and-breakfasts appealing to a variety of tastes, with prices to please a range of budgets.
Ideally located where the Willamette and Columbia rivers meet in the Pacific Northwest, Portland, Oregon provides visitors and residents alike with the kind of social and cultural scene one expects from a cosmopolitan city while still retaining many of the charms and natural wonders of a small town.
Summer is by far the busiest season in Portland. Beginning in early June with the annual Portland Rose Festival, visitors flock to this beautiful city to experience its beauty and tranquillity.
Oregon @ Travel Notes:
Travel and tourism links for Oregon.
Portland, Oregon
Books, Beer, Bikes and Blooms: by Leon Schwarzbaum.
The Chamber of Commerce may call it 'City of Roses', but with 12 colleges and universities and a young professional population, Portland is also known for its contemporary rock 'n roll, hip coffee houses, unconventional art and world-class book stores.
Write For Travel Notes
Submit a Oregon Travel Article:
If you're on the road or have just returned from somewhere in Oregon, send us your updates for publication.
Sightseeing Tours, Events and Attractions.
Oregon Travel Guides:
Browse Amazon's best-selling list of books on travel in Oregon.
Backpackers:
Budget accommodation around the United States and Canada.
Travel by Car:
Driving distances between major cities in the United States.
Travel Industry
Add Your Tours - Add Your Property

Add a Business Listing - Add a Destination Guide - Add a Place to Stay.



If you find Travel Notes useful, please take a moment to like us on Facebook and share with your friends on social media.
North America Index - North America Tourism - North America Websites.