Smith Rock, Oregon by Venti Views on Unsplash.
Travel Notes: North America - United States - Oregon Travel Notes.

Short URL: https://tnot.es/usOR
Oregon Travel and Tourism on Travel Notes

Find Oregon Travel and Tourist Information with links to official travel and tourism websites and state resources for visitors to Oregon.
About Oregon
Also known as the Beaver State, Oregon State University's athletic teams are called the Beavers; after nature's engineer, so unfortunately over trapped by early settlers.
The state capital of Oregon is Salem.
Map of Oregon
States neighbouring Oregon: Washington, Idaho, Nevada and California.
Oregon comes from a native American word or tribe.
The official website of the State of Oregon is the front door to Government offices in Oregon state.
Bend
Located in the centre of Oregon, the City of Bend neighbours Mt. Bachelor, the Deschutes River, and the Newberry National Volcanic Monument.
High Desert Museum
Six miles south of Bend, visitors to the High Desert Museum can learn about the Old West and what makes the land of Oregon the way it is.
Columbia River
The Columbia River is Oregon's principal river and forms most of the northern boundary with Washington State.
Columbia River Gorge National Scenic Area
The Columbia River Gorge is a spectacular river canyon, eighty miles long and up to 4,000 feet deep, that meanders past cliffs, spires, and ridges set against nearby peaks of the Pacific Northwest's Cascade Mountain Range.
Oregon State Parks
The mission of the Oregon Parks and Recreation Department (OPRD) is to provide and protect outstanding natural, scenic, cultural, historic and recreational sites for the enjoyment and education of present and future generations.
Oregon Parks and Recreation Department:
Salem Headquarters, 725 Summer St. N.E. Suite C, Salem, OR 97301.
It is said that Oregon's State Parks are among the most popular in the United States.
Hike The Oregon Coast Trail
The Oregon Coast Trail is an iconic hiking route that stretches along the entire 362-mile Oregon coastline.
The trail traverses sandy beaches, forested trails, stunning headlands, and 28 coastal towns.
Some sections are disconnected, inconvenient, unsafe, or seasonally inaccessible and require careful route planning.
Scenic and Regional Trails in Oregon
Oregon has an extensive network of federal, state and local trails and some are state-designated scenic and regional trails.
Scenic trails showcase Oregon's outstanding natural features including rivers, mountains, waterfalls and the Pacific Ocean.
Oregon's regional trails connect recreation sites, schools and services and are alternative transportation routes.
Southern Oregon
Southern Oregon is home to world-class fishing and rafting rivers, mountains for skiing, biking and hiking, and green valleys that produce award-winning wines.
It's also home to North America's deepest lake and Oregon's only National Park, Crater Lake, which graces the back of Oregon's state quarter.
Southern Oregon Wineries and Vineyards
Vineyards and wineries in Southern Oregon and Umpqua Valley are fast becoming some of the finest wine producing regions in the country.
Oregon's wineries are generally small, decentralised and often winemaker-owned.
Many of its wine-growing regions lie in valleys between the Cascade Mountains and the Coast Range of Oregon.
Travel Oregon
When planning a trip to Oregon, be prepared to take in the beauty of it all - wild rivers, scenic bikeways, mountain vistas, abundant farmlands - and show your love for the people who make this place so special.
Made up of seven diverse regions, Oregon has the ocean, mountains, valleys, high desert, cities, small towns, and almost everything in between.
Official Guide to Oregon Travel and Tourism
Whether you're planning an epic road trip or seeking a hideaway to escape it all, the Travel Oregon Official Visitor Guide includes everything you need to plan a visit to Oregon.
Where to Stay in Oregon
Once you've planned the perfect trip to Oregon, you may want to find the perfect pillow; a special place to lay your head.
Eugene is situated in the picturesque Willamette Valley, in mid-western Oregon, where tall fir trees abound and several mountains are visible from the valley.
Eugene, Cascades and Coast
Stretching from the central Oregon Coast to the towering Cascade Mountains, anchored by Eugene and Springfield in the South Willamette Valley, the Eugene, Cascades and Coast region is a place of happy contrasts.
The Convention and Visitors Association provide listings of events, attractions and entertainment in the region.
Lane County
Lane County is filled with all of Oregon"s wonders.
Visit spectacular mountains with raging whitewater tucked into their valleys, dramatic and pristine ocean beaches, and fabulous vineyards nestled among winding country roads.
Ski down majestic mountain peaks, hike old-growth forest trails, navigate rushing rivers and kick up some sand along miles of ocean shores.
Experience world-class arts and culture. Cheer on record-breaking athletes or set off on a course of your own.
Then wind down and taste Oregon-grown culinary delights and award-winning wines.
Visit Eugene
From breathtaking scenery to museums and art galleries, Eugene is a unique blend of country and culture.
Take in a live performance at a community theatre, catch international stars at the Hult Center for the Performing Arts, or step into art galleries displaying the works of local, regional and international artists.
Enjoy an old-fashioned paddle-wheel river boat cruise or dinner on a train while watching a comedy show or a murder mystery acted by the train's restaurant employees.
Tune into the musicians at a variety of clubs, pubs and restaurants around town or tour the beautiful vineyards and wineries within 30 miles of town.
Eugene Activities
Camping, hiking, swimming, jogging and biking are popular activities at Eugene's neighborhood parks, and there is even a hot springs for a therapeutic break.
Golfers can play almost anywhere near Eugene - from small par 3 courses to PGA level country clubs.
Rated one of the top ten cycling cities in the U.S., Eugene has miles of scenic biking, walking and jogging trails.
The paths are built along the Willamette River, through parks and gardens, and even next to shopping centers.
Nothing matches the world-class track meets at the University of Oregon's Hayward Field, site of several Olympic Trial events.
From snow skiing to deep sea fishing, Eugene offers a myriad of recreational opportunities.
Nothing beats white-water rafting or kayaking down the magnificent McKenzie River, fly fishing for rainbow trout in one of the many nearby lakes or deep sea fishing in the Pacific Ocean.
Drive east for snow skiing and snow-boarding at several winter mountain resorts, or explore the ancient ghost towns and abandoned stagecoach stops prevalent in the high desert area of eastern Oregon.
For a day of shopping, browse the local boutiques at Eugene's legendary Saturday Market, where farmers and artisans bring their wares to town.
Poke your head into a downtown shop or visit Eugene's expansive malls.
Eugene For Kids
Kids love the WAVE swimming and-wading pool, romps on the banks of the Willamette River, the Science Factory Children's Museum & Planetarium, and Eugene's multi-terrain skateboard parks.
Where to Stay in Eugene
Americas Best Value Inn Eugene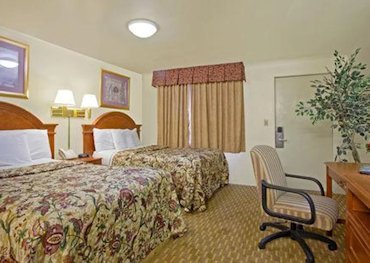 Americas Best Value Inn Eugene: 1140 West 6th Aveneue, Eugene, Oregon.
Convenient Eugene hotel with free breakfast near downtown.
The Americas Best Value Inn offers comfortable guestrooms and suites with stylish decor and modern furnishings.
Graduate Eugene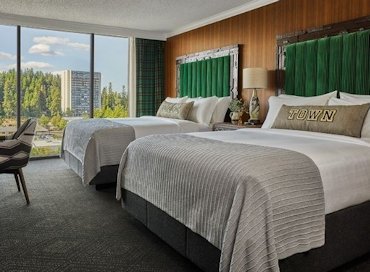 Graduate Eugene: 66 East 6th Avenue, Eugene, Oregon.
In guestrooms, it's greens and Greeks, with elements that celebrate Oregon's lush landscapes, Pacific Northwest heritage and the school's famed track and field program.
Located on 6th Avenue, Graduate Eugene is next door to the Hult Center and just a hop from the University of Oregon campus.
Valley River Inn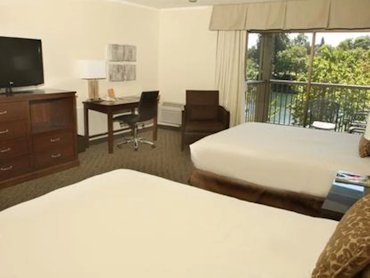 Valley River Inn: 1000 Valley River Way, Eugene, Oregon.
Unique resort-style hotel and conference centre located on the banks of the scenic Willamette River with spacious guest rooms and suites, with patios or balconies.
Situated just a few miles from Downtown Eugene on a scenic pedestrian river walk, the Valley River Inn rooms offer garden, pool, or river views.
Crater Lake
Native Americans witnessed the lake's formation 7,700 years ago, when a violent eruption triggered the collapse of a tall peak.
Fed by rain and snow, Crater Lake is Oregon's only National Park, south-east of Eugene and contains the country's deepest lake.
Crater Lake Lodges
Begin your journey to the Crater Lake National Park by lodging in either the historic Crater Lake Lodge or in one of the peaceful cabins or campgrounds at Mazama Village.
Mount Hood
This extinct volcano in the Cascade Range of northern Oregon, is the state's highest mountain (3,426m), although the highest point in the Cascades itself is Washington's Mount Rainier (4,392m).
Timberline
Set high on the shoulder of one of the most iconic peaks in the Pacific Northwest, Timberline continues to offer one of the most exciting and unique high-alpine mountain experiences in North America.
As a recreational centre, Mount Hood attracts skiers and climbers to the area all year round. The Shining was also filmed here.
Portland is Oregon's largest city, although the liberal Waterfront Park gives it a feeling of family and freedom.
Known as the City of Roses for the 500 plus varieties cultivated at the International Rose Test Garden.
Visit Portland
At the end of Waterfront Park, the Old Town has been renovated to look like new, or rather, like it used to.
Although Portland is the transportation hub of Oregon, nature is always close at hand.
Mount Hood and other snow-capped peaks of the Cascade Range are visible from the city and Columbia Gorge is not far away.
Oregon Zoo
The 64-acre Oregon Zoo is only five minutes from downtown Portland on Highway 26 West - also called Sunset Highway.
With annual attendance of more than 1.5 million, the zoo is the top paid attraction in the Pacific Northwest.
Portland Neighbourhoods
Portland neighbourhoods are known for their vibrancy and uniqueness, each with a distinct sense of place.
Locals will tell you that you haven't truly been to Portland until you've connected with its diverse communities.
Portland Transportation
TriMet is the Portland area's public transit system operating more than one hundred bus routes.
The MAX light rail trains connect Gresham, Beaverton and Hillsboro with downtown and Portland International Airport (PDX).
Where to Stay in Portland, Oregon
The Rogue River is located in south-western Oregon and flows 215 miles from Crater Lake to the Pacific Ocean.
The 84 mile, Congressionally designated 'National Wild and Scenic' portion of the Rogue begins 7 miles west of Grants Pass and ends 11 miles east of Gold Beach.
Activities on The Rogue
The Rogue River is a favourite destination in the Northwest for Steelhead and Salmon fishing.
Rafting The Rogue
The Rogue is magnificent with lively rapids, deep forests and dramatic canyon views.
The sublime beauty of the canyon is unforgettable, almost mystical.
Raft the wildest section of the Rogue, floating from near the village of Galice to the take-out near Agness.
The wild and scenic Rogue River in Southern Oregon is the classic multi-day rafting trip of the West.
Northwest Rafting Company was founded in 2009 by Zachary Collier, Joe Daly and Dick Linford; three men with a passion for the Northwest and the amazing rivers that run through it.
Where to Stay
Galice Resort
Sitting on the deck above the river watching the wildlife, while sipping a cold drink and eating a great meal after a day of rafting makes the family-owned, Galice Resort a little special.
The Riverside Inn
A full service resort and conference centre, the Riverside Inn boasts 159 spacious guestrooms, honeymoon and hospitality suites; nearly all of them with private balconies overlooking the Rogue River.
The docks directly in front of the resort serve as the launching site for all Hellgate Jetboat Excursions on the Rogue River.
Established by Methodist missionaries who had migrated west over the Oregon Trail in 1840, Salem became the capital of the Oregon Territory in 1851.
The City of Salem, capital of Oregon and the state's second largest city, lies in the center of the lush Willamette River valley, 47 miles from Portland.
Salem offers a wide array of restaurants, hotels and tourist attractions, ranging from historic sites and museums to events that appeal to a wide variety of interests - from sports tournaments to Arts Fairs, theatre and music.
Visit Salem
Salem offers visitors colourful gardens, unique children's activities, historical museums and wineries reminiscent of France.
If you're looking for the authentic Oregon experience, look no further than Travel Salem, for the most Oregon part of Oregon.
Oregon Travel Guides - Oregon Maps.
About Oregon - Oregon Weather:
Find out more about Oregon before you travel there.
Travel Notes Online Guide to Travel
Africa - Asia - Caribbean - Europe - Middle East - North America - Oceania - South America.

The Travel Notes Online Guide to Travel helps visitors plan their trip with country and city travel guides, local tourist information, reviewed web sites, and regular travel articles.
Travel and Tourism Guides on Travel Notes
Travel Professionals Based in Oregon.
If Travel Notes has helped you, please take a moment to like us on Facebook and share with your friends on social media.


Travel & Tourism With Industry Professionals.

Pennsylvania.