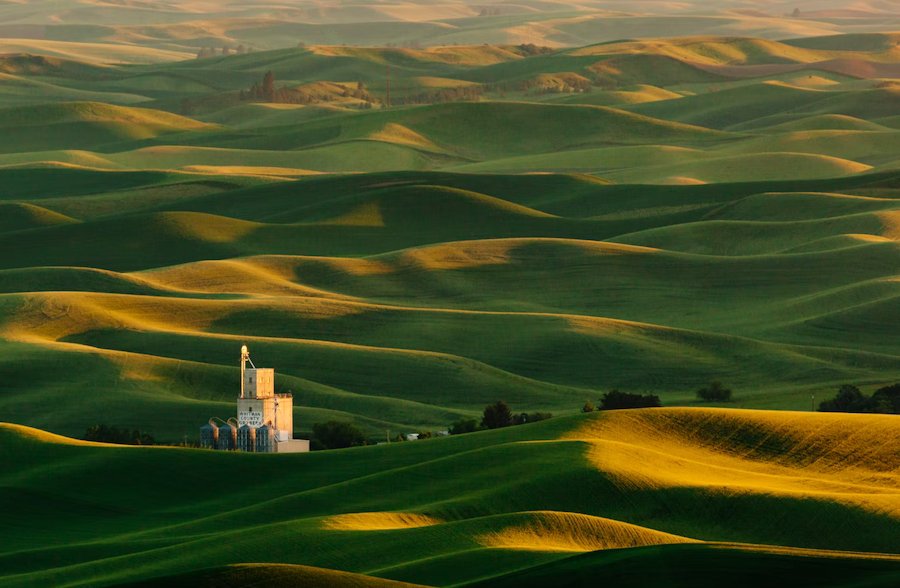 Steptoe Butte, Washington State by Dave Hoefler on Unsplash.
Travel Notes: North America - United States - Washington State Travel Notes - Updated 17 July, 2023.

Short URL: https://tnot.es/usWA
Washington State Travel and Tourism on Travel Notes

Find Washington Travel and Tourist Information with links to official travel and tourism websites and state resources for visitors to Washington State.
About Washington State
Also known as the Evergreen State, Washington State is famed for its abundant evergreen forests.
The state capital of Washington is Olympia.
Map of Washington State
States neighbouring Washington: Idaho and Oregon. Washington also borders Canada.
Named after the nearby Olympic Mountains, Olympia was made the capital of Washington Territory in 1853 and became the state capital when Washington entered the union in 1889.
The largest exhibit at the Washington State History Museum invites visitors to take a walk through time.
Explore some of the state's earliest history including a look at ancient artifacts such as Clovis Points; view a variety of artifacts from Native cultures; hear first-person stories of migration and immigration; learn about the state's geology; and much more.
The Cascade Mountains splits the state into rural dry-siders and cosmopolitan wet-siders.
If you're into hiking and biking, or swimming and boating, Washington has it all. It really is a state for the great outdoors.
Washington's Ultimate Roadtrip
Those who don't even get out of their cars to order hamburgers and fries will love the Cascade Loop, a 400-mile scenic route that crosses the Cascade Range, as US 2 and Route 20; the North Cascades Highway.
Mt Baker
Breath-taking beauty beckons, in the Mt. Baker area. Weather changes can be frequent so visitors to the area are advised to prepare accordingly, by bringing both light and heavier clothing -- along with light raingear, even in summer.
The Mt. Baker-Snoqualmie National Forest offers hiking, backpacking, mountain climbing, mountain biking, white-water rafting/kayaking, fishing (lake and river), skiing (downhill and cross-country), snowboarding, snow-shoeing and snowmobiling, not to mention phenomenal photography!
Mt Baker Lodging
From modest to luxury getaways, Mt. Baker Lodging is your source for private, self-catered, fully equipped cabins, cottages, condos, chalets and executive vacation rental home accommodations at the gateway to Mount Baker.
Located minutes from the Glacier Mountain Village, in a lush forest and scenic mountain valley. All properties are privately owned, completely self-contained and individually unique.
Mount Ranier
The king of Mount Rainier National Park is the dormant volcano, Mount Rainier.
Native Americans knew a thing a two when they called it Tahoma, or mountain of God. To most Washingtonians today, its simply referred to as 'The Mountain'.
Enjoy hiking the hundreds of trails near and inside Mt. Rainier National Park, view the many waterfalls, or enjoy winter sledding and snowshoeing.
Visit Rainier
No trip to Washington State is complete without a Mount Rainier experience.
Stroll through a temperate inland rainforest this spring. Hike with the wildflowers and gaze upon powerful waterfalls this summer.
Marvel at the fall colors each autumn. Discover epic skiing, snowboarding, and snowshoeing each winter. And fall in love with the world-class vistas that re-define spectacular year-round.
Horse Riding
Covering all terrains in the Elbe Hills, EZ Times horse trails range from easy going to harder ones for more experienced horse riders.
Some trails come up so close to Mt. Rainier that you can almost reach out and grab the snow off her.
Located 55 miles south of Seattle, on the way to Mt. Rainier National Park, the Northwest Trek Wildlife Park is a 615-acre park with a little bit of everything: lakes, trails, meadows and plenty of animals.
Open 9:30am daily mid-February through October, and Friday to Sunday in November through to mid-February and on selected holidays.
Where to Stay at Mount Ranier
Alexander's Lodge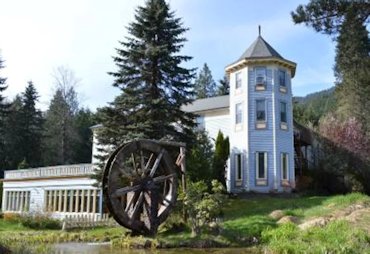 Alexander's Lodge at Mount Ranier: 37515 State Road 706 East, Ashford, Washington.
Be aware that this historic hotel at Mount Rainier is close to Paradise entrance. It takes about two hours to drive from the lodge to Crystal Mountain or Sunrise.
Rooms at Alexander's Lodge are not like standard hotel rooms, each one is unique. Lower priced rooms are usually smaller, so choose wisely.
Mount Rainier Cabin Rentals
Seven beautiful vacation rental homes nestled in the shadow of Mt. Rainier are avaiable at Three Bears Cabins, just outside the year-round Paradise entrance to Mt. Rainier National Park in Ashford, WA.
Hotels in Ashford, Washington.
Mount St Helens
On May 18, 1980 this active volcano, in the Cascade Range, blew its top off. The blast was so violent it claimed at least sixty lives and destroyed all life within 70 square miles of area.
The mountain is not so high now, although it was elevated to National Volcano Monument status in 1982.
Olympic National Park
Get out of the car and enjoy the beauty of nature on foot; there's no scenic loop in this park.
What you do have is the rugged Pacific coast, temperate rain forests, snow-capped mountains and plenty of rainfall.
Washington State is named after George Washington.
Access Washington State
Wa.gov is the official website of Washington State, with easy access to online state services, government agencies, and helpful guides to get things done.
Anacortes
Anacortes sits in the rain shadow of the Olympic Mountains and is blessed with more sun and less rain than other north-west regions.
Situated on a drive-to island, Anacortes is a vibrant coastal community offering the ultimate Northwest getaway-from seaside recreation to small-town charm.
Dungeness Wildlife
The Dungeness National Wildlife Refuge is located near Sequim in Clallam County, Washington, on the Strait of Juan de Fuca.
The 631 acres of the refuge include Dungeness Spit, Graveyard Spit, and portions of Dungeness Bay and Harbor.
San Juan Islands
Lime Kiln Point State Park is where it's at for whale watching.
Ferries depart from Anacortes; with San Juan Islands the last stop, after Lopez, Shaw, and Orcas Islands.
Sequim Bay
Sunset Marine Resort is a an Olympic Peninsula destination with a collection of unique vacation rentals located on the beautiful east shore of Sequim Bay.
Nestled along the shore line of Sequim Bay, the holiday cabins offer a quiet getaway that many dream about.
Washington Tourism
State of Washington Tourism is the official Destination Marketing Organization for the State of Washington.
Seattle is built on a series of hills between Puget Sound and Lake Washington.
City of Seattle
Two floating bridges connect the City of Seattle with the east side of the lake, and ferries connect the city with the Kitsap Peninsula, islands in Puget Sound, and Victoria (British Columbia).
The marvellous setting is crowned with the mountains of Olympic National Park to the west, and the Cascade Range, which includes Mount Rainier, to the east.
As the most important city of the Pacific north-west, Seattle has a thriving culture for all tastes.
Seattle Attractions
Pike Place Market
Winter, spring, summer and fall, the Pike Place Market (often called the soul of Seattle) is open seven days a week, closing only on Thanksgiving, Christmas and New Year's Day.
Seattle Aquarium
Get face-to-fin with marine life in Seattle. Located on Pier 59.
The region's premier resource for hands-on marine experiences and conservation education, the Seattle Aquarium offers fun, exciting ways to discover more about the amazing Puget Sound and the world's ocean.
Seattle Center
The site chosen for the 1962 World's Fair is rich in local history. Since the early pioneer days, there have been three significant phases of redevelopment, which have transformed The Prairie into Seattle Center; home to the finest cultural and educational organizations, sports teams, festivals, community programs and entertainment facilities in Seattle.
Visit Seattle
Seattle is a dynamic, urban city surrounded by unmatched natural beauty. As a partnership-based organization, Visit Seattle connects more than 1,000 local businesses, their products and services with the lucrative visitor market.
Washington Park Arboretum
A spectacular urban green space on the shores of Lake Washington, just east of downtown Seattle and south of the University of Washington' the Washington Park Arboretum is a welcome oasis of tranquility.
Jointly managed by the University of Washington Botanic Gardens and the City of Seattle, its 230 acres contain a dynamic assortment of plants, some found nowhere else in the Northwest.
Take a walk through the Arboretum and discover this beautiful living collection.
The Graham Visitors Center contains an information desk, and a gift shop managed by the Arboretum Foundation.
The Japanese Garden, located at the south end of the Arboretum has an entrance fee and is managed by the City of Seattle.
Flying to Seattle
A full-service commercial airport located south of the U.S.-Canada border, Bellingham International Airport: (BLI) is 90 miles north of Seattle, Washington and only 39 minutes by commuter aircraft to SeaTac Airport.
Public transit bus routes serve Seattle-Tacoma International Airport (SEA) outside Door 6, by Baggage Carousel 5.
Seattle to Vancouver
If you're in Seattle for a while it could be worth visiting Vancouver, in Canada. It's only three to four hours on a bus.
You could also go to Victoria by ferry (2hrs 45mins) or let the train take the strain.
Amtrak
The Amtrak Cascades train runs from Vancouver to Eugene, Oregon (466 miles) and passes through Seattle's historic King Street Station, in Pioneer Square.
Quick Shuttle
Quick Coach Lines operate a Quick Shuttle Express from Seattle to Vancover.
Victoria Clipper Ferry
FRS Clipper offers the only direct fast ferry service between Seattle and Victoria, British Columbia; the Victoria Clipper.
Where to Stay in Seattle
Salish Lodge and Spa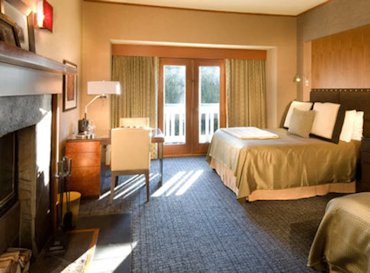 Salish Lodge and Spa: 6501 Railroad Ave SE, Snoqualmie, Washington.
A mere thirty miles from Seattle, this elegant escape nestled in nature features all the finest amenities of a luxury hotel.
Slip away to the Salish Lodge and Spa, where a romantic mountain retreat awaits you.
Washington State Travel Guides.
About Washington State - Washington Weather:
Find out more about Washington State before you travel there.
Travel Notes Online Guide to Travel
Africa - Asia - Caribbean - Europe - Middle East - North America - Oceania - South America.

The Travel Notes Online Guide to Travel helps visitors plan their trip with country and city travel guides, local tourist information, reviewed web sites, and regular travel articles.

West Virginia.
Travel and Tourism Guides on Travel Notes
Travel Professionals Based in Washington.
If Travel Notes has helped you, please take a moment to like us on Facebook and share with your friends on social media.


Travel & Tourism With Industry Professionals.