Find out more about Kansas before you travel. Order tourist brochures then research things to do and places to stay in Kansas.
Book a Rental Car - Check out Flights - Compare Hotel Rooms.
Choose a City in Kansas
US Hostels:
Ideal for backpackers and those travelling on a budget: dorms, shared accommodation and private rooms.
Become a Kansas City Guide:
You really know the Kansas scene - where to eat, where to stay, and what to do. Tell our visitors more about the sights and delights and how to make the most of their time in Kansas.
Kansas at a Glance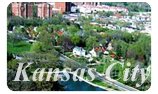 Kansas City, Missouri:
When most people speak of Kansas City they're referring to the part of the city on the Missouri side, where the airport, sports teams, and most businesses are based.
Combining the shopping, attractions, dining and diversity of a major metropolitan area with the friendliness and cost of a medium-sized Midwestern town, Kansas City (Missouri side) offers leisure and business travellers a host of options.
Kansas City Attractions
Abilene
American Royal Museum
Antique Mall
Build-A-Bear Workshop
Contemporary Art Museum
Cool Crest
Cosmosphere
Crown Center Exhibition Hall
Eisenhower Center
Great Mall of the Great Plains
Hallmark Visitors Center
Harrah's
Harry S. Truman Farm Home
Harry S. Truman Library
Historic Liberty Jail
Historic Weston Brewery
Jackson County
Jesse James Historic Sites
Kansas City Blades - Hockey
Kansas City Golf Guide
Kansas City Museum
Kansas City Royals Baseball
Kansas City Trolley
Kansas City Zoo
Kelly's
Liberty Square
Natural History Museum
Negro League's Baseball Museum
Nelson-Atkins Museum of Art
NCAA Visitors Center
Paradise Point Golf Complex
Plaza Riverwalk
Quantril's Raid - Self Guided Tour
River Market
Russell County
Sac and Fox Casino
Station Casino
Strawberry Hill Museum
The Plaza
Toy and Miniature Museum
Westport
Wornall House Museum
Kansas @ Travel Notes:
Travel and tourism links for Kansas.
Kansas City
Gamin' on the River: by Leon Schwarzbaum.
Believing that gambling (the industry calls it gaming) is somehow less sinful if conducted on the water, governmental authorities have legalized casino gambling on boats, and issued licenses at more than 30 locations along the extended Mississippi system.
Kansas City, Here I Come: by Leon Schwarzbaum.
The visitor may be aware of the political boundary that runs between the two halves of Kansas City only if he finds himself on State Line Road, and then only if someone points it out.
Two of the three airports are in Missouri and one is in Kansas.
Write For Travel Notes
Submit a Kansas Travel Article:
If you're on the road or have just returned from somewhere in Kansas, send us your updates for publication.
Sightseeing Tours, Events and Attractions.
Kansas Travel Guides:
Browse Amazon's best-selling list of books on travel in Kansas.
Backpackers:
Budget accommodation around the United States and Canada.
Travel by Car:
Driving distances between major cities in the United States.
Travel Industry
Add Your Tours - Add Your Property

Add a Business Listing - Add a Destination Guide - Add a Place to Stay.



If you find Travel Notes useful, please take a moment to like us on Facebook and share with your friends on social media.
North America Index - North America Tourism - North America Websites.