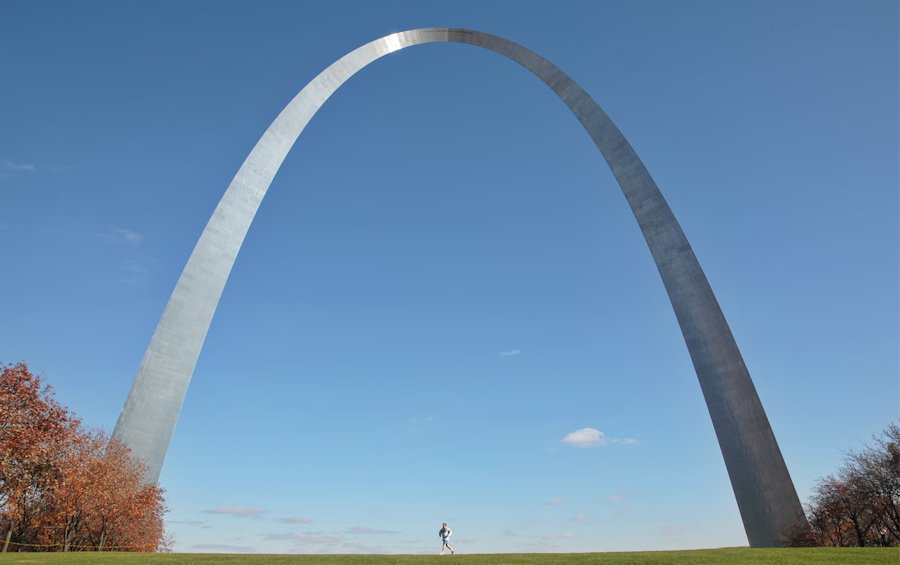 St. Louis, Missouri by Robert Linder on Unsplash.
Travel Notes: North America - United States - Missouri Travel Notes.


Short URL: https://tnot.es/usMO
Missouri Travel and Tourism on Travel Notes

Find Missouri Travel and Tourist Information with links to official travel and tourism websites and state resources for visitors to Missouri.
About Missouri
From the vibrant cities of Kansas City and St. Louis to scenic outdoor destinations of the Ozarks and Mississippi River, Missouri has something for everyone.
Also known as the Show Me State, after Representative Willard Van Diver was credited with the famous expression "I'm from Missouri, you've got to show me!"
States neighbouring Missouri: Oklahoma, Kansas, Nebraska, Iowa, Illinois, Kentucky, Tennessee and Arkansas.
Map of Missouri
Missouri is a state with a rich history, diverse geography, vibrant cities, and a blend of cultural and recreational attractions.
The state capital of Missouri is Jefferson City.
Missouri is a state located in the Mid-western region of the United States.
Missouri is bordered by Iowa to the north, Illinois to the north-east, Kentucky to the south-east, Tennessee and Arkansas to the south, Oklahoma to the south-west, Kansas to the west, and Nebraska to the north.west.
Whether you're interested in history, outdoor activities, or urban experiences, Missouri is sure to please.
Culture and Attractions
Missouri offers a variety of cultural and recreational attractions.
The Gateway Arch in St. Louis is a popular landmark and symbolises the westward expansion of the United States.
The state is also known for its music, particularly jazz and blues, which have deep roots in cities like Kansas City and St. Louis.
Other notable attractions include the Missouri Botanical Garden, Silver Dollar City theme park, the Mark Twain Boyhood Home and Museum, and the Ozark National Scenic Riverways.
Economy
Missouri has a diverse economy, with major sectors including manufacturing, agriculture, services, and transportation.
The state is home to several major corporations, including Anheuser-Busch InBev, Emerson Electric, and Monsanto.
Agriculture plays a significant role, with Missouri being a leading producer of soybeans, corn, and cattle.
Geography
Missouri has diverse geographical features.
The state is bisected by the Missouri River, and the Mississippi River forms its eastern border.
The Ozark Mountains cover a significant portion of southern Missouri, offering picturesque landscapes, hiking trails, and recreational opportunities.
History
Missouri played a significant role in the westward expansion of the United States.
It was acquired as part of the Louisiana Purchase in 1803 and became a state in 1821.
The city of St. Louis was a major hub for fur trading and exploration in the 19th century, and the Lewis and Clark Expedition famously began their journey from St. Louis in 1804.
Major Cities
The largest city in Missouri is Kansas City, which is situated on the western edge of the state.
Kansas City is known for its jazz heritage, barbecue, and sports teams.
St. Louis, located in the eastern part of the state, is another major city and is famous for its iconic Gateway Arch, historical sites, and vibrant cultural scene.
Sports
Missouri has a strong sports culture, with professional teams in baseball, football, hockey, and soccer.
The St. Louis Cardinals are a storied Major League Baseball team, while the Kansas City Chiefs are a successful National Football League team.
The state is also home to the St. Louis Blues, an NHL team, and Sporting Kansas City, a Major League Soccer team.
From vibrant cities to scenic landscapes, these are some highlights you can experience when visiting Missouri.
Whether you're interested in history, outdoor activities, or vibrant city life, Missouri has something to suit a wide range of interests.
Branson
Known as the 'Live Entertainment Capital of the World', Branson is a popular tourist destination with its numerous theatres and shows.
Enjoy live music performances, comedy acts, and magic shows.
Additionally, the beautiful Ozark Mountains surrounding Branson provide opportunities for outdoor activities such as hiking, fishing, and boating.
Jefferson City
The capital of Missouri, Jefferson City, is situated on the banks of the Missouri River.
Explore the Missouri State Capitol building, visit the Missouri State Museum, or take a stroll through the historic downtown area to admire its charming architecture.
Kansas City
Kansas City is famous for its barbecue, jazz music, and rich cultural heritage.
Visit the Nelson-Atkins Museum of Art, explore the historic Country Club Plaza, or enjoy live jazz performances in the vibrant 18th and Vine District.
Lake of the Ozarks
Located in central Missouri, the Lake of the Ozarks is a vast reservoir with more than 1,150 miles of shoreline; making it a popular destination for boating, fishing, and water sports.
The lake area also offers golf courses, resorts, and plenty of waterfront dining options.
Mark Twain National Forest
For nature enthusiasts, a visit to the Mark Twain National Forest is a must.
Located in southern Missouri, this forest covers over 1.5 million acres and offers hiking trails, camping sites, and opportunities for wildlife viewing.
It's a perfect destination for outdoor adventures and immersing yourself in nature.
St. Louis
Start your visit in St. Louis, one of the largest cities in Missouri.
The iconic Gateway Arch is a must-see attraction, offering stunning views of the city from its observation deck.
Explore the City Museum, visit the St. Louis Zoo, or catch a baseball game at Busch Stadium, home of the St. Louis Cardinals.
Hannibal
Known as the boyhood home of famous author Mark Twain, Hannibal is a small town along the Mississippi River.
Explore the Mark Twain Boyhood Home and Museum, take a riverboat cruise, or go on a cave tour in Mark Twain Cave, one of the many caves in the area.
Saint Louis was founded as a trading post, below the confluence of the Mississippi, Missouri, and Illinois rivers, by the French fur trader Pierre Laclede.
St. Louis History
St Louis was French and Spanish before it was American.
Even before European explorers travelled the river, the land was home to the Mississippians; a mighty Indian civilisation of mound builders.
Lewis and Clarke
Saint Louis was the starting point for the Lewis and Clarke Expedition, and the opening of the West; the towering Gateway Arch symbolises this, at the museum of westward expansion.
From 1804 to 1806, Meriwether Lewis, accompanied by co-captain William Clark, the Shoshone guide Sacajawea, and thirty-two men, made the first trek across the Louisiana Purchase, mapping the rivers as he went; tracing the principal waterways to the sea, and establishing the American claim to the territories of Idaho, Washington, and Oregon.
Explore St. Louis
There are five Visitor Information Centers throughout the St. Louis area.
The mailing address is Explore St. Louis, 701 Convention Plaza, Suite 300, St. Louis, MO 63101.
Visit Saint Louis
Gateway Riverboat Cruises give you the chance to view St. Louis from the Mississippi River.
Back on dry land you can visit the Old Courthouse and St. Louis' oldest church; the Old Cathedral.
The cobble stone Laclede's Landing area has a number of restaurants, bars and a Video Game Museum.
For lovers of the 'offbeat' the dog museum, giant teeth, and a hall of fame dedicated to bowling top the hit parade of unusual attractions in St. Louis.
St. Louis Dining
St. Louis is famous for its thousand one-of-a-kind restaurants. So grab a knife and fork, take a seat and hold on to your taste buds.
Missouri is named after the Missouri River, an Algonquian name for a group that lived near the mouth of the river.
Missouri State Archives
The Missouri State Archives is the official repository for state records of permanent and historical value.
Its mission is to foster an appreciation of Missouri State history and illuminate contemporary public issues by preserving and making available the state's permanent records to its citizens and their government.
Find Yout Missouri
Friendly. Unassuming. Full of surprises. That's one side of Missouri. Find Your Missouri and plan a vacation for how you like to operate.
Missouri State Parks
Visitors to Missouri's state historic sites have a wealth of experiences awaiting them, from touring Civil War battlefields to seeing where Harry S Truman and Mark Twain were born.
Of the 36 Missouri State Historic Sites, nearly two dozen have interpretative tours designed to give visitors an inside look and better understanding of the events that happened there.
Pony Express National Museum
On April 3, 1860, a lone rider left on horseback from the gates of the Pikes Peak Stables in St. Joseph, Missouri.
The riders travelled 2,000 miles west to Sacramento, California.
These brave young souls raced against nature's cruel elements and rugged terrain in an attempt to unite a country separated by distance.
Today the stables continue to stand as a tribute to the legend and legacy of the Pony Express and its enduring era.
On the Mississippi River, 100 miles north of St Louis, Hannibal is the boyhood home of Mark Twain.
The Missouri community was used as the setting for The Adventures of Tom Sawyer (1876) and The Adventures of Huckleberry Finn (1884).
The Mark Twain Boyhood Home and Museum houses many of the authors first editions, and one of his famous white suits.
Branson is the modern home of country, comedy and a variety shows; a cross between Nashville and Vegas, where The Osmonds are still going strong in their own family theatre.
Have no fear, the Ozarks are nearby.
Experience the luxury of rail travel from yesteryear on the 40-mile roundtrip Branson Scenic Railway excursion through Ozark foothills and tunnels and learn the history of the area as you cross bridges and trestles.
Explore Branson
Special events throughout the year provide Branson visitors with a tremendous opportunity to experience the best of the Branson/Lakes Area.
For personal assistance in Branson, stop by the official Welcome Center at 269 State Highway 248.
Branson Shows
The Branson entertainment scene's roots date back to the very first Branson show in 1959.
Famous for its role in the entertainment industry, Branson, Missouri is an amazing place to visit.
Branson is home to nearly 50 theaters, several theme parks, three major lakes, and hundreds of shows, attractions, restaurants and shopping venues.
Activities in Branson change frequently. It is possible to visit Branson several times in a year and experience different activities.
TThe area of Jefferson City was explored by members of the Lewis and Clark expedition in 1804, but permanent white settlement did not occur until 1821.
Map of Jefferson City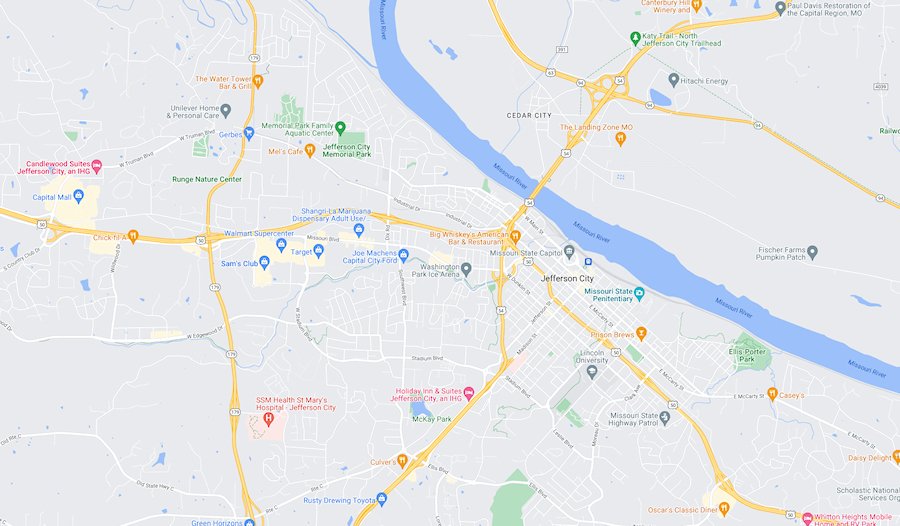 As it's the capital of Missouri State, you'll no doubt want to visit the State Capitol, which contains noted murals by Thomas Hart Benton and Sir Frank Brangwyn. The large Fountain of Centaurs was designed by Adolph A. Weinman.
South-east of Jefferson City is the Lake of the Ozarks.
Independence, east of Kansas City, was once the starting point for those going west on the Santa Fe, Oregon, and California trails.
President Harry S. Truman lived in Independence and the Harry S. Truman Library and Museum contains his personal papers.
The city is also the world headquarters for the Reorganised Church of Jesus Christ of Latter-Day Saints, a branch of Mormonism.
In 1821, the year Missouri was admitted to the Union, a Frenchman from St. Louis, Francois Chouteau, made his way up the Missouri River and established a trading post here.
After the 1826 flood, he rebuilt on higher ground; at the foot of what is now Troost Avenue.
Kansas City News
Known for journalism that resounds at a local, regional and national level, The Kansas City Star produces a wide range of content, from hard-hitting investigations and government accountability journalism to wall-to-wall coverage from its nationally recognized and award-winning sports team.
Visit Kansas City
KC's Official Visitors Guide is the place to find insider tips, local favorites and info on what's happening during your next visit.
Where to Stay in Kansas City
AC Hotel Kansas City Westport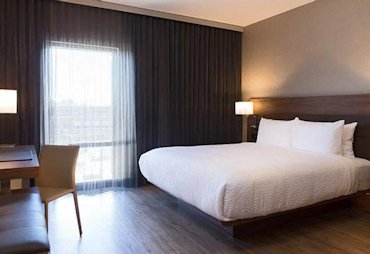 AC Hotel Kansas City Westport: 560 Westport Road, Kansas City, Missouri.
Enter the lobby and you'll be enchanted by the rich, hand-crafted oak and brass trim, spectacular marble floors and even a crackling fire.
Located in Kansas City's historic Westport district, AC Hotel Kansas City surrounds you with old world hospitality and modern amenities; with easy access to some of the city's best shopping and entertainment.
Missouri Travel Guides - Missouri Maps.
About Missouri - Missouri Weather:
Find out more about Missouri before you travel there.
Travel Notes Online Guide to Travel
Africa - Asia - Caribbean - Europe - Middle East - North America - Oceania - South America.

The Travel Notes Online Guide to Travel helps visitors plan their trip with country and city travel guides, local tourist information, reviewed web sites, and regular travel articles.
Travel and Tourism Guides on Travel Notes
If Travel Notes has helped you, please take a moment to like us on Facebook and share with your friends on social media.


Travel & Tourism With Industry Professionals.

Montana.