Henderson, Nebraska by Taylor Siebert on Unsplash.
Travel Notes: North America - United States - Nebraska Travel Notes - Updated 17 July, 2023.
Short URL: https://tnot.es/usNE
Nebraska Travel and Tourism on Travel Notes

Find Nebraska Travel and Tourist Information with links to official travel and tourism websites and state resources for visitors to Nebraska.
About Nebraska
Nebraska is also known as the Cornhusker State, after a nickname given to the University of Nebraska athletics team. The term 'cornhuskers' comes from the method of harvesting corn by hand, which was common in Nebraska before the invention of husking machinery.
The state capital of Nebraska is Lincoln.
Map of Nebraska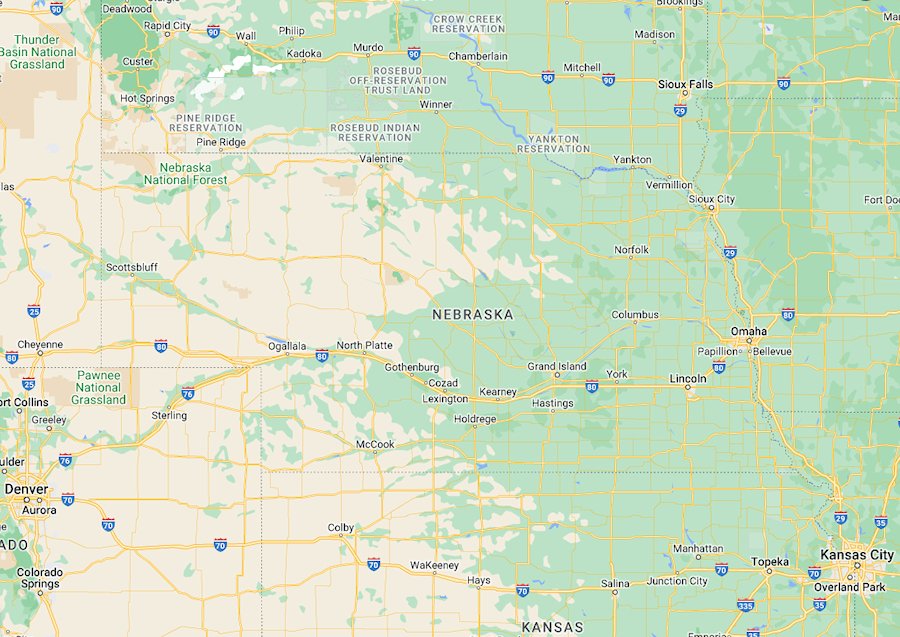 States neighbouring Nebraska: Colorado, Wyoming, South Dakota, Iowa, Missouri and Kansas.
To appreciate the towering Nebraska State Capitol Building, you'll have to go inside.
The floor, of inlaid Italian and Belgian marble, is designed to look like a Native American blanket. You can also get a good view of Nebraska's capital city from the 14th floor.
The history of the Plains Indians is well presented at the Museum of Nebraska History, and you can also visit the Sheldon Memorial Art Gallery.
Where to Stay in Lincoln
Country Inn Suites Lincoln
Country Inn Suites Lincoln: 5353 North 27 Street, Lincoln, Nebraska.
With its charming decor and comfortable amenities, the Lincoln Country Inn Suites provides a warm and welcoming atmosphere.
Start the day off right with a complimentary deluxe continental breakfast featuring waffles, hard-boiled eggs, bagels, breads, muffins, hot and cold cereals, fresh fruit, juices, coffee, tea and other choices.
Guests at the Country Inn Suites Lincoln can relax in the heated indoor swimming pool, whirlpool and fitness centre.
The name Nebraska comes from a Siouan expression for flat water, a reference to the Platte River.
The Nebraska State Historical Society operates a state-wide network of historical sites and museums.
A statewide travel adventure program encouraging travellers to visit Nebraska museums, libraries, parks, and other historical points of interest in order to win participation prizes along the way has been launched under the banner Wander Nebraska.
Visit Nebraska
There seven distinct regions for Nebraska Visitors to enjoy.
Metro
Arts, culture, food and nightlife, Metro Nebraska is the place to experience Nebraska's vibrant urban scene.
Nebraska Sandhills
Home to the Niobrara National Scenic River, the visual landscape and ecological diversity create a natural getaway in Nebraska Sandhills.
NNortheast Nebraska
Quaint towns dot the landscape and history runs deep in Northeast Nebraska; as if taking a cue from the Missouri River.
Northwest Nebraska
It's truly wild in Northwest Nebraska. Rugged bluffs rise from the land, turning wide-open spaces into national treasures.
South Central Nebraska
Follow the trails, South Central Nebraska is full of them. Just be sure to look up for the iconic Archway and in spring, the sandhill crane migration.
Southeast Nebraska
Explore bluffs and caves carved by the Missouri River and the delights of Nebraska's capital city in Southeast Nebraska.
Southwest Nebraska
Head west. It's what the pioneers did and you can too, for frontier lore, railroad history and wide-open spaces in Southwest Nebraska.
Most of Nebraska's main attractions are in the Platte river valley, and mark the pioneers' westward route along the Oregon and Mormon trails, as well as the Pony Express and Union Pacific Railroad.
Chimney Rock
Designated the Chimney Rock National Historic Site, the 45 metre Chimney Rock sandstone spire, near Bayard, was an important landmark for early settlers travelling west across Nebraska on the Oregon, California, and Mormon Trails; a true symbol of the great western migration.
Fort Robinson
From Crazy Horse to the cavalry to the K-9 Corps, Crawford's Fort Robinson played host to them all. Experience the long and varied history of this outpost on the Plains at the Fort Robinson Military Museum.
Lake McConaughy
Although most of Nebraska is used for agriculture you can always hit the beach at Lake McConaughy, near Ogallala. The 100 miles of sandy white beaches attracts windsurfers and trout fisher folk.
Listed on the Top 100 Family Places to Fish and Boat in the United States, Lake McConaughy is Nebraska's biggest lake and the largest reservoir in a three state region.
Pioneer Village
Testament to 150 years of American change, the Harold Warp Pioneer Village complex in Minden is comprised of 28 buildings on 20 acres housing over 50,000 irreplaceable items of historical value; restored to operating order and arranged in the chronological order of their development.
Historic buildings, a Frontier Fort, Pony Express Station, Iron Horse, and a home made of sod are some of the items to discover.
Pony Express Station
Of the few Pony Express Stations remaining in existence, two are located in Gothenburg. The Pony Express Station in Gothenburg's Ehmen Park is a main attraction for tourists.
The largest city in Nebraska is named after the Omaha people. The community developed as a supplies depot for overland wagon trains heading west, and prospered even more when it became a terminus on the Union Pacific Railroad.
Mormon migrants sheltered in Omaha during the winter of 1846-1847.
A stop on the Lewis and Clark National Historic Trail, Omaha is known for its pioneer history, museums and cultural centers.
Oregon Trail
Scotts Bluff National Monument, near Gering, and Fort Kearny State Historical Park, near Kearney are both important landmarks in the Nebraska part of the Oregon National Historic Trail.
Nebraska Travel Guides - Nebraska Maps.
About Nebraska - Nebraska Weather:
Find out more about Nebraska before you travel there.
Travel Notes Online Guide to Travel
Africa - Asia - Caribbean - Europe - Middle East - North America - Oceania - South America.

The Travel Notes Online Guide to Travel helps visitors plan their trip with country and city travel guides, local tourist information, reviewed web sites, and regular travel articles.

Nevada.
Travel and Tourism Guides on Travel Notes
If Travel Notes has helped you, please take a moment to like us on Facebook and share with your friends on social media.


Travel & Tourism With Industry Professionals.