Find out more about Kentucky before you travel. Order tourist brochures then research things to do and places to stay in Kentucky.
Book a Rental Car - Check out Flights - Compare Hotel Rooms.
Choose a City in Kentucky
US Hostels:
Ideal for backpackers and those travelling on a budget: dorms, shared accommodation and private rooms.
Become a Kentucky City Guide:
You really know the Kentucky scene - where to eat, where to stay, and what to do. Tell our visitors more about the sights and delights and how to make the most of their time in Kentucky.
Kentucky at a Glance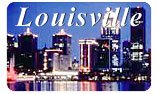 Louisville, Kentucky:
Whether you're visiting Louisville on business or for pleasure, the 'River City' will dazzle you with its blend of restored historic sites and chic new corporate buildings, arts, sports, and of course, race horses.
Louisville is widely known as the Derby City, because of the running of the famed Kentucky Derby each May at Louisville's Churchill Downs race track. But the city has much more to offer than this one spectacular event.
Louisville Attractions
American Saddle Horse Museum
Aviation Museum of Kentucky
Belle of Louisville
Broad Run Vineyards
Caesar's Glory of Rome
Cathedral of the Assumption
Cave Hill Cemetery
Churchill Downs
Conrad/Caldwell House
Crane House
Culbertson Mansion
851 Mansion
E.P. "Tom Sawyer" State Park
Falls of the Ohio Interpretive Center
Farmington
Festival Gallery
Hadley Pottery
Headley-Whitney Museum
Horse-Drawn Carriage Rides
International Museum of the Horse
Iron Works Pike
Keeneland
Kentucky Thoroughbread Farm
Kentucky Art and Craft Gallery
Kentucky Center for the Arts
Locust Grove
Louisville Palace
Louisville RiverFrogs
Louisville Science Center
Louisville Slugger
Louisville Speedway
Louisville Stoneware
Louisville Zoo
McAlpine Locks and Dam
Nicholasville
Riverside
Scribner House
Six Flags Kentucky Kingdom
Spirit of Jefferson
Star of Louisville
Whitehall
Waveland State Historic Site
Wildwood Stables
Player's Club
Kentucky @ Travel Notes:
Travel and tourism links for Kentucky.
Cincinatti, Kentucky
Cincinnati! Are You Kidding: by Leon Schwarzbaum.
When 'Places Rated Almanac' rated Cincinnati as America's most livable city, most of America snickered - "Cincinnati? Are you kidding?" was heard across the land.
Summer in Cincinnati: by Bridget Coila.
After the winter snow has melted and the spring thunderstorms have quieted down, Cincinnati wakes up to its most exciting season.
With many Cincinnati area attractions open only from April through September, summer is the perfect time to visit the 'Queen City'.
Covington, Kentucky
The World's Longest Outdoor Sale: by Mary Mihaly.
If the goddesses of flea marketing were to create a special little heaven here on Earth, surely it would be the 127 Corridor Sale - or the world's longest yard sale.
Every year, beginning the first Thursday in August, treasure hunters from all over the country brave the scorching heat and spend four days handling other people's used stuff.
Originally starting in Covington, Kentucky; and winding south through Tennessee, to end in Gadsden, Alabama.
In 2007 the route was extended northward from Covington and since 2010, the sale has been extended up to Hudson, Michigan.
Louisville, Kentucky
May Looks Great in Louisville: by Shelley Poulton.
Horses, trainers, more than 125,000 race fans and the media descend on Louisville in the month of May for the world famous Kentucky Derby.
Write For Travel Notes
Submit a Kentucky Travel Article:
If you're on the road or have just returned from somewhere in Kentucky, send us your updates for publication.
Sightseeing Tours, Events and Attractions.
Kentucky Travel Guides:
Browse Amazon's best-selling list of books on travel in Kentucky.
Backpackers:
Budget accommodation around the United States and Canada.
Travel by Car:
Driving distances between major cities in the United States.
Travel Industry
Add Your Tours - Add Your Property

Add a Business Listing - Add a Destination Guide - Add a Place to Stay.



If you find Travel Notes useful, please take a moment to like us on Facebook and share with your friends on social media.
North America Index - North America Tourism - North America Websites.