Find out more about Maryland before you travel. Order tourist brochures then research things to do and places to stay in Maryland.
Book a Rental Car - Check out Flights - Compare Hotel Rooms.
Choose a City in Maryland
US Hostels:
Ideal for backpackers and those travelling on a budget: dorms, shared accommodation and private rooms.
Become a Maryland City Guide:
You really know the Maryland scene - where to eat, where to stay, and what to do. Tell our visitors more about the sights and delights and how to make the most of their time in Maryland.
Maryland at a Glance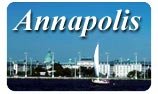 Annapolis, Maryland:
With more than 500 rooms in the historic district, visitors can tour the streets of Annapolis, and breathe in its rich historical heritage
In addition to being the capital of Maryland, the home of the United States Naval Academy, and an internationally celebrated maritime community, Annapolis' rich history, sailing, restaurants and attractions have a lot to offer visitors, business travelers and families.
Most of the sights are best seen on a walking tour, so try to schedule your visit for the spring, summer, or fall when walking is pleasant. In addition, if you are in the area you'll want to have a look at the US Naval Academy.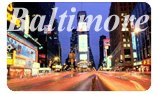 Baltimore, Maryland:
Do you want economy? Do you want quiet and elegance? Do you want to be close to the action or away from it all? Do you need a meeting room or faxing services? You name it, there is a hotel in Baltimore for you.
Whether you want to stay downtown in the heart of the city, in an Inner Harbor hotel; explore a funky old neighborhood like Mount Vernon, Bolton Hill, or Fells Point; be near cultural or sporting events; or enjoy the suburban small-town atmosphere of the surrounding metro area, you can find a place to rest, relax, and get ready for fun in Baltimore.
Much like the rest of the Mid-Atlantic, Baltimore experiences all four seasons. Keep in mind though that since it's on the water, the weather can change often. Spring is a great time to visit Baltimore -- not only for baseball games at Camden Yards, but for the picturesque scenery.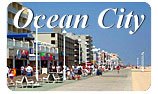 Ocean City, Maryland:
Ocean City, Maryland, has a wide selection of accommodations. With over 10,000 hotel rooms and 25,000 condominium units and beach houses, there are options for every preference and pocketbook
Visitors who enjoy seaside dining can choose from the resort's more than 160 restaurants. Authentic Eastern Shore seafood is of course one of the specialties. An assortment of seafood favorites include steamed crabs, lobsters, oysters, clams, and a selection of fresh fish caught daily from ocean waters is always a delightful option for breakfast, lunch or dinner.
This little resort city is a seaside gem just waiting for folks interested in sea and sun. Fishing and boating are big draws and even the nightlife heats up during the sun season.
Maryland @ Travel Notes:
Travel and tourism links for Maryland.
Baltimore, Maryland
An Insider's Look At Baltimore: by Carol Sorgen.
Baltimore is known far and wide for the Orioles and its steamed crabs. Not only is Baltimore rich in history, but it is also a thriving metropolis with enough attractions to keep you busy for days at a time - or for a brief respite in between meetings.
Haunted Places in Baltimore: by Jane Sellman.
Baltimore boasts a treasure trove of history, much of which is pretty darn spooky. So if you're in the mood to counteract the hot weather with a little chill (down your spine, that is) you can cool off at any one of a number of haunted sites in Baltimore.
Inexpensive Things to do in Baltimore: by Jane Sellman.
Are you going slightly batty trying to come up with things for the kids to do that doesn't involve high fees, expensive equipment, or complex logistics?
Downtown Baltimore offers a plethora of attractions that involve little spending or planning. The fact that many of these points of interest have an educational component is just gravy.
30 Free Things to do in Baltimore.
Write For Travel Notes
Submit a Maryland Travel Article:
If you're on the road or have just returned from somewhere in Maryland, send us your updates for publication.
Sightseeing Tours, Events and Attractions.
Maryland Travel Guides:
Browse Amazon's best-selling list of books on travel in Maryland.
Backpackers:
Budget accommodation around the United States and Canada.
Travel by Car:
Driving distances between major cities in the United States.
Travel Industry
Add Your Tours - Add Your Property

Add a Business Listing - Add a Destination Guide - Add a Place to Stay.



If you find Travel Notes useful, please take a moment to like us on Facebook and share with your friends on social media.
North America Index - North America Tourism - North America Websites.