Find out more about Ohio before you travel. Order tourist brochures then research things to do and places to stay in Ohio.
Book a Rental Car - Check out Flights - Compare Hotel Rooms.
Choose a City in Ohio
US Hostels:
Ideal for backpackers and those travelling on a budget: dorms, shared accommodation and private rooms.
Become a Ohio City Guide:
You really know the Ohio scene - where to eat, where to stay, and what to do. Tell our visitors more about the sights and delights and how to make the most of their time in Ohio.
Ohio at a Glance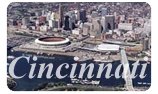 Cincinnati, Ohio:
To take advantage of all downtown has to offer, stay at the Regal Cincinnati Hotel right downtown with enclosed skywalk access to the convention center
As a commerce center, sports center, and an urban connection to Kentucky Bluegrass Country, there are plenty of people pulled to Cincinnati. If you're in the city for business or pleasure, chances are your first pick of position will be downtown. Skyscrapers and historic buildings blend in an eclectic mix that's reflected by the Ohio River.
Bengals football and Reds baseball can contribute to summer and fall travel. Travellers toting toddlers and schoolchildren should schedule trips for late Spring, Summer or early Autumn to appreciate the glories of the great events that run from March to December.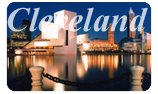 Cleveland, Ohio:
Cleveland is the business gateway to northern Ohio. Case Western University is an exciting center of research as well as the focal point of lots of travel to the city. And if that isn't enough, there's Cleveland Indian's baseball, Browns Football and some of the best shopping in Ohio.
The days when Cleveland was derisively deemed 'the mistake on the lake' are history. Far from being a dirty industrial dump, Cleveland has recreated herself into an urban epicenter that is one of the top ten destinations for European tourists visiting the USA, as well as a booming business center.
Summer is the busiest time of year in this active city due to its proximity to some of the country's best theme parks as well as the abundance of activities on the area's waterways; Lake Erie and the Cuyahoga River.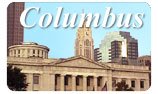 Columbus, Ohio:
With the addition of the new Nationwide Arena for its National Hockey League, the Blue Jackets, America's 15th largest city has moved right into the major leagues.
After years of polishing its image, this diamond in the rough shines bright with an improved airport, a newly expanded and renovated 1.7 million square-foot convention center and a new science center with eight interactive exhibit worlds.
The route through the German Village and Schiller Park makes a perfect Summer stroll. Mild weather makes Spring and most Summer days delightful, and if you're a college football fan then fall is the time to go.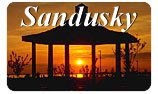 Sandusky, Ohio:
Located on the shores of Lake Erie, Sandusky, Ohio, has more than 22 miles of shoreline within the city limits.
Sandusky is a Great Lakes port community and the county seat of Erie County with an estimated population of 30,000 and total outlying population of 112,000 within a 15-mile radius. Conveniently located between Cleveland and Toledo, Sandusky offers small-town living with easy access to both of these major urban areas.
Sandusky, Ohio, is home to Cedar Point Amusement Park, arguably one of the best traditional type family fun centers in the USA. Cedar Point has often been voted the Best Amusement Park in the World. Sandusky's outdoor attractions, including island-hopping cruises, are most enjoyable during the Summer.
Ohio @ Travel Notes:
Travel and tourism links for Ohio.
Cincinatti, Ohio
Cincinnati! Are You Kidding: by Leon Schwarzbaum.
This is no backwater village, no second-rate burg, and no see-the-whole-town-in-one-day metropolis. Cincy is a real city, with premier arts institutions, professional sports, great restaurants, and one without high crime rates, crowded schools and permanent strangers next door.
Summer in Cincinnati: by Bridget Coila.
Cincinnati has so much to offer during the Summer, the only problem is finding enough time to do it all!
Cleveland, Ohio
Rockefeller's Best Legacy: by Mary Mihaly.
Every city has its tourist attraction du jour and its hidden gems. University Circle, home to the world's largest cultural and educational community, is Cleveland's secret emerald.
Write For Travel Notes
Submit an Ohio Travel Article:
If you're on the road or have just returned from somewhere in Ohio, send us your updates for publication.
Sightseeing Tours, Events and Attractions.
Ohio Travel Guides:
Browse Amazon's best-selling list of books on travel in Ohio.
Backpackers:
Budget accommodation around the United States and Canada.
Travel by Car:
Driving distances between major cities in the United States.
Travel Industry
Add Your Tours - Add Your Property

Add a Business Listing - Add a Destination Guide - Add a Place to Stay.



If you find Travel Notes useful, please take a moment to like us on Facebook and share with your friends on social media.
North America Index - North America Tourism - North America Websites.