Cincinnati, Ohio Photo by Robert Conklin on Unsplash.
Travel Notes: North America - United States - Ohio Travel Notes.
Short URL: https://tnot.es/usOH
Ohio Travel and Tourism on Travel Notes

Find Ohio Travel and Tourist Information with links to official travel and tourism websites and state resources for visitors to Ohio.
About Ohio
Also known as the Buckeye State, Ohio received its nickname because of the many buckeye trees that once covered its hills and plains.
As the markings on the nut resembled the eye of a buck, the native Indians called it 'hetuck' or 'buckeye'.
The state capital of Ohio is Columbus.
Map of Ohio
Ohio gets its name from the Ohio River, an Iroquoian term for good river.
The Ohio River forms the state's eastern border with West Virginia, and its southern border with Kentucky.
Other states neighbouring Ohio: Indiana, Michigan and Pennsylvania.
Colourful map of Ohio showing the location of all 88 counties.
Adams, Allen, Ashland, Ashtabula, Athens, Auglaize, Belmont, Brown, Butler, Carroll, Champaign, Clark, Clermont, Clinton, Columbiana, Coshocton, Crawford, Cuyahoga, Darke, Defiance, Delaware, Erie County, Fairfield, Fayette, Franklin, Fulton, Gallia, Geauga, Greene, Guernsey, Hamilton, Hancock, Hardin, Harrison, Henry, Highland, Hocking, Holmes, Huron, Jackson, Jefferson, Knox, Lake, Lawrence, Licking, Logan, Lorain, Lucas, Madison, Mahoning, Marion, Medina, Meigs, Mercer, Miami, Monroe, Montgomery, Morgan, Morrow, Muskingum, Noble, Ottawa, Paulding, Perry, Pickaway, Pike, Portage, Preble, Putnam, Richland, Ross, Sandusky, Scioto, Seneca, Shelby, Stark County, Summit, Trumbull, Tuscarawas, Union, Van Wert, Vinton, Warren, Washington, Wayne, Williams, Wood and Wyandot.
Named in honour of Christopher Columbus, the early trade centre on the Scioto River took over the title of Ohio state capital, from Chillicothe, in 1816.
The Ohio State University, 2 miles north of downtown Columbus, is the largest in the country.
If student bars are not your thing, then the Greek Revival State Capitol is a little more sobering.
The Ohio History Connection showcases Ohio's history from as far back as the ice age, while the Wexner Center for the Arts caters to the more avant guard.
Take the kids along to Ohio's Center of Science and Industry, at 280 E. Broad St., for a thrilling hands on experience of the exhibits.
Columbus also has one of the world's largest rose gardens; the Park of Roses.
Visitors to Columbus shouldn't miss a trip to the Franklin Park Conservatory, 1777 E. Broad St., for a variety of self-contained environments - rain forests, deserts, and the Himalayas; all in one place.
Where to Stay in Columbus
Holiday Inn Express Columbus South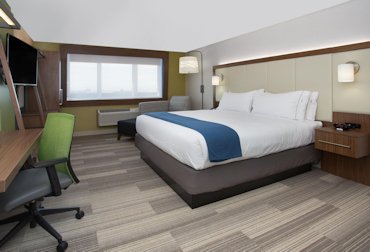 Holiday Inn Express Columbus South: 4870 Old Rathmell Court, South Columbus.
Conveniently located off Interstate 270, with easy access to Grove City, Groveport, Downtown Columbus, Rickenbacker Airport, Fortress Obetz.
The Holiday Inn Express Columbus South is designed with Holiday Inn's newest standard Formula Blue' where guests can enjoy a modern contemporary feel.
Columbus Attractions
As the premier entertainment district in downtown Columbus, the quaint neighbourhood of Arena District offers exceptional dining, accessible parking, live entertainment and affordable hotels.
The Columbus Museum of Art, at 480 East Broad Street, houses an outstanding collection of late nineteenth and early twentieth century American and European modern art; including major works by Monet, Matisse, Picasso, Renoir, Hopper and O'Keeffe and other spectacular examples of Impressionism, German Expressionism, and Cubism.
The Columbus Zoo areas are split into African Forest, Asia Quest, Australia, Islands of Southeast Asia, North America, Pachyderms, Reptiles, Shores and Animal Enrichment. Located at 9990 Riverside Dr., Powell; just past Dublin, northwest of Columbus.
The German Village Society is a 233-acre neighbourhood listed on the National Register of Historic Places. The German Village Meeting Haus, that serves as town hall, event venue and location of the Visitor Center, is at 588 South Third Street.
The Visitor Center has background information on the immigration years, the recent preservation years, architectural details to note when visiting, and the enormous impact brewing had on the community.
The Franklin Park Conservatory is a botanical jewel located on East Broad Street in Franklin Park, just two miles east of downtown Columbus.
Ninety acres of outdoor green space, 400 plant species, 100 butterfly species, 800 feet of model railroad track, 7,000 panes of glass, and 100 years of tradition make Franklin Park Conservatory one of Columbus's most popular and unique destinations for residents and visitors of all ages.
At 5890 Scarborough Blvd, Magic Mountain East has all the attractions, food, and entertainment you need to play the day away. With batting cages, miniature golf, bumper cars, Kids Gym Playland, and Mega Arcade, there's no shortage of things to do.
Mott's Military Museum preserves the memory of individuals who served in the United States Military, with each item displayed carrying a personal story that helps us remember the price they paid for freedom. Located at 5075 South Hamilton Rd., Groveport - just south (off the 317) of Columbus.
Short North
Just south of Ohio State University's sprawling campus and north of the city's colourful convention centre, lies an area where art lovers, dog walkers, shoppers and families of all kinds come to shop, eat, drink - and dream.
Known as the Birthplace of Aviation, Dayton offers affordability and accessibility along with world-class attractions, arts and culture.
The Wright brothers lived in Dayton, and in celebration of their achievements you can visit the Aviation Hall of Fame.
Miamisburg Mound, one of the largest Native American burial mounds in eastern North America, is just south-west of Dayton.
From world-class cities teeming with arts and culture to quaint small towns, thrilling amusement parks, exhilarating outdoor adventure and important historic sites, you'll soon see that Ohio truly has so much to discover.
Oxford, Ohio
Home to Miami University, Oxford is 30 minutes north of Cincinnati, and an hour west of Dayton. Oxford offers a wonderful combination of city living with the benefits of a small town.
Cincinnati, the third largest city in Ohio, lies on the north bank of the Ohio River.
Fort Washington was established here In 1789, and within six years the area's Native Americans were defeated and relinquished most of their land in the Treaty of Greene Ville (1795).
Museums of interest in Cincinnati are the Contemporary Art Center, the Taft Museum, and the Cincinnati Art Museum.
Halfway between Chicago and New York, Cleveland is sometimes called the cultural centre of the industrial Midwest.
The Rock and Roll Hall of Fame, at 1100 Rock and Roll Boulevard, has helped to put Cleveland back on the map.
As industry has declined, the old warehouses have been converted for the pleasure of night-owls.
The former industrial heart of Cleveland, along both banks of the Cuyahoga River, is now the centre of Cleveland's nightlife.
Culture vultures can visit the Cleveland Museum of Art, at University Circle, for an an impressive collection of French and American Impressionist paintings.
Cleveland Lakefront State Park is an ideal spot for swimming or picnics.
With a vast shoreline and central location, the Lake Erie Islands Region boasts a vacation experience unequaled on Ohio's North Coast.
The wetlands of the Maumee Bay State Park offer a wide variety of natural wonders; a tribute to Lake Erie.
Toledo is on Lake Erie, between Detroit and Cleveland.
From the prehistoric black swamp era to the rebirth of Toledo as a postindustrial city anchoring the revitalization of Northwest Ohio, the Toledo story is a fascinating journey.
The Toledo Museum of Art continues to grow in its facilities, its collection, and its relations with the Toledo community.
A series of renovations to the interior of the original building from 1977 to 1992 was followed by the completion of the Center for the Visual Arts, designed by Frank Gehry.
By combining the very best of vocal and symphonic music with spectacular theatrical design, an evening at the Toledo Opera becomes more than just a night on the town: it's an exhilarating and deeply satisfying event.
Toledo Zoo is home to more than 10,000 individual animals representing over 720 species. Travel around the world from the tropics to Greenland, ocean to sky and desert to rainforest in one Zoo visit.
Cedar Point is more than roller coasters. It's more than thrill rides. It's more than the mile-long sandy beach. Cedar Point is where moments, memories and connections are made. These connections last for generations and are built on tradition; traditions that began more than 150 years ago.
Sandusky's Cedar Point Amusement Park is rated among the best in the world by the roller coasting adrenaline junkies who thrill at being pushed and pulled to the limits.
Ohio Travel Guides - Ohio Maps.
About Ohio - Ohio Weather:
Find out more about Ohio before you travel there.
Travel Notes Online Guide to Travel
Africa - Asia - Caribbean - Europe - Middle East - North America - Oceania - South America.

The Travel Notes Online Guide to Travel helps visitors plan their trip with country and city travel guides, local tourist information, reviewed web sites, and regular travel articles.
Travel and Tourism Guides on Travel Notes
If Travel Notes has helped you, please take a moment to like us on Facebook and share with your friends on social media.


Travel & Tourism With Industry Professionals.

Oklahoma.