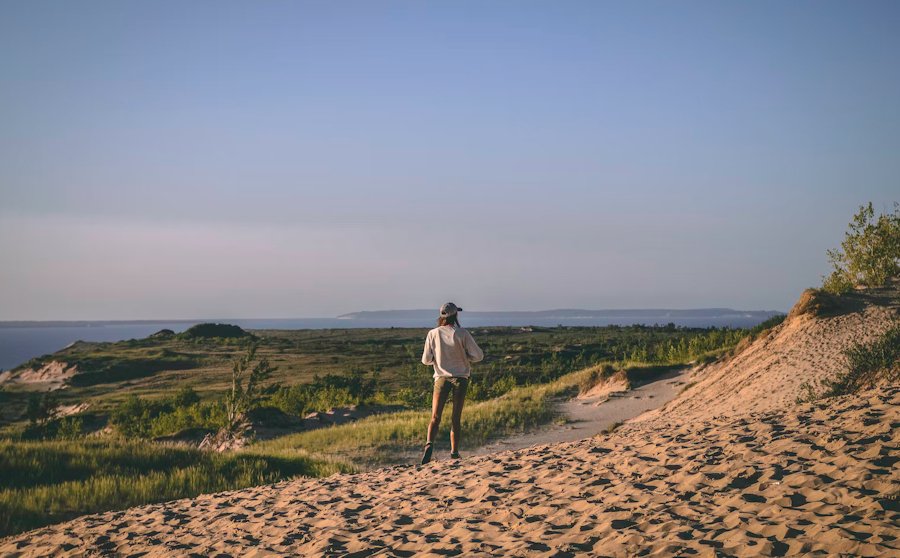 Glen Arbor, Michigan by Justin Heap on Unsplash.
Travel Notes: North America - United States - Michigan Travel Notes.

Short URL: https://tnot.es/usMI
Michigan Travel and Tourism on Travel Notes

Find Michigan Travel and Tourist Information with links to official travel and tourism websites and state resources for visitors to Michigan.
About Michigan
Michigan offers a combination of natural beauty, industrial prowess, cultural diversity, and rich history, making it a fascinating state to explore and experience.
Michigan is known as the 'Great Lakes State' because it is surrounded by four of the five Great Lakes: Superior, Michigan, Huron, and Erie.
With more than 11,000 inland lakes, it's said that in Michigan you're never more than 6 miles from an inland lake or 85 miles from a Great Lake.
States neighbouring Michigan: Ohio, Indiana and Wisconsin. Michigan also borders Canada.
Map of Michigan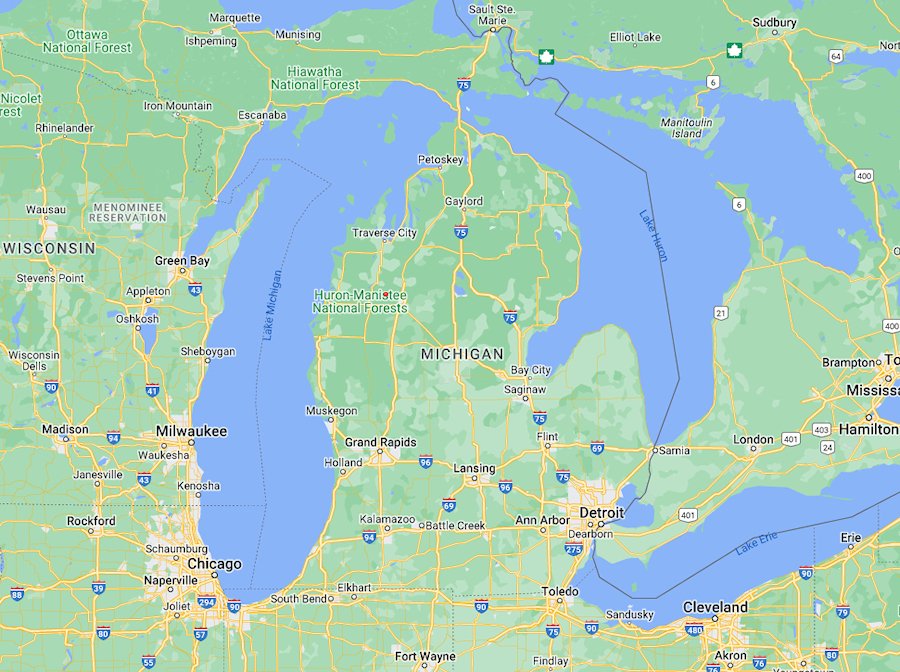 Michigan is the only state in the United States to be composed of two peninsulas, the Lower Peninsula and the Upper Peninsula, which are connected by the Mackinac Bridge.
The Great Lakes
Michigan's Upper Peninsula borders Lake Superior to the north; the western part of the Lower Peninsula borders Lake Michigan to the west; and the eastern part of the Lower Peninsula borders Lake Huron to the east.
While Michigan does not directly border Lake Erie, the state has a small border with Ohio, which separates Michigan from Lake Erie.
The state capital of Michigan is Lansing.
Michigan is a state located in the Great Lakes and Mid-western regions of the United States.
Michigan borders Wisconsin to the west (Upper Peninsula), Indiana to the south-west (Lower Peninsula), and Ohio to the south (Lower Peninsula).
Additionally, Michigan shares a border with the Canadian province of Ontario to the east, across Lake Huron and the St. Clair River.
Automotive Industry
Michigan has been at the forefront of the automotive industry for over a century.
It is home to major automobile manufacturers and has a strong presence of automotive research and development facilities.
The city of Detroit, in particular, has a rich automotive heritage and hosts the North American International Auto Show.
Detroit
Michigan's largest city is Detroit, which is known as the 'Motor City' due to its historical significance in the automobile industry.
Detroit was once a booming manufacturing hub and is famous for being the birthplace of major car companies like Ford, General Motors, and Chrysler.
It is also known for its rich music history, particularly in the genres of Motown and techno.
Diverse Culture
Michigan has a diverse population with a blend of different ethnicities and cultures.
It is known for its annual festivals and events that celebrate various communities and traditions, such as the Tulip Time Festival in Holland, Michigan, which showcases Dutch heritage.
Education
Michigan is home to several esteemed universities, including the University of Michigan, Michigan State University, and Wayne State University.
These institutions are known for their academic programs and research contributions in various fields.
History
Michigan's history dates back to ancient Native American tribes, including the Ojibwe, Odawa, and Potawatomi.
The French explorers were the first Europeans to arrive in the area in the 17th century, followed by the British and then the Americans.
Michigan became a state in 1837.
Natural Beauty
Michigan is renowned for its stunning natural landscapes.
It has numerous lakes, rivers, and forests, making it a popular destination for outdoor activities such as boating, fishing, hiking, and camping.
The state is home to national parks like Isle Royale National Park, Sleeping Bear Dunes National Lakeshore, and Pictured Rocks National Lakeshore.
Sports
Sports play a significant role in Michigan's culture.
The state is home to professional sports teams like the Detroit Tigers (MLB), Detroit Lions (NFL), Detroit Pistons (NBA), and Detroit Red Wings (NHL).
The University of Michigan and Michigan State University also have successful collegiate sports programs.
Tourism
Michigan attracts a considerable number of tourists throughout the year.
Popular tourist destinations include Mackinac Island, a car-free island known for its historic buildings and fudge shops; and the picturesque Sleeping Bear Dunes, which features towering sand dunes along Lake Michigan.
Michigan is popular with visitors for its diverse natural landscapes, including forests, lakes, and expansive shorelines.
Michigan is known for its stunning fall colours, scenic routes, and outdoor adventures.
Visitors to Michigan can also enjoy a wide range of activities and attractions. Whether you're interested in nature, culture, history, or outdoor activities, Michigan has something for everyone to enjoy.
Ann Arbor
Home to the University of Michigan, Ann Arbor is a charming city with a lively arts and music scene.
It also offers beautiful parks, excellent dining options, and unique boutiques.
Detroit
The largest city in Michigan, Detroit offers a vibrant cultural scene, historic architecture, and iconic landmarks like the Detroit Institute of Arts, the Henry Ford Museum, and the Motown Museum.
Frankenmuth
Located in central Michigan, Frankenmuth is a charming Bavarian-style town known for its German heritage.
It features unique shops, delicious German cuisine, and the world's largest Christmas store, Bronner's Christmas Wonderland.
Mackinac Island
Located in Lake Huron, Mackinac Island is a popular tourist destination known for its Victorian architecture, horse-drawn carriages, and fudge shops.
The island is car-free, and visitors can explore it on foot, by bike, or by horseback.
The Great Lakes
Michigan is surrounded by four of the five Great Lakes: Lake Superior, Lake Michigan, Lake Huron, and Lake Erie.
These lakes offer stunning views, beaches, and recreational activities like boating, fishing, and swimming.
Traverse City
Situated on the Grand Traverse Bay, Traverse City is renowned for its wineries, cherry orchards, and the annual National Cherry Festival.
The city also serves as a gateway to the picturesque Sleeping Bear Dunes National Lakeshore.
Upper Peninsula
The Upper Peninsula of Michigan (UP) is known for its rugged natural beauty, including waterfalls, forests, and the stunning Pictured Rocks National Lakeshore.
The UP also offers opportunities for outdoor activities like hiking, camping, and snow sports in the winter.
Detroit lies on the Detroit River which connects Lakes Eerie and St. Clair.
Across the river is the Canadian town of Windsor, reached through the tunnel west of the Renaissance Center, or by the Ambassador Bridge.
Detroit is not as bad as some reports make out, but it has seen better days.
The Renaissance Center, on the river, was built to help revitalise the centre of Detroit. The multipurpose complex has space for shops, offices, theatres, and hotels.
A world of fashion, specialty stores, restaurants and business offices are located in the Renaissance Center along with a Marriott Hotel.
GM World features a collection of General Motors' automobiles from the past to the present and on to the future.
Getting Around Detroit
The Detroit People Mover affects not only the image of the city but also plays a role in the attraction of conventions and tourism, businesses and entertainment to downtown Detroit.
Hop on board the Detroit People Mover and discover just how easy it is to learn about Detroit.
Where to Stay in Detroit
Detroit Marriott at the Renaissance Center
Detroit Marriott at the Renaissance Center: Renaissance Center, Detroit, Michigan.
The hotel's location in the GM Renaissance Center provides guests with easy access to a variety of shops, restaurants and services. Dramatic views highlight guest rooms that are elegantly styled in warm, jewel tones.
Soaring 73 floors above the Detroit River, the Detroit Marriott at the Renaissance Center is a premier city centre hotel that rises to meet the needs of business, leisure and meeting guests alike.
Michigan gets its name from Lake Michigan; a derived Algonquian term for big water.
The State of Michigan is blessed with the riches of unspoiled nature: the nation's longest freshwater coastline, lakes that feel like oceans, golden beaches, an abundance of fresh produce straight from the farm.
Whether you are a cityscape adventurer or an outdoor enthusiast, a foodie or a thrill-seeker, travelling with your family or making memories with friends, you are on the brink of planning a vacation so unique, it can only be classified as Pure Michigan.
Michigan has a Great Lakes shoreline of about 5,310 km, and boasts more beaches than Hawaii. Shame about the climate.
Ships travelling from Lake Superior to Lake Huron drop 21 feet in the canal locks at Sault Ste. Marie, northern Michigan.
Tour boats also allow visitors the chance to experience the drop.
Located 50 miles north of the Mackinac Bridge, Soo Locks Boat Tours propose an educational and fun-filled adventure in historic Sault Ste. Marie, Michigan.
The capital of Michigan often gets missed by most visitors to the state, as it's not on the coastal route.
Map of Lansing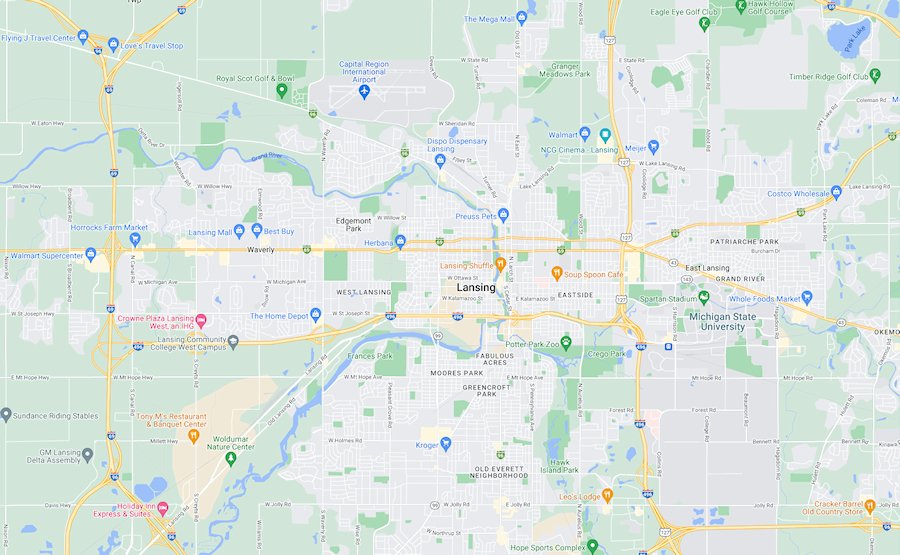 In the 1840s a group of New York families came here to claim the land they had purchased, only to find it didn't exist.
The area was occupied by the Chippewa people but the disillusioned families remained, and named the new settlement after their former home in New York.
Michigan Travel Guides - Michigan Maps.
About Michigan - Michigan Weather:
Find out more about Michigan before you travel there.
Travel Notes Online Guide to Travel
Africa - Asia - Caribbean - Europe - Middle East - North America - Oceania - South America.

The Travel Notes Online Guide to Travel helps visitors plan their trip with country and city travel guides, local tourist information, reviewed web sites, and regular travel articles.
Travel and Tourism Guides on Travel Notes
If Travel Notes has helped you, please take a moment to like us on Facebook and share with your friends on social media.


Travel & Tourism With Industry Professionals.

Minnesota.