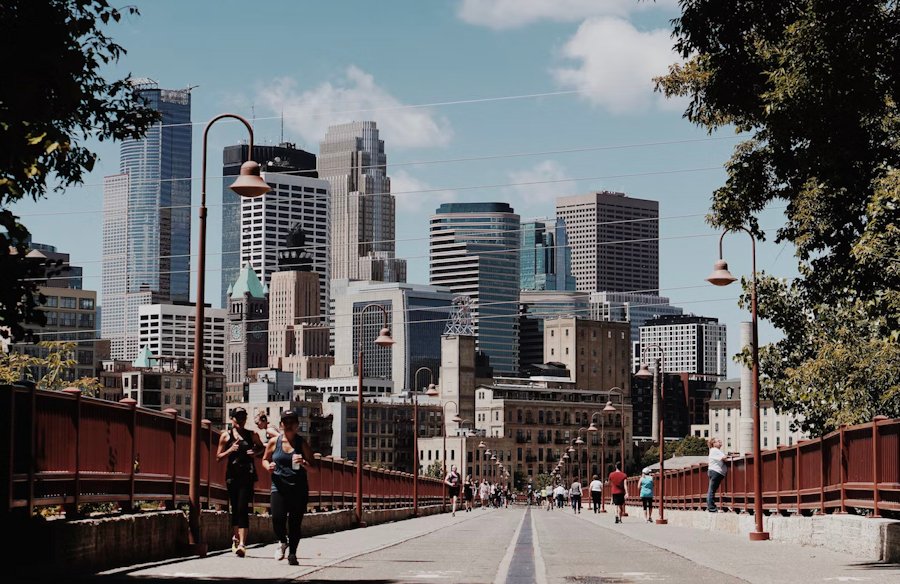 Minneapolis skyline, Minnesota by Eastman Childs on Unsplash.
Travel Notes: North America - United States - Minnesota Travel Notes.


Short URL: https://tnot.es/usMN
Minnesota Travel and Tourism on Travel Notes

Find Minnesota Travel and Tourist Information with links to official travel and tourism websites and state resources for visitors to Minnesota.
About Minnesota
Minnesota is known for its beautiful landscapes, vibrant cities, and cultural attractions. Explore the great outdoors, or visit museums and art galleries.
Also known as the North Star State, Minnesota has 'Land of 10,000 Lakes' on it's license plates; although there are actually more than 11,000 lakes in the state.
States neighbouring Minnesota: Wisconsin, Iowa, South Dakota and North Dakota. Minnesota also borders Canada.
Map of Minnesota
Minnesota is a state known for its natural beauty, vibrant cities, strong education system, and diverse economy.
It offers a high quality of life and a wide range of activities for residents and visitors alike.
The state capital of Minnesota is St. Paul.
Minnesota is a state located in the Mid-western region of the United States.
Minnesota is bordered by Lake Superior and Wisconsin to the east, Iowa to the south, North Dakota and South Dakota to the west, and Canada to the north.
Cultural Attractions
Minnesota offers a variety of cultural attractions and recreational opportunities.
The state has a vibrant arts scene, with numerous theatres, art galleries, and music venues.
The Minneapolis Institute of Art, Walker Art Center, and Guthrie Theater are notable cultural institutions.
Outdoor enthusiasts can enjoy activities such as fishing, boating, hiking, and skiing.
Economy
Minnesota has a diverse economy with a strong focus on agriculture, manufacturing, healthcare, finance, and technology.
The state is home to several Fortune 500 companies, including Target, 3M, UnitedHealth Group, and Best Buy.
Agriculture plays a significant role, with Minnesota being a leading producer of corn, soybeans, and dairy products.
Education
Minnesota is known for its strong education system.
The state is home to several prestigious universities and colleges, including the University of Minnesota, which has campuses in Minneapolis and St. Paul.
Minnesota places a high emphasis on education and consistently ranks among the top states in terms of educational attainment.
Geography and Climate
Minnesota has a diverse geography, including forests, prairies, rolling hills, and rugged bluffs.
The climate varies from humid continental in the north to humid sub-tropical in the south, with cold winters and warm summers.
Natural Beauty
Minnesota's natural beauty is a major draw for visitors.
The state's lakes, forests, and parks offer opportunities for outdoor recreation and enjoying the scenic beauty.
Popular destinations include the Boundary Waters Canoe Area Wilderness, Lake Superior's North Shore, Voyageurs National Park, and the Mississippi River.
Scandinavian Heritage
Minnesota has a strong Scandinavian heritage, particularly with communities of Swedish, Norwegian, and Finnish descent.
This heritage is celebrated through festivals, museums, and cultural events, and is evident in the state's cuisine, architecture, and traditions.
Sports
Minnesota has a passionate sports culture.
The state is home to several professional sports teams, including the Minnesota Vikings (NFL), Minnesota Twins (MLB), Minnesota Timberwolves (NBA), and Minnesota Wild (NHL).
The University of Minnesota also has successful collegiate sports programs.
Twin Cities
Minnesota's largest metropolitan area is known as the Twin Cities, which consists of Minneapolis and St. Paul.
Minneapolis is the state's largest city and a major economic and cultural hub.
St. Paul, the state capital, is adjacent to Minneapolis and is known for its historic architecture and the Cathedral of Saint Paul.
Minnesota offers a wide range of attractions and activities for visitors to enjoy.
Whether you're interested in outdoor adventures, cultural experiences, or shopping, Minnesota has something for everyone.
Boundary Waters Canoe Area Wilderness
If you enjoy outdoor activities, the Boundary Waters Canoe Area Wilderness is a must-visit destination.
This pristine wilderness area offers endless opportunities for canoeing, kayaking, fishing, and camping amidst stunning natural beauty.
Duluth
Situated on the western tip of Lake Superior, Duluth offers a mix of natural beauty and cultural attractions.
Explore Canal Park, take a scenic drive along Skyline Parkway, or visit the Great Lakes Aquarium.
Mall of America
Located in Bloomington, just south of Minneapolis, the Mall of America is one of the largest shopping and entertainment complexes in the world.
It features over 500 stores, numerous restaurants, an indoor amusement park called Nickelodeon Universe, and the Sea Life Minnesota Aquarium.
Minneapolis
The largest city in the state, Minneapolis is known for its vibrant arts scene, beautiful parks, and the iconic Mall of America.
You can explore the Minneapolis Sculpture Garden, visit the renowned Walker Art Center, or catch a show at the historic Guthrie Theater.
North Shore
Located along the scenic Lake Superior, the North Shore is famous for its rugged coastline, picturesque waterfalls, and charming towns.
Take a drive along Highway 61, visit Split Rock Lighthouse, or hike the trails in Gooseberry Falls State Park.
Saint Paul
The capital of Minnesota, Saint Paul is known for its historic charm and cultural attractions.
Visit the beautiful Cathedral of Saint Paul, explore the exhibits at the Science Museum of Minnesota, or stroll along the Mississippi Riverfront.
Voyageurs National Park
Located in northern Minnesota, Voyageurs National Park is a water-based park with interconnected waterways, forests, and wildlife.
You can go boating, fishing, hiking, or camping while enjoying the serene beauty of the park.
Saint Paul is twinned with Minneapolis, across the Mississippi. The Twin Cities are often referred together as Minneapolis/St. Paul.
Map of Saint Paul
Saint Paul is the slightly older of the two cities; founded as a settlement near Fort Snelling, on the east side of the curving Mississippi.
Summit Avenue stretches from the Mississippi to the capitol and has many Victorian houses attributed to railroad money./p>
St. Paul's Cathedral, overlooking the capitol, is a scaled down version of St Peter's in Rome.
The Twin Cities have an abundance of theatres and galleries, and thousands of lakes in the metropolitan area. There are many open-air performances in the summer, so why not sit on the grass and have a lakeside picnic.
Minneapolis is a transport, hub with the Minneapolis-St Paul International Airport south of the city.
With so many lakes around Minneapolis, water city, it makes sense to hire a bike and explore some of them.
On the Mississippi itself you can visit St Anthony Falls and Upper Locks. Further downstream, Minnehaha Park affords a view of Minnehaha Falls.
The Minneapolis Institute of Arts and the Walker Art Centre are two of the county's leading galleries.
Minnesota is named after the Minnesota River; a Sioux phrase for cloudy water.
Minnesota Lakes
Officially, there are 11,842 lakes in Minnesota, of 10 acres or larger in size. Add to these all the small lakes and the actual number of lakes in Minnesota is much higher. The largest lake within the state of Minnesota is Red Lake, in the north.
The Minnesota Lake Finder contains data for more than 4,500 lakes and rivers throughout Minnesota, including: lake surveys, lake depth maps, lake water quality data and lake water clarity data, satellite-based water clarity information, lake notes and fish consumption advice.
Minnesota also has shores on Lake Superior, in the north-east; and Lake of the Woods, along the border with Canada.
Like four states within a state, Minnesota's regions have their own individual charm, geography and assortment of adventures.
Each region of Minnesota offers adventure, culture and curiosity. City lovers will find daily events and world-class museums in the Minneapolis-St. Paul area; nature buffs will want to explore the North Shore, northwest and central lakes regions; and small-town charm is the hallmark of southern Minnesota.
Duluth shares a harbour, at the head of the Great Lakes system, with Superior in Wisconsin. The Great Lakes are linked to the Atlantic Ocean by the St Lawrence Seaway.
It gets mighty cold up here in winter, but in the milder months it becomes something of a tourist gateway to the wilderness of northern Minnesota.
Voyageurs National Park
Named after the French-Canadian fur traders who travelled through the region by boat, you are invited to do the same.
Paddling the Boundary Waters and Voyageurs National Park
With more than 30 lakes here you are advised to get out of the car and take to the paddle. Many fish in these waters contain mercury though, so forget the rod and line.
Itasca State Park is 20 miles north of Park Rapids or 38 miles south of Bemidji, on U.S. Hwy 71.
Established in 1891, Itasca is Minnesota's oldest state park. The park totals more than 32,000 acres and includes more than 100 lakes.
Mississippi Headwaters Hostel
Listed on the National Register of Historic Places, the log craftsmanship and stonework make the structure an outstanding example of early twentieth century rustic architecture.
The hostel is on the main park drive, approximately 4 miles north of the east/south entrance contact station.
Lake Bemidji State Park is about 230 miles from the Minneapolis/St. Paul metro area.
The park is located in Beltrami County in the North Central West Tourism Region, about 5 miles north of Bemidji.
From world renowned statues and architecture listed on the National Register of Historic Places, to ancient earth mounds and burial grounds, the past takes an interesting turn in Bemidji.
Ten miles outside of Minneapolis is the Mall of America, the largest retail and entertainment complex in the United States.
This monument to consumerism has become a tourist attraction in its own right. No entrance fee, but you'll probably spend when you're there all the same.
Minnesota Travel Guides - Minnesota Maps.
About Minnesota - Minnesota Weather:
Find out more about Minnesota before you travel there.
Travel Notes Online Guide to Travel
Africa - Asia - Caribbean - Europe - Middle East - North America - Oceania - South America.

The Travel Notes Online Guide to Travel helps visitors plan their trip with country and city travel guides, local tourist information, reviewed web sites, and regular travel articles.
Travel and Tourism Guides on Travel Notes
Travel Professionals Based in Minnesota.
If Travel Notes has helped you, please take a moment to like us on Facebook and share with your friends on social media.


Travel & Tourism With Industry Professionals.

Mississippi.