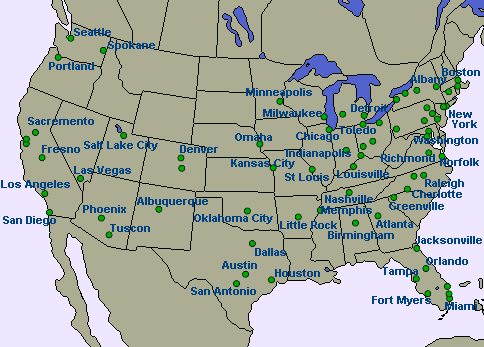 Driving Distances Across the USA - National Scenic Byways - Rent a Car.
US Weather Forecasts - US Current Temperatures - US Interstate Driving Conditions - US Flight Delays - US Regional Weather.

View the changing weather conditions and search for cheap hotels along America's East-West Interstate driving routes.
Interstate 4 (132 miles)
Located wholly within Florida, Interstate 4 provides a south-west to north-east connection across the central section of Florida; providing access to the metropolitan areas of Tampa-St. Petersburg, Lakeland-Winterhaven, Orlando, and Daytona Beach.
Interstate 8 (348 miles)
Dropping below sea-level in the Imperial Valley, near El Centro, Interstate 8 also traverses several mountain passes on its journey between San Diego, California, and Casa Grande, Arizona.
Interstate 10 (2,460 miles)
Serves the southern portion of the United States with a coast-to-coast link from Santa Monica and Greater Los Angeles (in the west) to Jacksonville (in the east).
Major cities served by Interstate 10 include Los Angeles, California; Phoenix, Arizona; El Paso, Texas; San Antonio, Texas; Houston, Texas; New Orleans, Louisiana; and Jacksonville, Florida.
Interstate 12 (85 miles)
The West Florida Republic Parkway is effectively a nothern bypass, from Baton Rouge to Slidell; allowing travellers on southern Louisiana's section of Interstate 10 to avoid New Orleans.
Interstate 16 (167 miles)
Interstate 16 is an intrastate Interstate highway that serves Eastern Georgia between Macon and Savannah.
Connecting Interstate 75 with Interstate 95, the highway provides Atlanta traffic with access to the Atlantic Seaboard.
Interstate 20 (1,539 miles)
Starting in the vastness of western Texas, then emerging in the south-eastern states as a major highway through several metropolitan areas, Interstate 20 provides an east-west connection through the northern tier of the Deep South states.
It begins at Interstate 10 near Kent, Texas, and passes through Midland, Abilene, Fort Worth, Dallas, Tyler, Shreveport, Monroe, Jackson, Birmingham, Atlanta, Augusta, and Columbia before culminating in Florence, South Carolina.
Interstate 24 (316 miles)
Interstate 24 takes a northwest-southeast path through Southern Illinois, Kentucky, and Tennessee; connecting Chattanooga, Nashville, Hopkinsville and Paducah.
Interstate 26 (349 miles)
Interstate 26 extends from the Tennessee-Virginia State Line near Kingsport south to Charleston, South Carolina - passing through Johnson City (Tennessee); Asheville, Hendersonville (North Carolina); Spartanburg, Clinton, Newberry, Columbia, Orangeburg, Goose Creek (South Carolina).
Interstate 30 (367 miles)
Interstate 30 joins the Dallas/Fort Worth metropolitan area with Texarkana and Little Rock, Arkansas.
Interstate 40 (2,555 miles)
Interstate 40 is a major east-west freeway, spanning eight states on its cross-country voyage from Barstow (California) to Wilmington (North Carolina).
Interstate 40 passes through Needles (California); Kingman, Flagstaff, Winslow, Holbrook (Arizona); Gallup, Grants, Albuquerque, Tucumcari (New Mexico); Amarillo (Texas); Elk City, Clinton, Weatherford, El Reno, Oklahoma City, Henryetta (Oklahoma); Fort Smith, Russellville, Morrilton, Conway, Little Rock, Forrest City, West Memphis (Arkansas); Memphis, Jackson, Nashville, Lebanon, Cookeville, Crossville, Knoxville, Newport (Tennessee); Asheville, Morganton, Hickory, Statesville, Winston-Salem, Greensboro, Burlington, Durham, Raleigh, Smithfield (North Carolina).
Interstate 44 (634 miles)
A diagonal east-west route, Interstate 44 links Texas and Missouri through the cities of Wichita Falls, Oklahoma City, Tulsa, Joplin, Springfield, and St. Louis.
Interstate 64 (938 miles)
Interstate 64 connects the St. Louis metropolitan area east to the Hampton Roads metropolitan area of southeast Virginia - connecting East St. Louis (Illinois); Evansville (Indiana); Louisville (Kentucky); Charleston (West Virginia); and Richmond (Virginia).
Interstate 66 (76 miles)
Linking Washington D.C. with Front Royal, Interstate 66 serves commuter interests from the nation's capital to the growing northern Virginia suburbs (Manassas, Fairfax, Vienna, Falls Church and Arlington).
Interstate 68 (113 miles)
Interstate 68 runs from Morgantown, West Virginia to Hancock, Maryland; passing through Frostburg and Cumberland.
Interstate 70 (2,153 miles)
The sections of Interstate 70 in Missouri and Kansas were where the nation's first Interstate was started, back in 1956.
Beginning at Cove Fort (Utah), Interstate 70 now bisects the country, serving cities such as Denver, Kansas City, St. Louis, Indianapolis, Columbus, Breezewood, and Baltimore.
Westbound traffic from Cove Fort is directed onto Interstate 15 (to Southern California) or U.S. 50 (to Northern California).
Interstate 72 (179 miles)
From Hannibal (Missouri), Interstate 72 crosses Illinois; connecting the central Illinois towns of Quincy, Jacksonville, Springfield, Decatur, and Champaign.
Interstate 74 (428 miles)
Interstate 74 serves the Upper Midwest, Southern Great Lakes, and Ohio River Valley area.
Travelling from the Interstate 80 interchange at Davenport (Iowa) to Cincinnati (Ohio) I-74 passes through Moline, Galesburg, Peoria, Bloomington, Champaign and Danville (Illionis); Crawfordsville, Indianapolis, Shelbyville and Greensburg (Indiana).
Interstate 76 (621 miles)
From Denver (Colorado) to Camden (New Jersey) this is the major east-west Interstate highway across eastern Ohio and Pennsylvania; forming the majority of the Pennsylvania Turnpike.
I-76 travels through Fort Morgan and Sterling (Colorado); Akron and Youngstown (Ohio); Pittsburgh, Monroeville, Somerset, Breezewood, Carlisle, Harrisburg and Philadelphia (Pennsylvania ).
Interstate 78 (144 miles)
Interstate 78 links Allentown, Bethlehem and Easton (in Pennsylvania) with New York City; passing through Plainfield, Irvington, Newark and Jersey City on its way.
Interstate 80 (2,900 miles)
Interstate 80 is a major transcontinental corridor connecting California and New York City. From the city of San Francisco to a few miles west of the Hudson River in northern New Jersey, Interstate 80 traverses various terrain and states. Its highest point is located at Sherman Hill Summit in Wyoming (between Laramie and Cheyenne) at an elevation of 8,640 feet.
Interstate 80's 2,900 mile road journey takes you to Oakland, El Cerrito, Pinole, Vallejo, Fairfield, Vacaville, Davis, Sacramento, Auburn and Truckee (California); Verdi, Reno, Sparks, Fernley, Lovelock, Winnemucca, Battle Mountain, Carlin, Elko and Wendover (Nevada); Salt Lake City, Park City and Echo (Utah); Evanston, Lyman, Green River, Rock Springs, Rawlins, Laramie, Cheyenne and Pine Bluffs (Wyoming); Kimball, Sidney, Ogallala, North Platte, Lexington, Kearney, Grand Island, Seward, York, Lincoln and Omaha (Nebraska); Council Bluffs, Des Moines, Newton, Iowa City and Davenport (Iowa); Moline, Princeton, La Salle, Ottawa, Morris, Joliet and Chicago (Ilinois); Hammond, Gary, South Bend and Elkhart (Indiana); Toledo, Elyria, Cleveland and Youngstown (Ohio); Sharon, Mercer, Clarion, Milton, Bloomsburg and Stroudsburg (Pennsylvania); Paterson and Hackensack (New Jersey).
Interstate 82 (143 miles)
Between Hermiston and Ellensburg, Interstate 82 links Interstates 84 and 90 in Oregon and Washington; passing through Kennewick, Richland, Grandview, Sunnyside, Toppenish and Yakima.
Interstate 84 (1,002 miles)
The Western Interstate 84 is the primary route linking the north-western cities of Salt Lake City, Boise, and Portland.
The Eastern Interstate 84 travels through Scranton (Pennsylvania); Port Jervis, Middletown, Newburgh and Bacon (New York); Danbury, Waterbury, Bristol, New Britain, Hartford and Manchester (Connecticut); then into Massachusetts.
Interstate 86 (247 miles)
Travelling from American Falls and Pocatello (Idaho) to Jamestown, Olean, Hornell, Bath, Corning and Elmira (New York).
Interstate 88 (258 miles)
Interstate 88 connects Sterling (Illinois) with Schenectady (New York); through Rock Falls, Rochelle, DeKalb, Aurora, Naperville, Downers Grove, Elmhurst, Villa Park, Lombard, Chicago, Binghamton and Oneonta.
Interstate 90 (3,020 miles)
The longest Interstate Highway, Interstate 90 serves major northern cities such as Seattle, Chicago, Cleveland, Buffalo, Albany, and Boston.
Smaller cities such as Spokane, Butte, Billings, Sheridan, Moorcroft, Rapid City, Sioux Falls, Austin, Wisconsin Dells, Madison, Rockford, South Bend, Toledo, Erie, Syracuse and Springfield also accompany Interstate 90 on its travels.
Interstate 94 (1,585 miles)
Connecting the Upper Midwest and Great Lakes regions, Interstate 94 runs from Billings to Port Huron; through Miles City and Glendive (Montana), Dickinson, Mandan, Bismarck, Jamestown, Valley City and Fargo (North Dakota); Fergus Falls, Alexandria, St. Cloud, Minneapolis and St. Paul (Minnesota); Eau Claire, Tomah, Madison, Waukesha, Milwaukee, Racine and Kenosha (Wisconsin); Waukegan, Highland Park, Skokie, Chicago and Calumet City (Illinois); Hammond, Gary, Portage and Michigan City (Indiana); Benton Harbor, Kalamazoo, Battle Creek, Marshall, Jackson, Ann Arbor, Ypsilanti, Dearborn and Detroit (Michigan).
Local Weather Forecasts - Travel Notes Weather Channel.

Add a Business Listing - Add a Destination Guide - Add a Place to Stay.



If you find Travel Notes useful, please take a moment to like us on Facebook and share with your friends on social media.