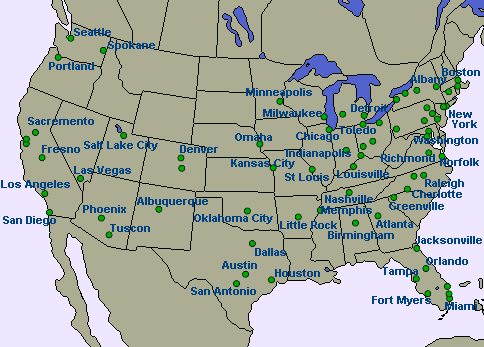 US Weather Forecasts - US Current Temperatures - US Interstate Driving Conditions - US Flight Delays - US Regional Weather.

View the changing weather conditions and search for cheap hotels along America's North-South Interstate driving routes.
Driving Distances Across the USA - National Scenic Byways - Rent a Car.

Interstate 5 (1,381 miles)
Spans the West Coast, originating at the nation's busiest international border crossing at San Ysidro (San Diego), California, and culminating at Blaine, Washington.
This freeway connects all of the major population centres of the western seaboard, including San Diego, Santa Ana, Anaheim, Los Angeles, Sacramento, Portland, and Seattle.
Interstate 15 (1,434 miles)
Cutting a diagonal swath across the inter-mountain west, Interstate 15 provides a major link between the interior of Canada, several transcontinental east-west corridors, Southern California, and Mexico.
Cites along the route are San Diego, Escondido, Corona, Riverside, San Bernardino, Victorville, Barstow (in California); Las Vegas (in Nevada); Saint George, Cedar City, Spanish Fork, Provo, Orem, American Fork, Salt Lake City, Ogden, Brigham City (in Utah); Pocatello, Blackfoot, Idaho Falls (in Idaho); and Butte, Helena, Great Falls (in Montana).
Interstate 17 (146 miles)
Interstate 17 is the main north-south freeway in Arizona, connecting Phoenix with Flagstaff - a heavily travelled, regional corridor that connects Interstate 10 with Interstate 40.
Interstate 19 (63 miles)
Interstate 19 is a short freeway in southern Arizona that connects Interstate 10 and Tucson with Nogales and Mexico. It is one of the shortest two-digit Interstate routes, with only Interstate 97 being shorter.
Interstate 25 (1,063 miles)
Interstate 25 follows the Front Range of the Rocky Mountains in New Mexico, Colorado, and Wyoming; connecting Las Cruces, Albuquerque, Santa Fe, Colorado Springs, Pueblo, Denver, Cheyenne, Douglas and Sheridan.
Interstate 27 (124 miles)
Remaining within Texas for its entire length, Interstate 27 connects the cities of Lubbock and Amarillo in the panhandle passing through Canyon and Tulia.
Interstate 29 (755 miles)
Interstate 29 is an Upper Midwest Interstate following the Missouri River through the eastern Dakotas. The highway links Kansas City with Omaha, Sioux City, and Fargo, en route to Canada and Winnipeg, Manitoba.
Interstate 35 (1,568 miles)
Interstate 35 serves the heartland of America, connecting south Texas to northern Minnesota. Starting in Laredo, it passes through San Antonio, Austin, Dallas/Fort Worth, Oklahoma City, Wichita, Kansas City, Des Moines, Minneapolis/St. Paul before culminating in Duluth.
Interstate 37 (143 miles)
Entirely located within Texas, Interstate 37 provides a link between San Antonio and Corpus Christi.
Interstate 39 (306 miles)
Interstate 39 runs north-south through Illinois and Wisconsin; serving as a bypass for traffic around the Chicago and Milwaukee metropolitan areas. Along its journey, Interstate 39 passes through La Salle, Rockford, Madison and Wausau.
Interstate 43 (192 miles)
Interstate 43 cuts diagonally from its southern terminus near Beloit to Milwaukee, then travels north along along the west shore of Lake Michigan, through Sheboygan and Manitowoc, to Green Bay.
Interstate 45 (286 miles)
Interstate 45 serves eastern Texas; connecting Galveston and Dallas - via Texas City, Houston, Huntsville, Corsicana and Ennis.
Interstate 49 (208 miles)
Currently entirely within the state of Louisiana, Interstate 49 connects Lafayette and Shreveport via Opelousas, Alexandria and Natchitoches.
Interstate 55 (964 miles)
Starting in Hammond (Louisiana), Interstate 55 then parallels the Mississippi River, from the town of La Place (located west of New Orleans in the Delta region) north to the confluence of the Mississippi and Missouri Rivers in St. Louis; then turns north-east to end in the Windy City of Chicago.
Interstate 57 (386 miles)
Interstate 57 is one of two major north-south Interstates serving downstate Illinois; providing an alternative to Interstate 55 between Sikeston (Missouri) and Chicago (Illinois), by avoiding St. Louis.
In Illinois, you'll be passing through Cairo, Marion, Mount Vernon, Salem, Effingham, Mattoon, Champaign, Rantoul and Kankakee.
Interstate 59 (445 miles)
Interstate 59 travels through the Deep South; following a diagonal trajectory from New Orleans north-easterly to Hattiesburg, Meridian, Tuscaloosa, Birmingham, and Chattanooga.
Interstate 65 (887 miles)
Connecting the Deep South with the Midwest, Interstate 65 provides a north-south connection from the ports of the Gulf of Mexico to the ports of the Great Lakes.
Beginning in Mobile and ending in Gary (Indiana) Interstate 65 connects Greenville, Montgomery, Clanton, Birmingham, Cullman, Decatur and Athens (Alabama); Nashville (Tennessee); Bowling Green, Elizabethtown and Louisville (Kentucky); New Albany, Seymour, Columbus, Franklin, Indianapolis, Lebanon and Lafayette (Indiana).
Interstate 69 (356 miles)
Interstate 69 connects the cities of Indianapolis, Fort Wayne, Lansing, Flint, and Port Huron on a north-easterly direction.
Interstate 71 (345 miles)
Cutting a diagonal from south-west to north-east, Interstate 71 travels from Louisville to Cleveland; via Covington, Cincinnati, Columbus and Mansfield.
Interstate 73 is only signed in North Carolina; for the short distance between Candor and Greensboro.
Interstate 75 (1,786 miles)
Popular with annual roadtrips from the Midwest south to sunny Florida, Interstate 75 provides the major link between the Great Lakes and Southeast; serving the cities of Miami, Tampa, Naples, Atlanta, Chattanooga, Knoxville, Cincinnati, Toledo, Detroit and up to Sault Ste Marie.
Interstate 77 (610 miles)
Interstate 77 connects the eastern Great Lakes region with Appalachia and the Southeast; serving Columbia, Charlotte, Charleston, Akron and Cleveland.
Interstate 79 (343 miles)
Interstate 79 is a north-south freeway that links Erie with Pittsburgh, Morgantown, and Charleston along the U.S. 19 corridor.
Interstate 81 (855 miles)
Following the spine of the Appalachian Mountains, Interstate 81 provides a link between the Northeastern Megalopolis to points in the Mid-Southern states.
Interstate 81 does not enter major metropolitan areas, adding to its appeal as a major trucking route, and instead serves smaller cities such as Roanoke and Winchester (Virginia); Hagerstown (Maryland); Harrisburg and Scranton (Pennsylvania); Binghamton and Syracuse (New York).
After passing through Watertown, Interstate 81 crosses the St. Lawrence Seaway to meet Ontario 401 in Canada.
Interstate 83 (85 miles)
Interstate 83 replaced the U.S. 111 corridor between Baltimore (Maryland) and Harrisburg (Pennsylvania); through York.
Interstate 85 (672 miles)
Interstate 85 traverses a good portion of the Appalachian piedmont, from Montgomery (Alabama) to Petersburg (Virginia).
The Deep South travel corridor connects several major cities, including Atlanta (Georgia) and Charlotte (North Carolina) and the smaller metropolitan areas of Greenville and Spartanburg (South Carolina); Greensboro and Durham (North Carolina).
Interstate 87 (334 miles)
Travelling across New York state from New York City to Plattsburgh; through Newburgh, Kingston, Albany and Saratoga Springs.
Interstate 89 (191 miles)
Interstate 89 is a scenic highway serving the states of New Hampshire and Vermont, from Concord to Swanton; through Lebanon, Montpelier, Waterbury, Burlington and St. Albans.
Interstate 91 (290 miles)
Travel from New Haven (Connecticut) to Newport (Vermont) through Meriden, Hartford, Springfield, Holyoke, Northampton, Greenfield, Brattleboro and St. Johnsbury.
Interstate 93 (190 miles)
A New England intra-regional Interstate, I-93 serves Boston and Lawrence (Massachusetts); Manchester, Concord, Franklin, Plymouth and Littleton (New Hampshire), and St. Johnsbury (Vermont).
Interstate 95 (1,920 miles)
From Houlton (Maine) to Miami (Florida), Interstate 95 is the East Coast's 'Main Street' and an important factor in commerce and tourism; linking scenic New England with the subtropical environs of southern Florida and passing through more states than any other Interstate highway: Maine, New Hampshire, Massachusetts, Rhode Island, Connecticut, New York, New Jersey, Pennsylvania, Delaware, Maryland, District of Columbia, Virginia, North Carolina, South Carolina, Georgia and Florida.
Interstate 97 (18 miles)
Interstate 97 is the shortest two-digit Interstate in the 48 contiguous states; connecting Annapolis and Baltimore, within Maryland's Anne Arundel County.
Interstate 99 (53 miles)
Interstate 99 (numbering abnormalities aside) connects Pennsylvania's Bedford, Altoona and State College; with more road construction and upgrades in the pipeline.
Local Weather Forecasts - Travel Notes Weather Channel.

Add a Business Listing - Add a Destination Guide - Add a Place to Stay.



If you find Travel Notes useful, please take a moment to like us on Facebook and share with your friends on social media.