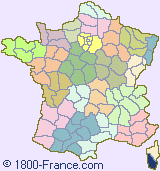 With an area of 4,014 km², the département of Corse-du-Sud is located in the région of Corsica. The préfecture is Ajaccio and the sous-préfecture is Sartène.
The neighbouring department is Haute-Corse.
In 1975, the former department of Corse (20) was divided into Corse-du-Sud (Southern Corsica) and Haute-Corse (Upper-Corsica).
The two departments had existed between 1795 and 1811 as Liamone and Golo, after two rivers on the island.
Regional Directory - Search The Web - Top Travel Blogs and Websites.

If you find Travel Notes useful, please take a moment to like us on Facebook and share with your friends on social media.