Central France
Comprising the pre 2016 regions of Auvergne, Bourgogne, Centre and Limousin.
Together, these four regions contain seventeen departments.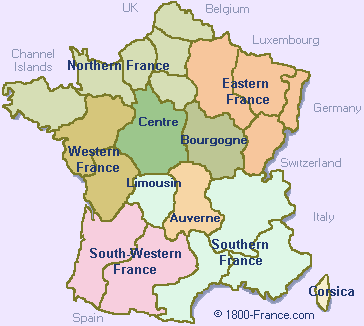 Map of Regions in Central France
Quick Links
Auvergne, Bourgogne, Centre, Limousin.
03 Allier (Moulins)
15 Cantal (Aurillac)
43 Haute-Loire (Le Puy)
63 Puy-de-Dome (Clermont-Ferrand)
21 Cote-d'Or (Dijon)
58 Nievre (Nevers)
71 Saone-et-Loire (Macon)
89 Yonne (Auxerre)
18 Cher (Bourges)
28 Eure-et-Loir (Chartres)
36 Indre (Chateauroux)
37 Indre-et-Loire (Tours)
41 Loir-et-Cher (Blois)
45 Loiret (Orleans)
19 Correze (Tulle)
23 Creuse (Gueret)
87 Haute-Vienne (Limoges)

Add a Business Listing - Add a Destination Guide - Add a Place to Stay.


If you find Travel Notes useful, please take a moment to like us on Facebook and share with your friends on social media.
France Travel Guides - France Maps.