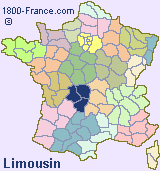 The region of Limousin has three departments: Correze (19), Creuse (23) and Haute-Vienne (87).
Neighbouring regions are Aquitaine, Auvergne, Centre, Midi-Pyrenees and Poitou-Charentes.
The regional capital of Limousin is Limoges.
Limousin's natural landscape is the major attraction for visitors to the region. Outdoor enthusiasts will enjoy all the sporting possibilities that the rivers, lakes and mountains offer.
Culture vultures can get their buzz too from the Gallo-Roman remains and medieval ruins to fabulous chateau and abbeys.
While Limoges is famous for its tapestry, Aubusson is France's capital of tapestry.
Comite Regional du Tourisme Limousin:
30, cours Gay-Lussac - Limoges.

Add a Business Listing - Add a Destination Guide - Add a Place to Stay.


If you find Travel Notes useful, please take a moment to like us on Facebook and share with your friends on social media.