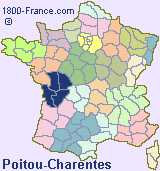 The region of Poitou-Charentes has four departments: Charente (16), Charente-Maritime (17), Deux-Sevres (79) and Vienne (86).
Neighbouring regions are Aquitaine, Centre, Limousin and Pays de la Loire.
The regional capital of Poitou-Charentes is Poitiers.
Among its treasures Poitou-Charentes offers Roman ruins, long sandy beaches along the Atlantic coast, the marshy waterways of Marais Poitevin (the second largest wetland in the west of France) and of course Cognac; the after-dinner favourite.
The illustrious story of Poitou-Charentes can be told in the Roman ruins at Angouleme, the medieval houses and 18th century homes of ship-builders and traders on the Atlantic Coast at La Rochelle and by following the colour-coded signs around the vineyards of Cognac.
With 450km of coastline, there really is something for everyone in Poitou-Charentes. And the oysters of Marenne-Oleron are said to be the best in France.
Choose the Atlantic coast or Cognac Country.
Visit Poitou Charentes:
Poitou-Charentes Tourist Board
15, rue de l'Ancienne Comédie
Poitiers.

Add a Business Listing - Add a Destination Guide - Add a Place to Stay.


If you find Travel Notes useful, please take a moment to like us on Facebook and share with your friends on social media.