Western France
Comprising the pre 2016 regions of Pays-de-la-Loire and Poitou-Charentes.
Together, these two regions contain nine departments.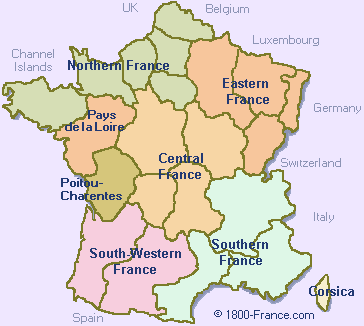 Map of Regions in Western France
Quick Links
Pays de la Loire, Poitou-Charentes.
44 Loire-Atlantique (Nantes)
49 Maine-et-Loire (Angers)
53 Mayenne (Laval)
72 Sarthe (Le Mans)
85 Vendee (La Roche-sur-Yon)
16 Charente (Angouleme)
17 Charente-Maritime (La Rochelle)
79 Deux-Sevres (Niort)
86 Vienne (Poitiers)

Add a Business Listing - Add a Destination Guide - Add a Place to Stay.


If you find Travel Notes useful, please take a moment to like us on Facebook and share with your friends on social media.
France Travel Guides - France Maps.