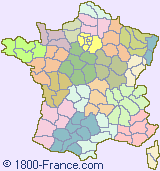 Before buying a property in a France, it probably helps to know which Regions of France you'd prefer to live in.
France Travel Notes strives to bring you all the background information you need to make your stay in France a pleasant one.
Local Maps of France:
The yellow Michelin maps are the best maps to have to discover a more local area in a particular region of France.
Land in France is measured in hectares. If you are used to acres it's useful to know that there are 2.471 acres in an hectare (multiply by 2.5 for convenience).
Although to be reasonably self-sufficient you'll need around 2 hectares of land, many rural properties often come bundled with more than that.
A Place in France:
At a time when renovating old houses in France was well documented, founder and managing director, Brittany born Patricia Fevrier, recognised the benefits of buying new property in France off plan. UK based company involved solely in the sale of new property since established in 1989.
Agence Mercure:
Specialising in the sale of French chateaux, historic country homes and agricultural estates.
Century 21:
Initially based in the Ile-de-France, Rhone-Alpes and Provence-Alpes-Cote d'Azur regions, the Century 21 network has now become a national a leader the French real estate market.
Find Home Abroad:
Search properties in France from a wide selection of French vendors.
Francophiles:
Founded in 1988, Francophiles has more than 3,000 properties for sale in France on its books, ranging from cottages to chateaux, and tends to deal with properties in the mid to upper end of the market. Nicely sized pictures of the properties for sale around France.
French Entree:
Independent advice and comprehensive information, not just about real estate for sale in France but also about life in France.
French Property News:
Since June 1989 French Property News has enabled thousands of individuals to locate, purchase and sell property in France. With an average monthly circulation in excess of 50,000, French Property News is read by those who are seriously interested in property in France.
French Property Search:
French-registered internet-based company located in south west France. Its aim is to provide a free, easy-to-use search facility for those looking to buy or rent property/real estate in France.
Guide Couder Immobilier:
French estate agents listed in Rene-Michel Couder's guide are supposed to be considered of a high quality.
Homes in Real France:
Only a small selection of the thousands of properties they have on their books available on the website.
Jacwood Estates - Gite Complexes:
Margarete and the late John Isherwood have divided their time between homes in UK and France for many years and have also dealt with holiday property/gite rentals in southwest France since 1992. Specialists in French property, from barns and cottages to manor houses, chateaux and Gite Complexes in particular.
JB French Houses:
JB and Trisha will help you find your french dream with properties in Brittany, Normandy, Limousin, Poitou Charentes, Dordogne, Perigord, Loire valley, Vendee, Midi-Pyrenees and Languedoc roussillon..
La Foret:
With over 700 agencies throughout the whole of France, the franchised network of La Foret Immobilier has a complete view of the property market in France to help you find real estate in your prefered location. Each agency is very integrated in its local community life and close to the particular opportunities available in local housing, small shops and professional premises.
La Residence:
Stephen and Christine Hilton, the joint proprietors, met while in the British Diplomatic Service. Having themselves owned a house in France for many years, Stephen and Christine have much personal experience to add to their professional expertise, together with their French colleagues.
Latitudes:
Based in England, the company has agreements to work in association with over 250 long-established licensed agencies as well as French developers, including some of the largest, all over France.
Maisons France Confort:
France's number two builder of individual homes with over 100 different styles of house that you can personalise. Each year, Maisons France Confort constructs more than 3,500 houses and has 179 agencies throughout France. Established in 1919.
Notaires de France:
A notaire is a public official who performs various duties, including the administrative tasks associated with the sale and purchase of land. Somewhat similar to a solicitor in England, the French notaire represents the state, rather than the buyer or seller, to give authenticity to legal documents requiring formality under French Law. As well as the facility to search for a notaire, this site has some practical information about buying property in France.
Pret a Partir:
Guy Sheridan began renovating houses in the Dordogne and Loire, and running a successful gite complex in Perigord Vert before moving onto property sales to help others find the French property of their dreams, be it a rural farm with outbuildings; a small house in a hamlet; or an ambitious renovation project.
Sifex:
Established in 1989, Sifex works with over 70 established French property agents selling prestigious French real estate. Browse their large selection of chateaux and belles demeures (manors and large country houses). Sarah Francis actually visits a lot of these properties and has more images available on request.
VEF UK:
From finding the right property in the right area to understanding the language and the legal process, everything to do with buying a house in France is likely to be a new and different experience for an overseas buyer. Trisha Mason set up VEF, with a fast growing London office and an expanding network of partner offices in France, to save other people enduring the nightmares that she had some twenty years ago.
Waterside Properties:
Small company based in West Sussex serving discerning buyers of French property. Although they claim to specialise in waterside propeties, we found very few on our searches but plenty of nice chateaux; if your bank balance is healthy.
Basse-Normandie, Bretagne, Haute-Normandie, Nord-Pas-de-Calais,
Hexagone France:
Established in Folkestone in 1988, the company is a short drive to the Channel tunnel and then onto their selection of properties in Pas-de-Calais, Normany and Brittany.
Survey Link:
French property survey company committed to helping you make the right choice when buying your dream home in France.
Asttral Insurance:
20, quai de Lazaret - Marseille.
French insurance broker established in 1997 with a specialist section focusing on British clients.
CA Britiline:
Credit Agricole is one of the largest banks in France, with over 8000 branches. CA Britline is a branch of Credit Agricole Normandie, which provides an English speaking French banking service to clients resident in France, the UK and Ireland.

Add a Business Listing - Add a Destination Guide - Add a Place to Stay.


If you find Travel Notes useful, please take a moment to like us on Facebook and share with your friends on social media.