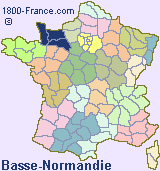 The region of Basse-Normandie (Lower-Normandy) has three departments: Calvados (14), Manche (50) and Orne (61).
The regional prefecture of Basse-Normandie is Caen.
Neighbouring regions are Bretagne, Centre, Haute-Normandie and Pays de la Loire.
Calvados (14)
Agence Mer et Campagne:
Family run business set in the beautiful verdant Pays d'Auge region of Calvados; an area renowned for its hills and valleys, its rivers and streams. The company has offices in Lisieux and Orbec.
Manche (50)
ALO Immobilier:
Based in Saint-Lo.
Orne (61)

Add a Business Listing - Add a Destination Guide - Add a Place to Stay.


If you find Travel Notes useful, please take a moment to like us on Facebook and share with your friends on social media.
France Travel Guides - France Maps.