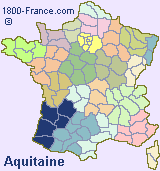 The region of Aquitaine has five departments: Dordogne (24), Gironde (33), Landes (40), Lot-et-Garonne (47) and Pyrenees-Atlantiques (64).
The regional prefecture of Aquitaine is Bordeaux.
Neighbouring regions are Limousin, Midi-Pyrenees and Poitou-Charentes.
Great property can be found in the French area of Aquitaine.
Famous for its proximity to the crashing waves of the Atlantic, and the fantastic food and wine coming from Bordeaux, it is a real gem to house buyers in France. The Dordogne has seen a lot of property activity over recent years, but other areas in Aquitaine have some fantastic property bargains.
Dordogne (24)
Agence Immobiliere - Herman de Graaf:
Located in Saint Jean de Cole, they offer a selection of properties for sale concentrating on the region in and around the beautiful Perigord-Vert in the Dordogne.
Immo Land:
Located in Perigueux, the company concetrates on property in Barbezieux Saint Hilaire, Chalus, Chancelade, Coursac, Gabillou, La Chapelle Gonaguet, Mensignac, Milhac d'Auberoche, Nontron, Perigueux, Saint Astier, Saint Yrieix la Perche, Thiviers, Vergt and Villamblard.
La Generale de l'Immobilier:
13, rue de l'Arsault, Perigueux.
Offers some 200 properties around the Perigord area of Dordogne.
Leggett Immobilier:
Route de Riberac, La Rochebeaucourt.
Covers French property for sale in the Poitou Charentes, Aquitaine, and Limousin regions of France, with 20 representatives; most of whom are bilingual.
Gironde (33)
Landes (40)
Lot-et-Garonne (47)
Pyrenees-Atlantiques (64)

Add a Business Listing - Add a Destination Guide - Add a Place to Stay.


If you find Travel Notes useful, please take a moment to like us on Facebook and share with your friends on social media.
France Travel Guides - France Maps.