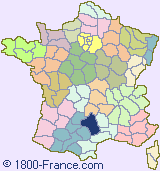 The departement of Aveyron is located in the region of Midi-Pyrenees.
The prefecture is Rodez and the sous-prefectures are Millau and Villefranche-de-Rouergue.
Neighbouring departments are Cantal, Gard, Herault, Lot, Lozere, Tarn and Tarn-et-Garonne.
The department is named after the river Aveyron, a tributary of the Tarn.
Departmental Tourist Office of Aveyron:
17, rue Aristide Briand - Rodez.
Conques Tourist Office:
Place de Chamoine Benazech - Conques.
Millau Tourist Office:
1, place du Beffroi - Millau.
Najac Tourist Office:
Place du Faubourg - Najac.
Rodez Tourist Office:
Place Foch - Rodez.
Villefranche de Rouergue Tourist Office:
Promenade du Guiraudet - Villefranche de Rouergue.

Add a Business Listing - Add a Destination Guide - Add a Place to Stay.


If you find Travel Notes useful, please take a moment to like us on Facebook and share with your friends on social media.