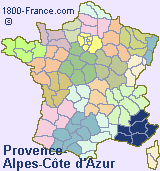 The region of Provence-Alpes-Cote d'Azur has six departments: Alpes-de-Haute-Provence (04), Hautes-Alpes (05), Alpes-Maritimes (06), Bouches-du-Rhone (13), Var (83) and Vaucluse (84).
Neighbouring regions are Languedoc-Roussillon and Rhone-Alpes.
The regional capital of Provence-Cote d'Azur is Marseille.
This is the region a lot of people think about when they say the 'South of France'.
Provence
The popularity of Provence no doubt helped Peter Mayle with the sale of his books on Provence: 'A Year in Provence'; 'Toujours Provence'; 'Encore Provence'; and the novel - 'A Good Year' - which was made into a film directed by Ridley Scott.
The south-east corner of France has been a popular holiday resort since Lord Brougham made himself comfortable there in the 1830s. Numerous aristocrats, writers, artists and film celebrities have followed.
French Riviera
From busy beaches to time-stood-still villages in the nearby hills, some would say Provence-Alpes-Cote d'Azur is France at its glamorous best.
Tourism in Provence-Alpes-Cote-d'Azur:
Comite Regional de Tourisme Provence-Alpes-Cote d'Azur
10, place de la Joliette, Marseille.

Add a Business Listing - Add a Destination Guide - Add a Place to Stay.


If you find Travel Notes useful, please take a moment to like us on Facebook and share with your friends on social media.