Short URL: http://tnot.es/PR - National Anthem of Puerto Rico.
Discovered by Columbus in 1493, the Spaniards renamed the island San Juan Bautista de Puerto Rico, after John the Baptist.
Quick Links
Condado Beach, Map of Puerto Rico, Puerto Rico Accommodation, Puerto Rico Directories, Puerto Rico Maps, Puerto Rico Tourism, Puerto Rico Travel Guides, San Juan, San Juan Bautista de Puerto Rico.
Puerto Rico lies to the east of the Dominican Republic, while further to the east lie the Virgin Islands.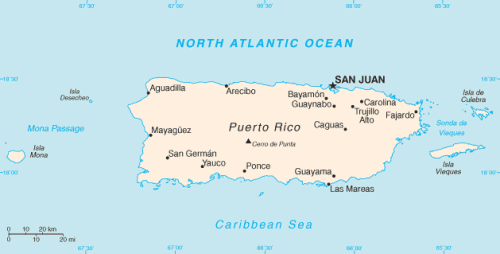 The country consists of the large island of Puerto Rico, Isla Mona to the west, and Islas de Culebra and de Vieques to the east.
Weather in Puerto Rico
View a graphical weather forecast for the week ahead in places around uerto Rico.
Aguadilla Weather, Arecibo Weather, Caguas Weather, San Juan Weather, Yauco Weather.
From the Spanish base of Santo Domingo, Ponce de Leon sailed to Puerto Rico in 1508, and became the island's first governor.
In 1521, Ponce de Leon was mortally wounded while searching for the fountain of youth in Florida, and died in Cuba.
In the same year, mosquitoes around the original settlement of Caparra plagued the Spaniards and forced them to move across the bay and settle on the headland.
It's not certain when the name of the island became that of the town, or the rich port the name of the island; probably when the Spaniards found out that the rivers would not yield them with golden riches, or perhaps it was to bless the new settlement with the name of a patron saint.
Spain began to build a considerable and wealthy empire in the Americas, and this in turn attracted the French, British and Dutch to plunder what they could. All Spanish settlements and shipping were at risk.
The capital of the Commonwealth of Puerto Rico, is in the north-eastern part of the island; facing the Atlantic Ocean.
Old San Juan, the historical part of the city, lies on a small island connected to the mainland by bridges and a causeway.
As the Casa Blanca stronghold, built as a house for the heirs of Ponce de Leon, in 1525, would do little against a serious land attack, and La Fortaleza (completed in 1540 and now the governors house) was in a foolish position in the inner harbour, Oviedo suggested that a more secure fort be built on the commanding headland.
Emperor Charles V, Charles I of Spain authorised the construction of the El Morro fortress, in 1539, to protect the harbour from capture. If the enemy were to obtain such a strategic port, they would be free to attack the Spanish fleet, and rob Spain of her treasures, at will.
During the increased fortifications of El Morro, financed by stolen treasures from Mexico, the Spaniards had frequent visits by the British. Francis Drake made a brave attempt to snatch a cargo of gold and silver that awaited transportation to Spain in La Fortaleza, and the Earl of Cumberland made a successful land attack.
In 1625 the Dutch attacked from the landslide of El Morro, and burnt the city on their retreat.The land defences were also reinforced with massive surroundings walls and San Cristobal fort on the eastern shore.
The San Juan gate would open from the quay, where visiting high government officials were met by local dignitaries and escorted up the hill to the Cathedral; which now contains the remains of Juan Ponce de Leon.
The two convoys that left Spain each year needed to be guaranteed a safe passage. With Spain controlling Santo Domingo and San Juan, the convoys could bring supplies from Spain and continue across the Caribbean.
One would head for Veracruz to pick up Mexican silver and Philippine merchandise that had travelled across the Pacific, while the other would take on pearls at Cartagena and Peruvian treasure at Portobello, on the Isthmus of Panama.
The two fleets would meet at Havana for the homeward voyage -- past the shores of Florida, and on to Spain.
In 1586, after Havana had already been sacked and Sir Francis Drake humiliated the Spaniards by breaking into the cities of Santo Domingo, Cartagena and St Augustine, Don Juan de Tejeda and the military engineer, Juan Bautista Antonelli, were sent to the Caribbean to plan and strengthen Spanish defences.
Airlines and Airports:
San Juan is considered the hub of the Caribbean with American Airlines running daily flights to numerous US cities and other Caribbean destinations.
Cruise Ships:
Many Cruise ships also make San Juan a regular port of call. Daily signs go up around the tourist shops in Old San Juan welcoming the liners by name, offering free cocktails and gifts to purchasing customers, along with lucky cabin number draws.
Puerto Rico's association with America has meant that fast food drive-ins now offer rations in polystyrene shells, not nearly as savoury as oysters; although there are some savoury places to eat as well.
San Juan Dining - Ummo Argentinian Grill:
If taste buds could dance, they'd be doing the tango at Ummo.
Accommodation in San Juan
Hotels in San Juan:
Find hotels in San Juan, Puerto Rico with special online rates.
Sort San Juan Hotels by: Hotel Price, Hotel Rating, Hotel Name.
Compare Puerto Rican Hotel Prices
Adjuntas, Aguadilla, Anasco, Bayamon, Boqueron, Cabo Rojo, Caguas, Carolina, Ceiba, Culebra, Dorado, Fajardo, Guanica, Guayanilla, Hatillo, Humacao, Isabela, Joyuda, Lajas, Levittown, Luquillo, Maunabo, Mayaguez, Patillas, Ponce, Quebradillas, Rincon, Rio Grande, San German, San Juan, San Sebastian, Vieques, Yabucoa.
On the mainland, east of old San Juan, is the high-rise luxury hotels and condominiums; popular with tourists who like to make a quick tour of the historical sights and then get to work on their tan.
Getting Around Puerto Rico
The publicos (shared taxis) have set routes and are a great way to travel cheaply, from plaza to plaza, around the island.
Explore Puerto Rico:
Whatever your idea of paradise may be you'll find it in Puerto Rico. Discover its past and present as you explore its 78 municipalities.
Go To Puerto Rico:
The official website of the Puerto Rico Tourism Company.
Go Tours Puerto Rico:
Enjoy safe and exciting Puerto Rico adventure tours with English-speaking staff, knowledgeable drivers and professional guides.
Puerto Rico Attractions:
Puerto Rico is packed with enough unique attractions and fascinating sights to keep you occupied for weeks.
Puerto Rico Convention Center:
Created for meeting planners, exhibitors, and attendees, the website provides complete information on Puerto Rico Convention Center in San Juan. Website visitors can also create personalised online meeting planners.
Puerto Rico Hotel and Tourism Association:
The Puerto Rico Hotel & Tourism Association represents the shared interests of its more than 480 corporate members, including hotels, restaurants, tour companies, suppliers of hospitality goods and services, airlines, cruise lines and educational institutions.
Puerto Rico Resource Guide:
Whatever you're looking for in Puerto Rico, it's most likely listed in the Island Resource Guide.
Puerto Rico Vacation Guide:
A comprehensive guide to Puerto Rico, including history, basic facts, getting there, getting around once you're there, accommodations, and what to see and do.
What To Do in Puerto Rico:
Arguably the most beautiful city in the Caribbean, a leisurely walk through Old San Juan is one of the most pleasant experiences anyone could have in Puerto Rico. There's plenty more to see and do on the island as well.
Small Inns of Puerto Rico:
Usually family owned and managed, often tucked into the most interesting or unusual corners of the island, and always with attractive prices and personalised service, the small inns and hotels of Puerto Rico are very special places.
General Map of Puerto Rico:
Interactive map of Puerto Rico that includes main roads, municipalities, and airports.
Map of Puerto Rico Municipalities:
With this interactive map you can locate Puerto Rico's municipalities, the primary route from San Juan and approximate driving distance.
Puerto Rico Wow:
This information portal proclaims to help you find anything you want to know about or in Puerto Rico.
More detailed travel destination information for:
Travel to Puerto Rico:
Browse Amazon's best-selling list of books on travel in Puerto Rico.
Regional Directory - Search The Web - Top Travel Blogs and Websites: Caribbean.

If you find Travel Notes useful, please take a moment to like us on Facebook and share with your friends on social media.