Travel to Papua New Guinea:
Papua New Guinea tourist information with details about travel to and around the country. Where to stay and what to see is made easier with insider tips and hand-selected Papua New Guinea links, by dedicated editors and visitors to TravelNotes.org - The Online Guide to Travel.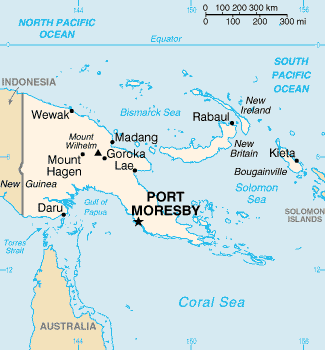 The capital of Papua New Guinea is Port Moresby.
Buy a Map of Papua New Guinea.

The flag of Papua New Guinea is divided diagonally from the upper hoist-side corner. The upper triangle is red with a soaring yellow bird of paradise centered; the lower triangle is black with five, white, five-pointed stars of the Southern Cross constellation centered.
The eastern half of the island of New Guinea - second largest in the world - was divided between Germany (north) and the UK (south) in 1885.
The latter area was transferred to Australia in 1902, which occupied the northern portion during World War I and continued to administer the combined areas until independence in 1975.
A nine-year secessionist revolt on the island of Bougainville ended in 1997; after claiming some 20,000 lives.
Geographically
Oceania - group of islands including the eastern half of the island of New Guinea between the Coral Sea and the South Pacific Ocean, east of Indonesia.
Administrative Divisions
20 provinces:
Bougainville; Central; Chimbu; Eastern Highlands; East New Britain; East Sepik; Enga; Gulf; Madang; Manus; Milne Bay; Morobe; National Capital; New Ireland; Northern; Sandaun; Southern Highlands; Western; Western Highlands; West New Britain.
Independence
16 September 1975 (from the Australian-administered UN trusteeship).
National Holiday
Independence Day: 16th September.
The Islands of Love:
We knew from our lecture on board Oceanic Princess that the Trobriand Islands possessed the fabled reputation as the 'Islands of Love', but what was taking place on the pearl white sands as we approached struck us as something much more forthright!

Add a Business Listing - Add a Destination Guide - Add a Place to Stay.



If you find Travel Notes useful, please take a moment to like us on Facebook and share with your friends on social media.