Short URL: https://tnot.es/PG
Papua New Guinea Travel and Tourism on Travel Notes

Find Papua New Guinea Travel and Tourist Information with links to official travel and tourism websites and state resources for visitors to Papua New Guinea.
About Papua New Guinea
Papua New Guinea is the eastern half of New Guinea; the western portion is the Indonesian province of Irian Jaya.
New Guinea lies North of Cape York, Australia; across the Torres Strait.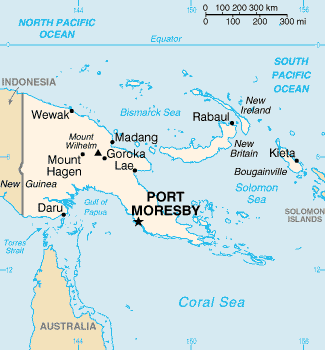 The capital of Papua New Guinea is Port Moresby.
Papua New Guinea's rough terrain means that there are no railways and very limited paved roads.
Air Niuguini provides air connections to much of the country and its outlying islands.
PNG Flight Schedule:
Flight schedules from local airlines in Papua New Guinea.
The island was first sighted by the Portuguese navigator, Antonio d'Abreu, in 1511, although the first known European to land there was the Spanish explorer Jorge de Menezes, in 1526.
The Spanish named the island Novo Guinea, after the country in West Africa, and claimed it for Spain.
The East India Company claimed the entire island for Great Britain in 1793, but the Netherlands disputed the claim and the Dutch East India Company took possession of the western half of New Guinea in 1828.
Germany then annexed the north-eastern part of New Guinea, that was not under the control of the other two European nations, in 1884.
The British region was transferred to Australia in 1906, and during the First World War the Australians had governance of the German region as well.
The Japanese invaded the island during World war II, but Australia become the administering power again in 1946.
The Dutch gave up control of the western part of New Guinea in 1962, and on September 6th, 1975 the eastern section became independent as a part of Papua New Guinea.
Although Bougaineville and Buka are part of the North Solomons geographically, they are actually controlled by Papua New Guinea; for the time being.
Papua New Guinea has ongoing problems with the secessionist revolutionaries in Bougaineville, who forced the closure of the copper mines that were destroying the environment.
Papua New Guinea Island Groups
The most significant of Papua New Guinea's island groups are the Bismarck Archipelago, the Louisiade Archipelago, the Trobriand Islands, the D'Entrecasteaux Islands, and Woodlark Island.
Papua New Guinea Travel and Tourism
Papua New Guinea is serviced internationally by one carrier only, Air Nuigini (which has a code share arrangement with Qantas). Air Nuigini has direct flights into Papua New Guinea from Australia, Japan, Singapore and The Philippines.
All International flights arrive at Jacksons International Airport, Port Moresby.
From Port Moresby, the rest of the country is serviced by air only, as there are no road or rail systems linking Port Moresby to other centres.
Papua New Guinea - Smart Traveller:
Advice for Australian nationals intending to visit Papua New Guinea.
PNG Tourism:
Website of the Papua New Guinea Tourism Promotion Authority.
Travel and Tourism in Papua New Guinea:
Part of the Papua New Guinea Business Directory, there's a lot of good tourism information on Papua New Guinea here.
Papua New Guinea Travellers
Photographs From Papua New Guinea:
Carole-Anne Fooks, of Adelaide, has always had an interest in other cultures and presents her pictures of village life in Papua New Guinea to the world.
The Islands of Love:
We knew from our lecture on board Oceanic Princess that the Trobriand Islands possessed the fabled reputation as the 'Islands of Love', but what was taking place on the pearl white sands as we approached struck us as something much more forthright!
Goroka is the capital of Papua New Guinea's Eastern Highlands.
Goroka is famous for its Highland Show. There's no road between Port Moresby and Goroka, so you'll need to fly to get there.
Highland Tribes of Papua New Guinea:
Pictures of the ceremonial dress of 26 Highland and Madang Villages, as displayed at the Goroka Highland Show.
Hiking Out of Goroka
You're best advised to get yourself a guide if you plan on hiking out of Goroka. It can take up to two days to get to the next village and you probably won't see anyone else in the jungle.
Mount Hagen is the provincial capital of the Western Highlands.
Be sure to catch the Saturday market in Mount Hagen. The Mount Hagen Cultural Show, usually around August, is also worth making the extra effort to be around for.
Originally used by gold miners during the 1890s and later the scene of much fighting during World War II, the 96km Kokoda Trail is one of the most popular hikes in Papua New Guinea.
Day trippers from Port Moresby may prefer to do the one hour walk along the trail, towards the Goldie River. For those who continue, the trail starts to get steep as it climbs up the 'Golden Stairs' and over the Imita Ridge.
Walking from south to north is the preferred choice and August to September the best time to get your hiking boots on. At a moderate pace, tours along the length of the Kokoda Trail take around eleven days.
Kokoda Track Authority
Under the Kokoda Track Trek Permit Law 2005 of both the Kokoda and Koiari Local-level Governments, persons, whether as individuals or part of a group, who wish to walk the Kokoda Track, are required to obtain a Trek Permit. Trek Permits are available upon application from the Kokoda Track Authority or through recognised Tour Operators registered with the Authority.
Kokoda Trekking:
The unspoilt villages throughout the Kokoda Track will welcome you and the Koiari and Orokaiva people will greet you with smiles and tempt you with seasonal fruit and vegetables.
Madang is one of the most popular locations in Papua New Guinea for divers, with its reef-fringed lowlands and offshore volcanic islands backed by some of the most rugged mountains in Papua New Guinea.
Getting to Madang
Madang is a 1 hour flight from Port Moresby - serviced by Air Nuigini with good daily connections.
Madang Diving
Madang Wrecks:
A database of photographs, descriptions and locations of W.W.II wreckage remaining in Madang Province.
Papua New Guinea Provinces (and Provincial Capitals).
Central Province (Port Moresby); East Sepik (Wewak); Eastern Highlands (Goroka); Enga (Wabag); Gulf (Kerema); Madang (Madang); Manus (Lorengau); Milne Bay (Alotau); Morobe (Lae); National Capital District (Port Moresby); New Ireland (Kavieng); North Solomons (Buka); Oro (Popondetta); Simbu (Kundiawa); Southern Highlands (Mendi); Western Province (Daru); Western Highlands (Mount Hagen); Sandaun (Vanimo); East New Britain (Rabaul); West New Britain (Kimbe).
Deadly Twist to PNG's Tribal Feuds:
In Papua New Guinea tribes gather peacefully to celebrate their ancestral traditions with singing and dancing. Mock battles are also staged but, as Nick Squires reports, in real life there has been a bloody resurgence in tribal fighting.
Kentiga Tribe of Papua New Guinea:
This document is aimed at better informing potential international guests planning on visiting Papua New Guinea and may choose to spend a night or more at Kokop Village, home of the Kentiga Tribe.
The Mudmen of Papua New Guinea:
Visit the Highlands of Papua New Guinea to see the Mudmen of the Mat Tribe. While the proud Mudmen of Asaro now perform regularly for busloads of tourists, this is a narrative from some twenty years ago. No photos.
Tribal Tattoos of Papua New Guinea:
As far back as the old men and women can remember, tattooing has been a tribal custom of the coastal peoples of Papua New Guinea. Among the Motu, Waima, Aroma, Hula, Mekeo, Mailu and other related south-western groups, women were heavily tattooed from head to toe, while men displayed chest markings related to their exploits in the headhunt. By World War II, however, tattooing traditions largely disappeared in these areas and today only the Maisin and a few neighbouring peoples of Collingwood Bay, in south-eastern Papua, remain as the last coastal people to continue tattooing itself.
There are many nice diving sites in Papua New Guinea as well as trips to the villages. However, please be careful in the capital town as there are problems with rascals and robbers, especially at night time. People living in the city are very security conscious of this.

By PNG Business Directory.

Add a Business Listing - Add a Destination Guide - Add a Place to Stay.



If you find Travel Notes useful, please take a moment to like us on Facebook and share with your friends on social media.
Oceania Index - Oceania Tourism - Oceania Travel Websites.