Short URL: https://tnot.es/SG
Singapore Travel and Tourism on Travel Notes

Find Singapore Travel and Tourist Information with links to official travel and tourism websites and state resources for visitors to Singapore.
About Singapore
Connected to the southern tip of Malaysia by a causeway, Singapore is often thought of as the gateway to South-East Asia.
Almost on the Equator, Singapore is hot and humid throughout the year; encouraging stop-over travellers to spend more time, and money, in the air-conditioned shopping centres.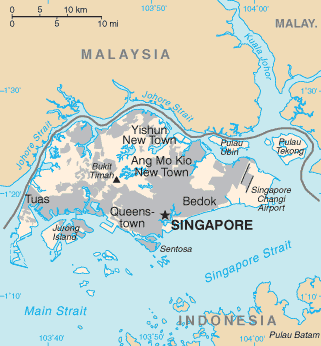 Singapore Stop Over:
Most of Singapore's primary jungle and swamps have been removed for the benefit of residents.
Weather in Asia:
Local weather forecasts for destinations around Asia.
Named Singapore (Lion City) by a Sumatran prince, there was not much roaring about it when the British arrived.
Sir Thomas Stamford Raffles saw the potential of the strategic fishing village, off the Malay Peninsula, and laid the foundations for British East India's trading centre in 1819.
A hundred years later it was designed to be the impregnable fortress of the British Empire in the Far East; a claim destroyed in a week by the Japanese during World War II.
Suntec Singapore International Convention & Exhibition Centre:
The venue of ITB Asia in October, its 100,000 square metres of floor space make Suntec Singapore the ideal venue for meetings, conventions and exhibitions.
Singapore by Air
Airlines and Airports:
Singapore Airlines is the award-winning national carrier and Singapore's Changi Airport is one of the largest international airports in Asia.
No need to fly from here to Bangkok; overland travel up through Malaysia is far more interesting.
Singapore by Rail
A 26-km rail line crosses Johor Strait and links with the Malaysian railway system.
Singapore Mass Rapid Transit:
The urban Mass Transit System is the easiest way to get around Singapore. It's fast, efficient, clean and links the commercial and residential centres.
Singapore by Road
SBS Transit:
Connecting Singapore by bus.
Raffles Hotel:
Even if you don't stay here, this hotel (declared a national monument in 1987) on Beach Road is still one of the old colonial must-sees!
Orchard Road
The shopping centres are conveniently close to the major hotels, but you still have to get it all on the plane.
Visit Singapore - Your Singapore:
The official site for tourist information on Singapore.
Singapore Tourist Attractions
Singapore Flyer:
Standing at a stunning 165 metres from the ground, the Singapore Flyer offers panoramic views of Marina Bay, the island city of Singapore and beyond. Open daily from 8:30amto 0:30pm.
Lai Ming Hotel:
Situated at 432 Geylang Road (off Lorong 24), Lai Ming is a familiar Singapore landmark building and has been operating as a boutique hotel for more than 50 years. Three minute walk to Aljunied MRT Station.
Orchid Corner Bed and Breakfast:
Just 5 minutes from Changi Airport, this Victorian-style property offers 1 single and 2 doubles with air-conditioning and cable television. They also offer complimentary airport pick-up and Internet access.
Singapore Hotels
From the medium-priced hotels to the classy Ritz-Carlton, there's bound to be something to catch your eye in Singapore; one of Asia's premier shopping destinations.
The three main communities in Singapore all have their own cliché areas: Chinatown, Little India, and Arab Street; for sweet and sour temples, curry and colourful spices, and the Sultan Mosque.
There's a popular beach at East Coast Park, on the way to Changi Airport, and there are numerous islands to explore in the straits.
Riau Islands
Ferries depart Singapore hourly for a wide range of outdoor activities in the neighbouring Riau Islands.
The official language of the Republic of Singapore is living in harmony.
The four official languages (English, Mandarin Chinese, Malay, and Tamil) keeps everyone happy.
Traditional customs have not been preserved as well as in Malaysia, but some of the traditional religious values remain.
The move towards Uncle Sam's me culture has been stifled recently through educational promotion of Confucian values; emphasising society over the individual.
Historical Singapore
Singapore might be the modern shopping centre in the tropics, but don't forget to visit some of the historical places of worship on your stop-over.

Add a Business Listing - Add a Destination Guide - Add a Place to Stay.



If you find Travel Notes useful, please take a moment to like us on Facebook and share with your friends on social media.
Asia Index - Asia Tourism - Asia Travel Websites.