Short URL: https://tnot.es/KR
South Korea Travel and Tourism on Travel Notes

Find South Korea Travel and Tourist Information with links to official travel and tourism websites and state resources for visitors to South Korea.
About South Korea
In Korean, the country's name is Daehan-minguk (Great Han) - the Han being one of the country's major rivers.
The Republic of Korea occupies the southern portion of the Korean Peninsula.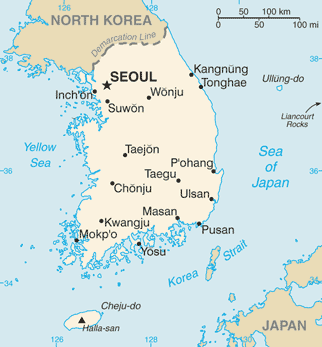 The peninsula was partitioned in 1948, with forces of the United States in the south and the USSR in the North.
Weather in Asia:
Local weather forecasts for destinations around Asia.
Sea of Japan
The Northeast Asia History Foundation are against the sole use of 'Sea of Japan', as commonly used in international cartography, and would like to see a return to the historically referenced East Sea, or at least the simultaneous use of both names - East Sea/Sea of Japan.
Digital Chosun Ilbo:
Online English version of Korea's premier daily, the Chosun Ilbo.
Embassies in Korea:
Listing of foreign diplomatic missions in Korea.
Korea Infogate:
Put together by Korea Telecom, this site is much more than an online Yellow Pages.
Korea Tourism:
Travel information from the Korea National Tourism Organisation.
South Korea's capital and largest city is Seoul - host of the Summer Olympics in 1988.
Seoul was given its present name in 1945, and was chosen to be the capital of the Republic of Korea in 1948.
The city was originally founded as Hanseng, in 1392, and became the capital of the Korean Joseon Dynasty; until the Japanese took control of the country in 1910.
The city was renamed Kyongsong the following year.
Seoul was heavily damaged during the Korean War in the early 1950's, and many modern buildings were built in the reconstruction phase.
The character of this ancient capital lives on in the restoration work of its numerous palaces and temples.
The bell tower holds a large bronze bell dating back to 1468, and ancient stone wall remains can still be seen in parts of the city.
Visit Seoul:
If you're planning a trip to South Korea, the chances are that you'll be passing through Seoul - the capital.
The Korean language is grammatically similar to Japanese but has borrowed many words from Chinese.
Life In Korea:
An in-depth look at different aspects of Korean culture, society, and customs. Plenty of information and things to do for foreign visitors and long-term residents in Korea; presented cleanly and creatively on fast loading pages.

Add a Business Listing - Add a Destination Guide - Add a Place to Stay.



If you find Travel Notes useful, please take a moment to like us on Facebook and share with your friends on social media.
Asia Index - Asia Tourism - Asia Travel Websites.