Port Dickson, Negeri Sembilan, Malaysia by Mick Haupt on Unsplash.
Travel Notes: Asia - Malaysia Travel Notes - Updated 04 August, 2023.

Short URL: https://tnot.es/MY
Malaysia Travel and Tourism on Travel Notes

Find Malaysia Travel and Tourist Information with links to official travel and tourism websites and state resources for visitors to Malaysia.
About Malaysia
Multiculturalism, warm hospitality, and diverse landscapes make Malaysia a fascinating destination for adventurous travellers to explore.
With its rich history, Malaysia offers a range of travel experiences, from bustling cities to stunning beaches, lush rainforests to authentic cultural experiences.
Make sure to try the local cuisine, as Malaysian food is renowned for its unique flavours and influences from various cultures.
Countries neighbouring Malaysia: Thailand, Singapore, Brunei and Indonesia.
Map of Malaysia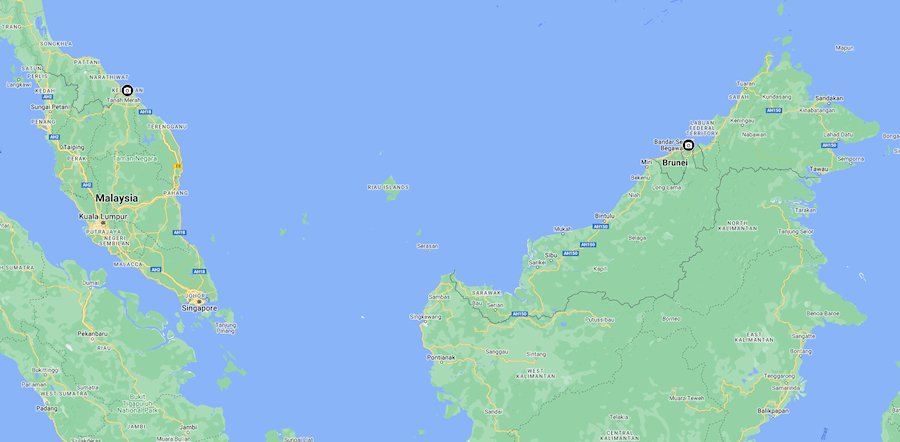 Malaysia shares land borders with Thailand to the north, Indonesia on the island of Bornei, and Brunei with the Malaysian state of Sarawak.
Malaysia is a country in South-east Asia known for its rich cultural heritage, diverse population, stunning landscapes, and vibrant cities.
Malaysia was formed on September 16th, 1963 as a federation of the 11 states of Peninsular Malaysia - what was then the Federation of Malaya; an independent nation since 1957, along with the self-governing state of Singapore and the former British colonies of North Borneo (Sabah) and Sarawak.
Singapore departed from the new federation in 1965.
Attractive Destination
Malaysia is a fascinating country that offers a blend of modernity and tradition, diverse natural landscapes, and a warm and welcoming population. It is a destination that appeals to a wide range of travellers seeking unique experiences and cultural immersion.
Cultural Festivals
Malaysia celebrates a multitude of cultural festivals throughout the year.
Hari Raya Aidilfitri is the major Muslim festival, marking the end of Ramadan.
Chinese New Year is widely celebrated by the Chinese community, and Deepavali (Diwali) is a significant Hindu festival.
These celebrations showcase the country's cultural diversity and are marked by vibrant decorations, traditional performances, and delicious cuisine.
Economy
Malaysia has a rapidly developing economy, which has transitioned from being agriculturally based to industrial and service-oriented.
The country is known for its exports of electronics, petroleum, palm oil, and natural gas.
Kuala Lumpur, the capital city, is a major financial and business hub in the region.
Tourism is also an essential part of the Malaysian economy, with visitors attracted to the country's natural beauty, cultural heritage, and modern attractions.
Geography
Malaysia is situated on the Malay Peninsula and the island of Borneo.
The country is known for its tropical climate, with high temperatures and rainfall throughout the year.
Malaysia is blessed with beautiful natural landscapes, including rainforests, mountains, and picturesque beaches.
Languages
The official language of Malaysia is Malay (Bahasa Malaysia), but English is widely spoken, particularly in urban areas and among the educated population.
Additionally, Chinese dialects (such as Mandarin and Cantonese) and Tamil are spoken by the Chinese and Indian communities, respectively.
Population and Ethnic Diversity
Malaysia has a population of over 30 million people, comprising various ethnic groups.
The largest ethnic groups are Malays, Chinese, and Indians.
Malays form the majority and are predominantly Muslim, while the Chinese and Indian communities practice various religions such as Buddhism, Christianity, Hinduism, and Islam.
This diverse population has contributed to a vibrant multicultural society with a fusion of traditions, languages, and cuisines.
Religion
Islam is the official religion of Malaysia, and it plays a significant role in the country's culture and daily life.
However, Malaysia is known for its religious diversity, with Buddhism, Christianity, Hinduism, and other faiths being practiced by different communities.
Tourism
Malaysia offers a wide range of attractions for tourists.
The capital city, Kuala Lumpur, is home to iconic landmarks like the Petronas Twin Towers, vibrant street markets, and a diverse culinary scene.
Other popular destinations include Penang, known for its historic architecture and delicious street food, and Langkawi, an archipelago of islands with beautiful beaches and a relaxed atmosphere.
Nature enthusiasts can explore the rainforests of Taman Negara or visit the endangered orangutans in the wildlife sanctuaries of Sabah and Sarawak on the island of Borneo.
Whether you're interested in exploring bustling cities, relaxing on pristine beaches, or immersing yourself in nature, Malaysia offers a wide range of experiences to suit every traveller's preferences.
Malaysia Highlights
Borneo
If you're a nature enthusiast, a visit to Malaysian Borneo is a must.
Home to dense rainforests, abundant wildlife, and the famous Mount Kinabalu, Borneo offers opportunities for jungle trekking, wildlife spotting (including orangutans), and diving in the crystal-clear waters of Sipadan Island.
Cameron Highlands
Located in the Titiwangsa Mountains, the Cameron Highlands is a cool retreat with tea plantations, strawberry farms, and scenic hiking trails.
Enjoy the refreshing climate, visit the tea factories, and experience the beauty of the rolling green hills.
Kuala Lumpur
The capital city of Malaysia is a vibrant metropolis that blends modernity with rich cultural heritage.
Visit iconic landmarks like the Petronas Twin Towers, explore the colorful streets of Chinatown, and indulge in shopping and dining at the bustling street markets and malls.
Langkawi
This archipelago of 99 islands is a tropical paradise with stunning beaches, clear waters, and lush rainforests.
It's a popular destination for beach activities, water sports, and nature exploration.
Take a cable car ride to the top of Mount Mat Cincang for breathtaking views of the surroundings.
Malacca
As an historic city with a rich past, Malacca (Melaka) is an UNESCO World Heritage Site and offers a glimpse into Malaysia's colonial history.
Explore the well-preserved architecture, visit the A Famosa fortress, and take a leisurely boat ride along the Malacca River.
Penang
Known as the 'Pearl of the Orient', Penang is a haven for food lovers.
Its capital, George Town, is an UNESCO World Heritage Site famous for its colonial architecture, street art, and diverse culinary scene.
Don't miss trying local dishes like Penang laksa and char kway teow.
Taman Negara National Park
As one of the world's oldest rainforests, Taman Negara is a haven for adventure seekers and nature lovers.
Trek through the jungle, spot diverse wildlife, go river cruising, and experience the canopy walk for an unforgettable adventure.
Malaysia by Road
As in England and Australia, cars drive on the left. On the peninsula the roads are excellent, although a little crowded.
In Sabah and Sarawak road travel is made harder by the numerous rivers and mountainous interior.
Malaysia by Rail
An international train runs from Singapore to Thailand, through Kuala Lumpur.
The central railway line goes through the jungle to Kota Bahru on the east coast.
There are no railways in Sarawak, but an interesting journey can be had in Sabah; from Kota Kinabalu (Tanjung Aru) to Beaufort and Tenom.
Malaysia by Air
Malaysia has four international airports at Kuala Lumpur, Penang, Kota Kinabalu in Sabah, and Kuching in Sarawak. Singapore can also be used, as its only a short journey across the causeway to Johor Bahru.
Airports and Airlines:
Malaysia Airlines is the national carrier.
Flying to Sabah and Sarawak
You can save money by flying to Sabah, or Sarawak, from Johor Bahru rather than Kuala Lumpur.
Map of Kuala Lumpur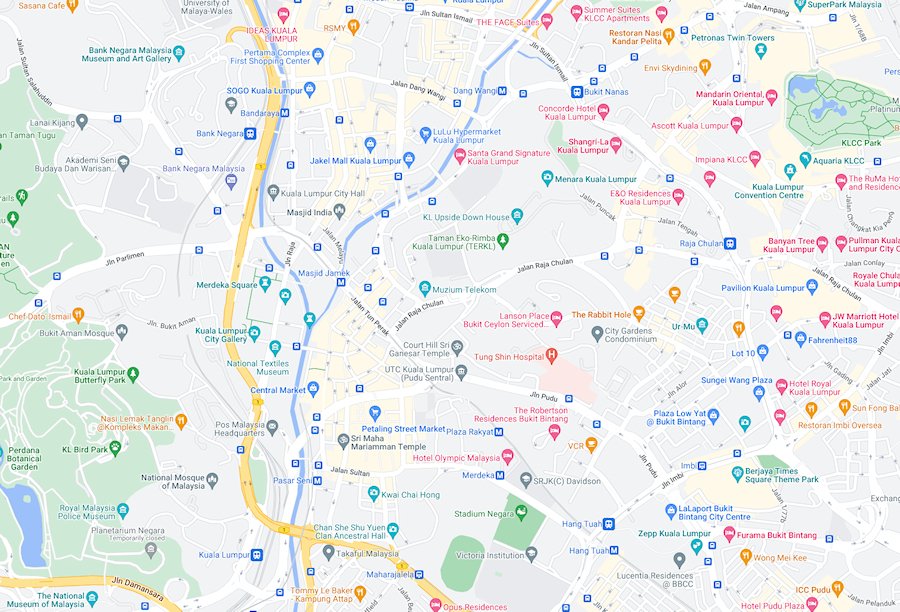 The capital of Malaysia has an interesting blend of old and new.
The cultural mix is evident by a thriving Chinatown, an Indian quarter, Malay women in headscarves doing their shopping in them both, and young boys practising cricket on the downtown playing field.
Malaysia Experiences
Kuala Lumpur was founded by Chinese tin-miners in 1857, and expanded under the British between 1873 and 1957.
It became the capital of the British-protected Federation of Malay States in 1895.
Visit the National Mosque at Friday prayers; Parliament House; and the railway station built by the colonial British with its Moorish influences of spires and minarets.

Sultan Samad Building
Designed and built by the British at the end of the 19th century, as the Secretariat Building, the tall clock tower is one of Kuala Lumpur's principal landmarks.
Malaysia Museums
The National Museum is at the entrance to the Lake Gardens, in Kuala Lumpur.
The Sabah Museum, in Kota Kinabalu, and the Sarawak Museum, in Kuching, exhibit collections of regional ethnographic and archaeological materials.
The oldest British settlement in Malaysia is popular with tourists for its beaches.
The island, off the north-west coast of the peninsula, was considered a strategic location by the British East India Company in 1786.
Penang island is connected to the mainland by an 8.4 km bridge; the longest in South-East Asia. Ferries between Georgetown and Butterworth run 24 hours a day and are more convenient.
Fort Cornwallis is one of Penang's oldest sights.
'There is an air of careless abundance about Penang that no amount of construction can dampen. And that's saying something' - Lucretia Stewart.
Pulau Pangkor
Not well known to foreigners but greatly appreciated by the local Malaysians, Pangkor island is located between Penang and Kuala Lumpur; an excellent stopover for a few days on the beach.
Malaysia is a beautiful country with a rich culture just waiting to be explored.
Discover the endless range of attractions and activities that cater to the cosmopolitan shopper, cultural enthusiast, historical buff and nature-lover.
Visit Malaysia
Travel around to experience the remarkable treasures and the hidden gems in Malaysia.
Each state offers a unique Malaysian experience for all.
Official tourist information from the Malaysia Tourism Promotion Board.
Tourism Malaysia in Australia:
Malaysia Tourism Promotion Board,
Level 2, 171 Clarence Street, Sydney, NSW.
Tourism Malaysia in Canada:
Malaysia Tourism Promotion Board,
1590-1111, West Georgia Street,
Vancouver, British Columbia.
Tourism Malaysia in Germany:
Malaysia Tourism Promotion Board,
Weissfrauenstrasse 12 - 16, Frankfurt.
Tourism Malaysia in Italy:
Malaysia Tourism Promotion Board,
Via Privata della Passarella 4, Milan.
Tourism Malaysia in New Zealand:
Malaysia Tourism Promotion Board,
Level 10, DLA Phillips Fox Tower,
205-209, Queen Street, Auckland.
Tourism Malaysia in South Korea:
Malaysia Tourism Promotion Board,
2nd Floor, Hansan Building,
47-2 Seosomun-dong, Chung-ku, Seoul.
Tourism Malaysia in United Kingdom
Malaysia Tourism Promotion Board,
57 Trafalgar Square, London.
Diving in Malaysia
If you plan to do some diving in Malaysia, you should try to book a package with an operator that includes diving, food and accommodation. It's a good way to save money.
Also, the sea gets rough and murky during the east coast's monsoon (November to March), so try to time your visit outside of this period.
Asia Diving Vacation:
Member of Malaysian Association of Tour & Travel Agents and licensed dive tour operator with the Malaysia Ministry of Tourism.
Malaysia Travel Guides - Malaysia Maps.
Weather in Asia:
Local weather forecasts for destinations around Asia.
Travel Notes Online Guide to Travel
Africa - Asia - Caribbean - Europe - Middle East - North America - Oceania - South America.

The Travel Notes Online Guide to Travel helps visitors plan their trip with country and city travel guides, local tourist information, reviewed web sites, and regular travel articles.

Maldives.
Travel and Tourism Guides on Travel Notes
If Travel Notes has helped you, please take a moment to like us on Facebook and share with your friends on social media.


Travel & Tourism With Industry Professionals.