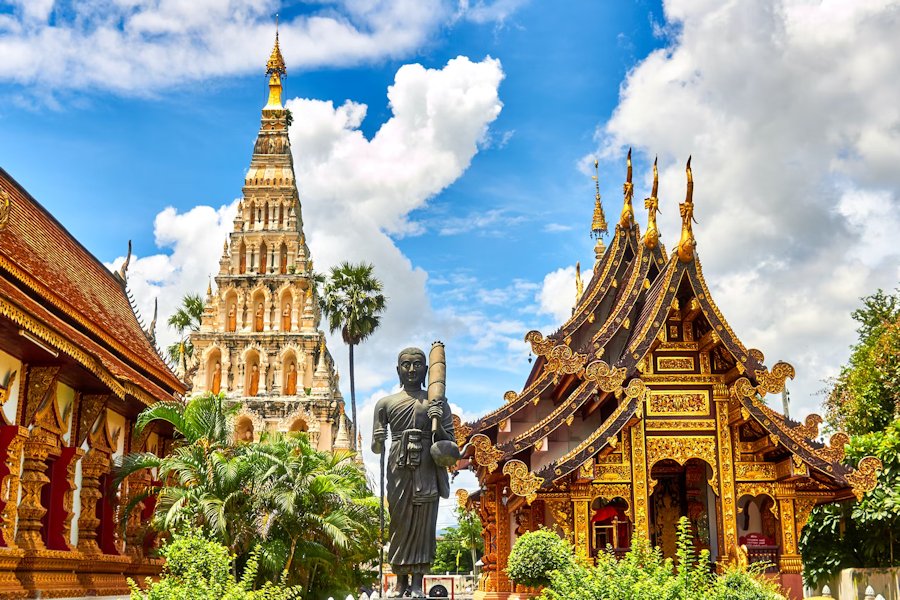 Wiang Kum Kam, Thailand by Mathew Schwartz on Unsplash.
Travel Notes: Asia - Thailand Travel Notes - Updated 16 July, 2023.
Short URL: https://tnot.es/TH
Thailand Travel and Tourism on Travel Notes

Find Thailand Travel and Tourist Information with links to official travel and tourism websites and state resources for visitors to Thailand.
About Thailand
From bustling Bangkok to tropical beaches of the south, Thailand is known for its beautiful landscapes, ancient temples, vibrant culture, and delicious cuisine.
Countries neighbouring Thailand: Myanmar, Laos, Cambodia and Malaysia.
Map of Thailand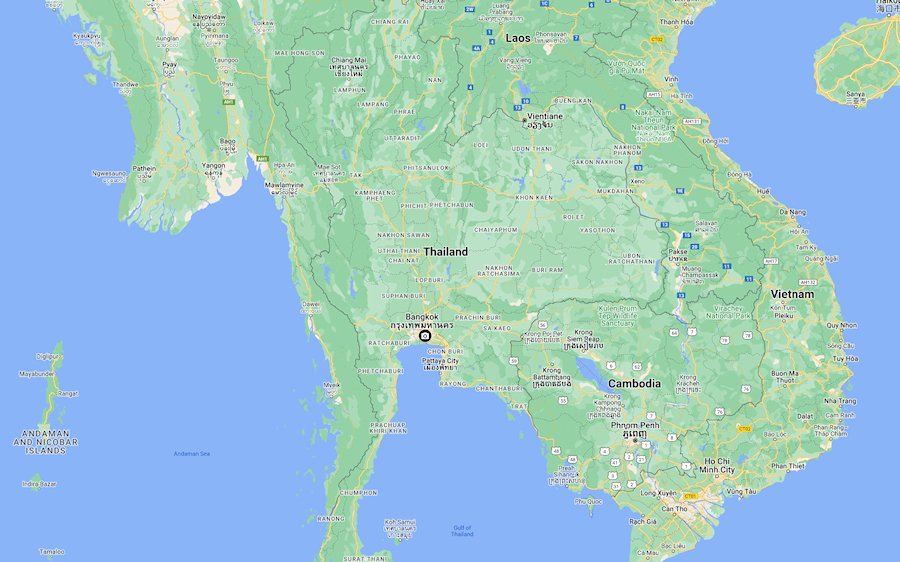 The Kingdom of Thailand, formerly known as Siam, has never been a dependency of another country.
The modern Monarchy is still very important to Thai people and visitors should show respect for the Thai King, Queen, Princes and Princesses.
Thailand's King Bhumibol Adulyadej (Phra Bat Somdet Phra Paraminthra Maha Bhumibol Adulyadej Mahitalathibet Ramathibodi Chakkrinaruebodin Sayamminthrathirat Borommanatthabophit) passed away on 13th October, 2016; having reigned since 9th June. 1946.
At the time of his death, King Bhumibol Adulyadej (88) was the world's longest-serving head of state and the longest-reigning monarch in Thai history, serving for 70 years and 126 days.
There are more than 400 Buddhist temples and monasteries, wats, in the capital city, with Wat Arun, or Temple of Dawn, one of the most well known.
The central prang rises 104 metres above the temple compound, in the typical style of Ayuthaya, and is best seen from the opposite side of the Chao Phraya River.
Bangkok, Oriental City:
The capital of Thailand is often the starting point for travel to Thailand, unless you are travelling up by land up from Singapore and Malaysia.
Three to five days should be enough for Bangkok.
The traffic in the city is horrendous, although the many wats offer sanctuary from the noise and pollution.
Getting Around Bangkok
Tuk-tuks are an ideal mode of transport around the city, when your feet get tired, as buses can be rather overcrowded.
On December 5, 1999 a new form of transportation became available to the citizens of Bangkok: The Skytrain.
Bangkok Tourism
As one of Thailand's premier tourist destinations Bangkok has numerous attractions, including temples, markets, palaces, and museums to keep visitors entertained in the capital of Thailand.
You may need a visa for onward travel to neighbouring countries and Bangkok is as good a place as any to get them.
Bangkok Introduction:
While Bangkok has embraced modernisation, you only need to look a little under the surface to see that it remains undeniably a Thai place at heart.
Bangkok Magazine:
This electronic magazine provides a wide range of information about Bangkok, its people, and the many things to do and places to go in the City of Angels.
Follow Me Bangkok Bicycle Tours:
Join friendly and experienced multi-lingual Thai guides on a bicycle tour that takes you off the tourist trail and into a Bangkok that few, if any, visitors to Thailand ever see.
Bangkok Accommodation
Whether you want to reserve a hotel near the airport, for a late arrival or early departure, or in the popular Sukhumvit Road part of Bangkok, you're sure to find a suitable hotel in your budget.
Onyx Hospitality:
Leading hotel management company in Thailand with 31 properties across the country under four different brands: Amari, The Mosaic Collection, Ozo and Shama.
Ayuthaya:
For a pleasant day-trip out of Bangkok, visit the ruins of the ancient capital of Thailand.
Travelling around Thailand is easy, cost effective and comfortable.
Once they've done Bangkok, most people then head up to the hills of the north, or the Thai beaches of Phuket and Koh Samui Island to the south; ideally you would want to do both.
The train from Bangkok to Chiang Mai takes between nine and fourteen hours.
For those on limited time, Pattaya Beach is closer to the capital, but it's getting to be like one giant brothel - you can get all that in Bangkok too - around Patpong.
If you get the chance, you should see a performance of colourful Thai court dance, brought to Thailand by the Thai armies which sacked Angkor in 1431.
Amari Hotels and Resorts:
There are currently sixteen properties in the group: in Bangkok, Chiang Mai, Pattaya, Samui and Phuket. Amari Hotels and Resorts also manages a nature resort in the very north of Thailand and two city lodge properties.
Bangkok Airways:
If time is limited you can even fly to Koh Samui or Chiang Mai. Bangkok Airways also have services to Cambodia, Myanmar, and Singapore.
Centara Hotels and Resorts:
The largest hotel chain in Thailand offering idyllic locations, international standards, and gracious Thai hospitality.
Tourism Authority of Thailand:
A warm welcome to the Land of Smiles with plenty of helpful tips and advice to help you plan your trip to Thailand.
Wildlife Friends Foundation Thailand:
Day trips to the Wildlife Rescue Centre and Elephant Refuge. Price includes transportation from Hua Hin or Cha Am, a welcome drink and Thai buffet lunch. Extra charge for departs from Bangkok and Pranburi.
Pattaya is a great holiday destination and is perhaps one of the best places to escape to.
Unusual and exotic, Pattaya is among the few cities in the world that offers a unique blend of urban life and tropical paradise. Warm and sunny throughout the year, this city is the prefect getaway for the family, or if you just want to be by yourself.
Accommodations in this beautiful city range from hotel rooms at very low rates to those with exorbitant price tags. The cheaper hotels offer basic but clean rooms with a fan or with air conditioning, with bathroom facilities usually also provided.
On the opposite end of the spectrum, five-star and luxury resorts offer their guests plush rooms with spa treatments and massages. The grandest of rooms and the most sparse, all can be found in Pattaya.
Chiang Dao:
Chiang Dao, literally translated 'the City of Stars', is North of Chiang Mai en route to Tha Ton.
Northern Thailand:
The Chiang Mai & Chiang Rai Magazine is an informative source for northern Thailand. There's even a travel help section where they will try to answer your e-mail questions.
Advice for Visitors to Chiang Mai, Thailand:
Many guide books on Thailand only partially cover the subject of health and well-being while travelling in the country, so this article gives you some advice about transportation, protocol, health, and the law.
Chiang Mai has many ancient temples to visit, and is the jumping off point for Chiang Rai.
North Thailand Adventures:
If you don't have much time and want to go elephant riding, do a little rafting and spend the night in a traditional hill tribe village; this is the program for you.
Tarin Hotel - Chiang Mai:
First Class accommodation in 170 spacious guest rooms and suites, ten minutes from Chiang Mai's Night Bazaar. Personal attention to detail and caring in the 'Lanna' tradition.

Wayfarers Travel:
Tours and treks in Chiang Mai and throughout Northern Thailand. Itineraries take you to temples, handicraft centres, elephant camps, hill-tribe villages, bamboo rafting and some fantastic scenery. Customised programs anywhere in northern Thailand.
Chiang Rai:
Ride an elephant around the hill-tribe villages, spend time trekking, or visit the Myanmar border market.
Ko Pha Ngan is the nearest island to Samui. Boats can be readily hired for the trip. The beaches are good and there are also several scenic waterfalls, but while there is some budget accommodation, the island is much less developed than Samui.
Full Moon Party Tips
If you're going out to the famous Full Moon Party at Haad Rin Beach, make sure that you only take out what you really need - most resorts provide a free safety deposit box to keep your valuables in.
Phangan Info:
A natural paradise island in the Southern Gulf of Thailand, Koh Phangan is a perfect getaway retreat for relaxing on deserted beaches, learning to dive at Koh Ma or trekking Than Sadet National Park.
Koh Samui has more than it's fair share of beautiful beaches, from quiet, laid back beaches with few people and authentic Thai villages to busy beaches and modern resorts with lots of people and attractions.
Koh Samui is the third largest island of Thailand after Phuket and Koh Chang and one of the most popular destinations for travellers.
Getting to Koh Samui
Bangkok Airways is the only airline that flies directly to Koh Samui or you can fly to the Surat Thani airport with Thai Airways and make the bus and ferry connection to Koh Samui.
Cheap Places to Stay on Koh Samui
Finding a place to stay on Koh Samui is not that hard; the bungalow owners will probably find you first, if they have vacancies.
To be sure that you have a bed in the resort of your choice, it might be wise to book online before you go.
Budget Accommodation in Koh Samui:
Stay in traditional Thai bungalows and enjoy modern facilities, right on Chaweng Beach.
Samui Beach Resort:
All the bungalows at the Samui Beach Resort stand in a tropical garden right on the quiet beach of Lamai. They range from standard bungalows with fan and hot water to superior bungalows with air-conditioning, TV, mini bar and hot water. Restaurant, bar and swimming-pool.
Those who visit Phuket for its beaches will be surprised to discover that the small island offers much more than soft sand and warm water.
Phuket Beaches:
The reason most people go to Phuket. Also includes the islands within a daytrip of Phuket.
Phuket Sailing:
Sail away from the main island of Phuket and discover hundreds of unspoiled idyllic anchorages in the Andaman Sea.
Accommodation in Phuket
Crystal Clear Thailand:
One of a very few PADI Dive Resorts in Phuket that can offer both diving and accommodation.
Thavorn Beach Village Hotel & Spa:
Set in a truly breathtaking environment; a prime location amongst the lush greenery of Nakalay Bay, close to the crystal clear ocean and fine white sands. Guestrooms are arranged in traditional Thai style with direct access to the swimming pool, or with a magnificent view over the ocean.
Koh Lanta is about 70km south of Krabi, on the eastern side of southern Thailand's Phang Nga Bay.
Getting to Koh Lanta
The nearest airports are Phuket, Krabi and Trang.
From Phuket
Most travellers to Koh Lanta make the journey from Phuket, via Phi Phi Island. This is only possible from November to April.
From Krabi
Coming from Krabi, two boats a day depart from the Klong Chi Lard Pier (west of the town). The journey takes around two hours and again only runs from November to April.
From Trang
Minibuses to Koh Lanta leave from opposite Trang railway station at 12:00 throughout the year, with more departures in operation from November to April (10:30, 11:30, 12:30, 13:30, 15:30).
Koh Lanta Island:
Not long ago there were only ten resorts on Lanta, now there are around a hundred. This site lists them.
Lanta Info:
Koh Lanta Island is a long thin island running north to south. The west coast (or sunset coast) faces the Andaman Sea with a string of beautiful white-sand beaches that host the island's resorts.
Surin is internationally famous for the elephant festival in mid-November.
Motorbike Thailand:
One of the longest established motorcycle touring companies in Thailand, offering many unique road and off-road packages as well as adventure riding tours for people with little or no off-road experience.
Do not wear shorts around The Grand Palace or in religious shrines, and women definitely shouldn't parade themselves in a bikini top.
Shoes have to be removed when entering the chapel where the principal Buddha statue is located.
Outdoor footwear is also removed when entering Thai homes, and you should avoid pointing your feet at people when sitting on the floor; it is considered rude.
If a Buddhist priest is to receive anything from a woman, it is first passed to a man, and then to the priest.
When greeting Thais it is customary to press the palms together in a wai, or prayer-like gesture.
Never touch a Thai on the head, this is considered the highest point of the body in a very literal sense.
Learning Thai Online
Learn how to read Thai, write Thai and speak Thai with a grounding in basic Thai words and common phrases. Listen to audio files spoken by real Thai natives to learn the correct pronunciation in ten, easy Learn Thai lessons.
If you enjoy the lessons, there's also a free, seven day e-mail course with Thai grammar notes and 1,000 essential Thai words.
Plan Before You Arrive in Thailand
Thailand has great beaches and great inland scenery and accommodation of all standards. To make your trip run smoothly do some planning before you arrive and if its the high season or public holidays make sure you have transport and accommodation pre-booked.
By Wayfarers Travel.
Thailand News
The Nation:
The digital version of Thailand's English newspaper.
Thailand Travel Guides - Thailand Maps.
Weather in Asia:
Local weather forecasts for destinations around Asia.
Travel Notes Online Guide to Travel
Africa - Asia - Caribbean - Europe - Middle East - North America - Oceania - South America.

The Travel Notes Online Guide to Travel helps visitors plan their trip with country and city travel guides, local tourist information, reviewed web sites, and regular travel articles.

Turkey.
Travel and Tourism Guides on Travel Notes
If Travel Notes has helped you, please take a moment to like us on Facebook and share with your friends on social media.


Travel & Tourism With Industry Professionals.