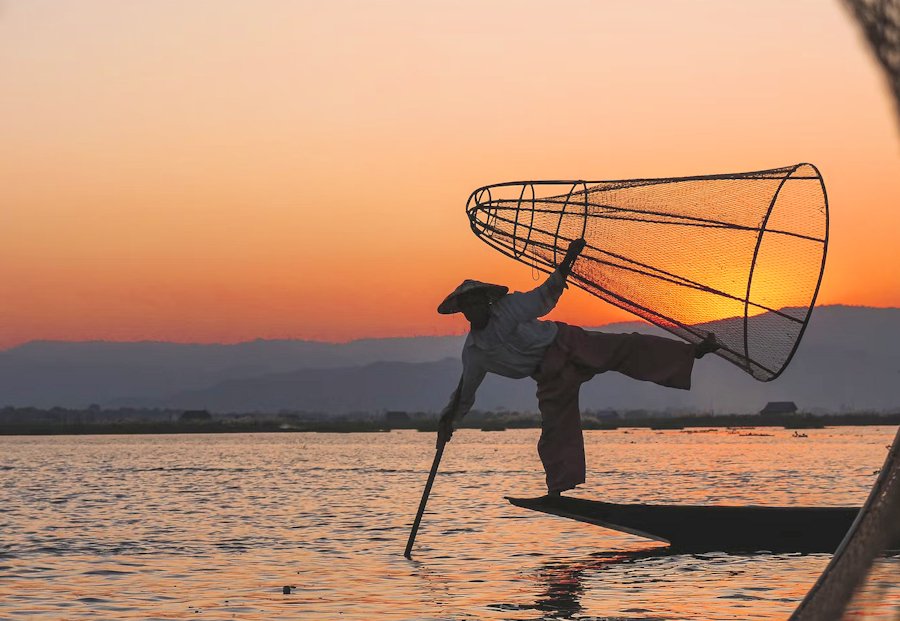 Photo by Majkell Projku on Unsplash.
Travel Notes: Asia - Myanmar Travel Notes.
Short URL: https://tnot.es/MM
Myanmar Travel and Tourism on Travel Notes

Find Myanmar Travel and Tourist Information with links to official travel and tourism websites and state resources for visitors to Myanmar (Burma).
About Myanmar (Burma)
Myanmar's tropical climate means that it can be visited year-round, but the best time to visit is from November to February when the weather is comfortable.
The country has several popular tourist destinations, including Yangon, Bagan, Mandalay, and Inle Lake.
Countries neighbouring Myanmar: Bangladesh, India, China, Laos and Thailand.
Map of Myanmar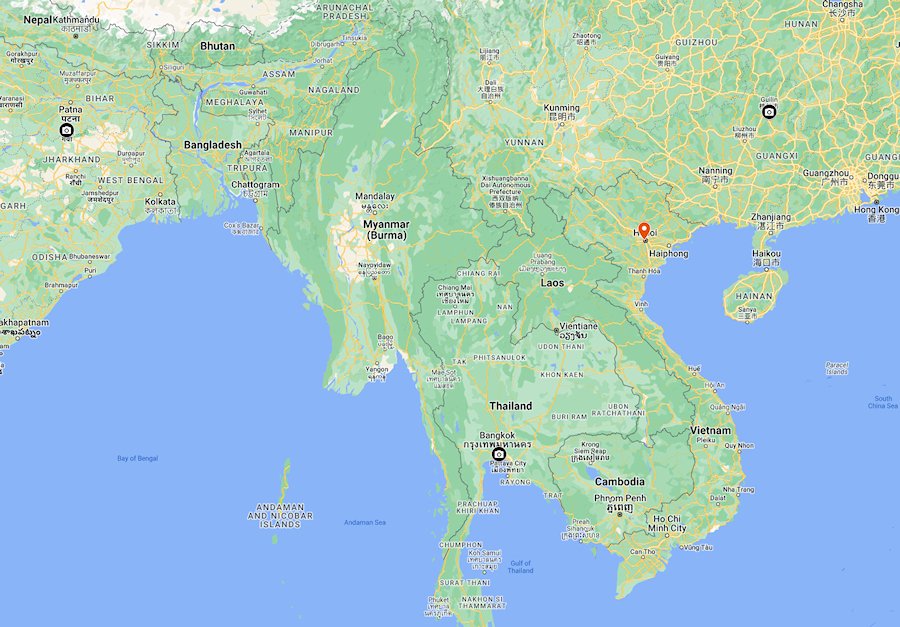 Officially called the Union of Myanmar, Myanma Naingngandaw, the country was known as Burma until June 19th, 1989.
The current capital of Myanmar is Naypyidaw.
Formerly known as Burma, the Republic of the Union of Myanmar, is a country located in Southeast Asia.
It is bordered by Bangladesh and India to the north.west, China to the north-east, Laos to the east, Thailand to the south-east, Andaman Sea to the south, and the Bay of Bengal to the east.
The country has a population of over 54 million people and its largest city and former capital is Yangon.
Economy
Myanmar's economy is largely based on agriculture, with rice being the country's most important crop.
The country also has significant reserves of natural resources, including oil, natural gas, and precious stones.
Tourism is also an important industry in Myanmar, with visitors drawn to the country's ancient temples, natural beauty, and cultural diversity.
Geography
Myanmar is known for its diverse geography, including mountain ranges, tropical rainforests, and coastal regions.
The country is also home to several ethnic groups, including the Bamar, Shan, Karen, and Rohingya.
History
Myanmar has a rich history, with evidence of human settlement dating back over 11,000 years.
The country was ruled by a series of kingdoms and empires before being colonized by the British in the 19th century.
Burma gained independence in 1948.
Human Rights and Rohingya Crisis
Myanmar has faced criticism regarding human rights violations, particularly in relation to the treatment of ethnic minorities.
The most prominent crisis in recent years has been the persecution of the Rohingya Muslim minority.
In 2017, a military crackdown led to a mass exodus of Rohingya people to neighboring Bangladesh, resulting in a humanitarian catastrophe and international condemnation.
Political Challenges
In recent years, Myanmar has faced political and social challenges, including a military coup in February 2021.
The country has also faced international scrutiny for its treatment of the Rohingya people, a Muslim minority group in the country.
Religion
Buddhism is the predominant religion, and the country is home to numerous stunning Buddhist temples, pagodas, and monasteries.
The Shwedagon Pagoda in Yangon is one of Myanmar's most famous religious landmarks.
Tourism
Myanmar's natural beauty and cultural heritage have made it a popular tourist destination.
Visitors are drawn to iconic sites such as Bagan's ancient temples, the floating gardens of Inle Lake, and the golden rock of Kyaiktiyo.
However, it is important to research and respect local customs and current travel advisories before planning a trip to Myanmar.
An isolated and remote country, unspoiled by mass tourism, Myanmar is for the traveller, not the average tourist.
It's worth noting that the situation in Myanmar is subject to change, and it is advisable to stay updated with recent news and travel advisories from reliable sources if you plan to visit or have a particular interest in the country.
Myanmar Highlights
Myanmar, also known as Burma, is known for its stunning temples, pagodas, ancient ruins, diverse culture, and beautiful landscapes
Best Time to Visit
Myanmar has a tropical climate, so it's essential to plan your visit based on the weather conditions.
The best time to visit Myanmar is during the cool and dry season, which runs from November to February.
This period offers comfortable temperatures and less rainfall.
However, this is also the peak tourist season, so expect higher prices and bigger crowds.
Culture and Customs
Myanmar has a rich culture and customs, including Theravada Buddhism, traditional dances, and local festivals.
Myanmar's culture is deeply influenced by its diverse ethnic groups, including the Bamar, Shan, Karen, Chin, Kachin, and many others.
It is important to dress modestly and remove your shoes before entering temples and other sacred sites.
It is customary to greet people with a slight bow and a "mingalaba" (hello) in Myanmar.
Currency
The currency used in Myanmar is the Burmese kyat (MMK).
It's recommended that you exchange money at official currency exchange counters or banks, as rates at hotels and other tourist spots may not be as favourable.
Credit cards are becoming more widely accepted in major tourist areas, but it's advisable to carry cash, especially for smaller establishments and remote areas.
ATMs are available in major cities, but they may not be as prevalent in rural areas.
Destinations
Myanmar has several popular destinations that are worth exploring.
Yangon, the largest city and former capital, is known for its stunning pagodas, including the iconic Shwedagon Pagoda.
Bagan is famous for its ancient temples and is an UNESCO World Heritage site.
Mandalay, the last royal capital, is another significant cultural and historical hub.
Inle Lake and Ngapali Beach are also popular tourist destinations.
Language
The official language of Myanmar is Burmese, but many people speak English, especially in the major tourist areas.
Responsible Tourism
Respect the local environment and communities by practicing responsible tourism.
Be mindful of local customs, support local businesses, and minimize your impact on natural and cultural sites.
Safety and Security
Myanmar is generally a safe country to visit, but it's important to be aware of your surroundings, especially in crowded areas.
Before travelling, check the latest travel advisories and consult with your local embassy or consulate regarding the current situation in Myanmar.
Keep yourself updated on any potential risks or political developments.
Transportation
Transportation in Myanmar can be challenging, especially outside of major cities.
In major cities like Yangon and Mandalay, you'll find various transportation options such as taxis, ride-sharing services, and public buses.
Taxis are available, but it's recommended that you negotiate the fare beforehand.
Buses and trains are also available, but they can be slow and uncomfortable.
For longer distances, domestic flights can be convenient, especially for reaching destinations like Bagan.
However, be prepared for delays or schedule changes with domestic flights.
Visa
Check the visa requirements for your nationality before travelling to Myanmar.
Most travellers need a visa to enter the country, and it's generally recommended to obtain it in advance.
Visitor Attractions
Some of the top tourist attractions in Myanmar include the ancient city of Bagan, the Shwedagon Pagoda in Yangon, the Inle Lake, and the golden rock at Kyaiktiyo.
Overall, Myanmar is a fascinating country to visit, with a rich history, culture, and natural beauty.
The seven-day visa seems to be a thing of the past, and you should be able to travel more leisurely with the thirty-day visas now on offer. The situation could always change overnight though.
You are officially required to change $300 into Foreign Exchange Certificates at the inflated official rates; similar to the system once used in China.
With some planning and preparation, you can have a wonderful trip to Myanmar.
Airlines and Airports:
Getting to Myanmar means flying. Myanmar Airways fly to and from Bangkok daily. There are also flights from Hong Kong and Singapore.
Thai and Biman also fly from Bangkok and Dhaka, and if you're coming from China, Air China will fly you in from Kunming.
Aeroflot also have connections in the region through Bombay, Vietnam and Laos.
The administrative capital of Myanmar is Naypyidaw; a planned city about 320km north of the previous capital, Rangoon (Yangon).
Map of Naypyidaw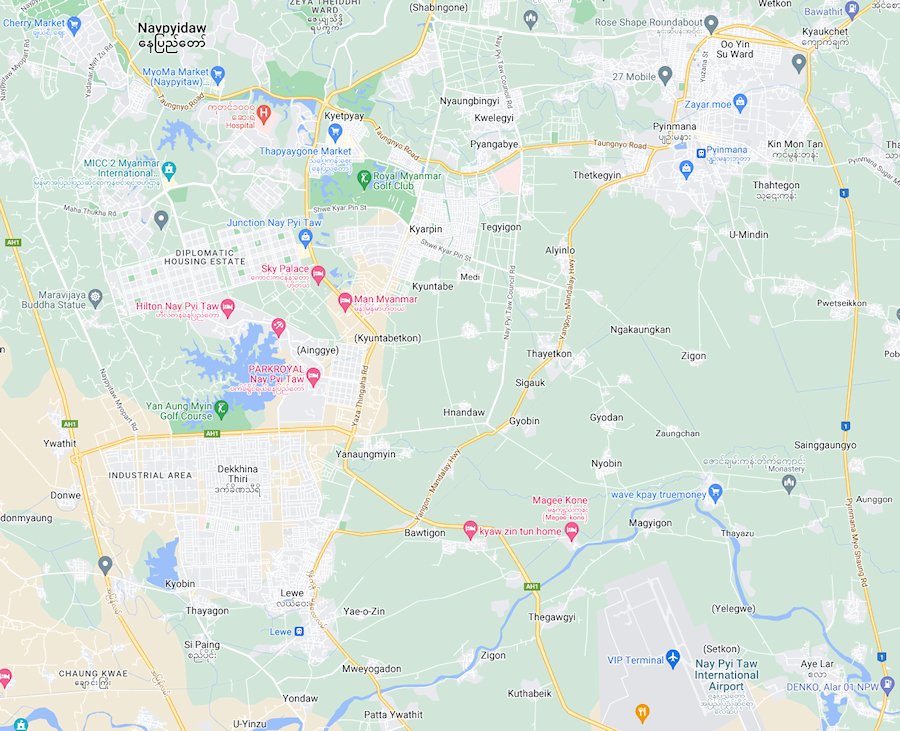 Upper and Lower Myanmar
The coastal region is known as Lower Myanmar, while the interior region is known as Upper Myanmar.
Myanmar by Air
As the seven-day visa seems to be no more, there is no real need to fly with the Fokkers around the Yangon - Bagan- Mandalay - Heho circuit.
Myanmar by Road
Buses and pick-ups can get crowded, and road is not the preferred way of travel from Yangon to Mandalay.
Myanmar by Train
Daily Yangon to Mandalay express trains leave in the evenings for the 14 hour journey. There are other trains, but just getting the tickets can be an ordeal.
Myanmar by Boat
You could spend a week of your thirty-day visa getting up the Irrawaddy. Most people prefer to go by train to Mandalay, and take the boat down to Bagan.
The former capital city of Myanmar is still known in some circles by the British name of Rangoon.
Yangon is located in the southern part of the country, in the Irrawaddy delta.
King Alaungpaya, or Alompra, founder of the last dynasty of Burmese kings, chose the site as the administrative capital of Lower Burma in the mid-1750s, and named it Yangon - the end of strife.
Rangoon was captured by the British in 1824, but they relinquished control two years later.
It again come under British rule at the end of the Second Anglo-Burmese War, in 1852, and was occupied by Japanese forces during World War II.
When Burma gained independence in 1948, Rangoon became its capital.
The World Peace Pagoda was built here in 1952; in honour of the 2,500th anniversary of the death of the Buddha.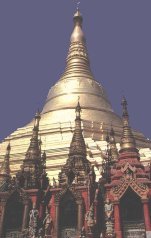 Shwedagon Pagoda
This ancient Buddhist shrine, the most sacred temple in Myanmar, is almost 100 m high and coated in gold leaf that shimmers in the sunlight.
The Sule Pagoda, in the centre of Yangon, is also over 2,000 years old.
Mandalay is Mayanmar's second city. Its many monasteries and pagodas attract almost everybody up the Irrawaddy from Yangon.
Mandalay was the last capital of the independent Kingdom of Burma, until it was captured by the British in 1885.
Formerly called Pagan, this deserted city had thousands of temples scattered around the area, before Kublai Khan rode through in 1287.
Known as the city of four million pagodas, Bagan is one of the richest archaeological sites in Asia.
Most of the important sights have been restored and reconstructed.
The official language of Myanmar is Burmese - Myanmar, with the Myanmar alphabet based on Sanskrit.
The Burmese are racially akin to the Tibetans and the Chinese.
Learning Burmese
Learn Burmese by listening to common words and phrases spoken by real Burmese natives.
Getting the squiggles and swirls right in Burmese writing might be a little harder.
Indigenous minorities have their own languages and cultures and each minority group has its own state.
The Karen
Traditionally, most Karens are farmers who farm the nutrient rich soils of southern Burma and eastern Thailand. The religion of the Karen majority is Animism and Buddhism although there is a sizeable population of Christians among the Karens.
The Chin
Related to ethnic groups in neighbouring Assam State, India, and live in the north-western mountainous region. They are mostly hunters and fishermen and are often ruled by head priests.
The Kachin
Hill people concentrated in the far north of the country and ruled by hereditary leaders.
The Mon-Khmer
Believed to be the first major ethnic group to have migrated to the area live mostly in the delta region.
The Shan
Related to the Thai, live mainly in the hills along the Thai border.
Myanmar's principal river, also called the Ayeyarwady, is formed in the north of the country by the confluence of the Mali and Nmai rivers.
The river is navigable by steamers all year as far north as Bhamo, and smaller boats can travel up the river to Myitkyina even during the low-water season from October to February.
One of the few areas in the Shan states that foreigners are allowed to visit.
The Inlelake-area is one of the nicest areas to stay a while longer when you are travelling through Myanmar.
Myanmar Festivals
Get more out of your visit to Myanmar by planning to coincide with one of the many cultural festivals around the country.
Myanmar Travel Guide - Myanmar Maps.
Weather in Asia:
Local weather forecasts for destinations around Asia.
Travel Notes Online Guide to Travel
Africa - Asia - Caribbean - Europe - Middle East - North America - Oceania - South America.

The Travel Notes Online Guide to Travel helps visitors plan their trip with country and city travel guides, local tourist information, reviewed web sites, and regular travel articles.
Travel and Tourism Guides on Travel Notes
If Travel Notes has helped you, please take a moment to like us on Facebook and share with your friends on social media.


Travel & Tourism With Industry Professionals.

Nepal.