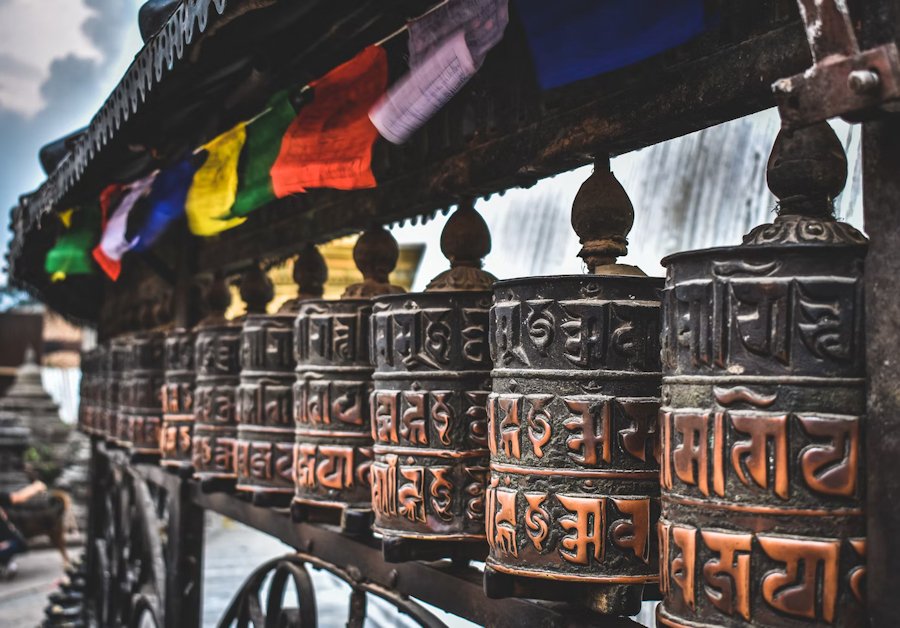 Photo by Tim van Kempen on Unsplash.
Travel Notes: Asia - Nepal Travel Notes - Updated 16 July, 2023.

Short URL: https://tnot.es/NP
Nepal Travel and Tourism on Travel Notes

Find Nepal Travel and Tourist Information with links to official travel and tourism websites and state resources for visitors to Nepal.
About Nepal
Known for stunning Himalayan mountains, rich cultural heritage, and friendly people, Nepal is a popular destination for travellers seeking trekking adventures.
Nepal is favoured by budget travellers, who loathe paying $200 a day to visit Bhutan.
Map of Nepal
Nepal is locked between China and India and needs to keep on friendly terms with them both.
Many people fly from Delhi to Kathmandu. Be warned though, this is a popular route so book well in advance.
If you're adventurous, and have time on your hands, then the overland route is always the most exciting.
There are buses from Delhi to Kathmandu, although you might prefer to take the night train from Delhi to Gorakhpur, in northern India, and then a bus to Sunauli on the Nepalese border.
A short walk across the border and you're in Nepal. From here you will need to take another bus to Pokhara or Kathmandu. Pokhara is about 200km west of the capital, Kathmandu.
Nepal can be similarly reached from Calcutta.
Nepal News
Nepal's first online news portal published by Nepalnews.
Visitors need to pay about $10 for a fifteen-day transit visa on entry. This can be extended to a thirty-day tourist visa, at no extra cost, at the immigration office in Kathmandu or Pokhara.
Thirty-day tourist visas can be purchased from Nepalese embassies around the world (rates vary), and may be extended in Nepal.
If you're going to stray into the hills then you'll need a trekking permit too.
The best time to visit Nepal is between October and May, unless you especially want to be there during the monsoon.
October and November are considered the best months to be in Nepal, but then it is also the most crowded.
Festivals in Nepal
Nepalese are said to observe more festivals than there are days in the year. Hardly a day passes without some festivities, ceremonial observances or pilgrimages occurring in some part of the country or the other.
The Nepalese monarchy was abolished on 28th May, 2008.
Although Nepal is predominantly Hindu, there are still many places of worship important to Buddhists.
LLumbini is believed to be the birth place of Lord Buddha and is an important pilgrimage site. 250kms. west of Kathmandu valley, special attractions are, the Sacred pond, May Devi temple, Ashok Pillar and Buddhist Monasteries.
The Temple of Pashupatinath is Nepal's most scared Hindu shrine and one of the four most important cities in the world for Shiva worshippers.
Lord Buddha, the light of Asia, was born in Lumbini in Nepal's southern plains, which makes Nepal a scared pilgrimage destination for Buddhists as well.
Religious practices are an important part of the lives of the Nepalese people. Mythologies of various Hindu gods and goddesses abound in this country and cultural values are based on the philosophies of holy books like the Gita and Ramayana.
Kathmandu seems to be modernising too rapidly, and at times it looks like every overland traveller in Asia is in one of the guest houses.
Durbar Square
The residential area of the old kings is located in Kathmandu. The Kasthamandap, built by King Laxmi Narsingh Malla in the early 16th century is believed to have been constructed from the wood of single tree.
The Kathmandu Valley is the heart of the Kingdom of Nepal.
Outside of Kathmandu nature speaks for itself, and who doesn't want to listen to the wise words of the Himalayas.
The Himalayas is the highest mountain system in the world, and extends through most of Nepal to form its northern border.
Mount Everest is the highest mountain in the world; straddling Nepal and Tibet.
In all, Nepal has nine of the 14 highest mountains of the world within its territory.
The Chitwan National Park, 120km south of Kathmandu, is the most popular safari park in Nepal.
AAt an altitude of 827m above sea level, Pokhara is a remarkable place of natural beauty with several beautiful lakes and stunning panoramic views of Himalayan peaks.
There's now no need to arrive in Nepal without a place to stay.
Choose your destination in Nepal and reserve your hotel online before you leave home.
Buddha Maya Gardens:
Three star category hotel with air-conditioned rooms, restaurant, conference hall, prayer room and meditation centre. Spread in four acres of land, Maya Gardens is located just behind the sacred garden; 10 minutes walk to the birthplace of Lord Buddha.
Kathmandu Guest House:
A Rana palace built by the first Nepalese civil engineer, Kumar Narshing Rana, and converted into a hotel by the Sakya family - the most popular budget hotel outside Europe and North America.
Maya Manor Boutique Hotel:
The original building of Maya Manor Boutique Hotel was built by the Commander in Chief Toran Shumsher Rana and his brother Balram SJB Rana in 1935. The Chinese Ambassador lived in this mansion for 10 years.
Park Village Hotel: (Lumbini)
An Eco-friendly hotel built in duplexes and spread in 4 acres of woodland with lots of birds and butterflies at the foot of the Mountain Wildlife Reserve - in Budanil-Kantha.
Where to Stay in Nepal
Hotels in Kathmandu - Hotels in Pokhara - Hotels in Sauraha.
Nepal Travel Guides - Nepal Maps.
Weather in Asia:
Local weather forecasts for destinations around Asia.
Travel Notes Online Guide to Travel
Africa - Asia - Caribbean - Europe - Middle East - North America - Oceania - South America.

The Travel Notes Online Guide to Travel helps visitors plan their trip with country and city travel guides, local tourist information, reviewed web sites, and regular travel articles.

North Korea.
Travel and Tourism Guides on Travel Notes
If Travel Notes has helped you, please take a moment to like us on Facebook and share with your friends on social media.


Travel & Tourism With Industry Professionals.