North Central Province, Maldives by Ishan @seefromthesky on Unsplash.
Travel Notes: Asia - Maldives Travel Notes - Updated 04 August, 2023.
Short URL: https://tnot.es/MV
Maldives Travel and Tourism on Travel Notes

Find Maldives Travel and Tourist Information with links to official travel and tourism websites and state resources for visitors to The Maldives.
About Maldives
Tourism plays an important role in The Maldives. The best time to visit is from November to April, with the best conditions between December and March.
Map of The Maldives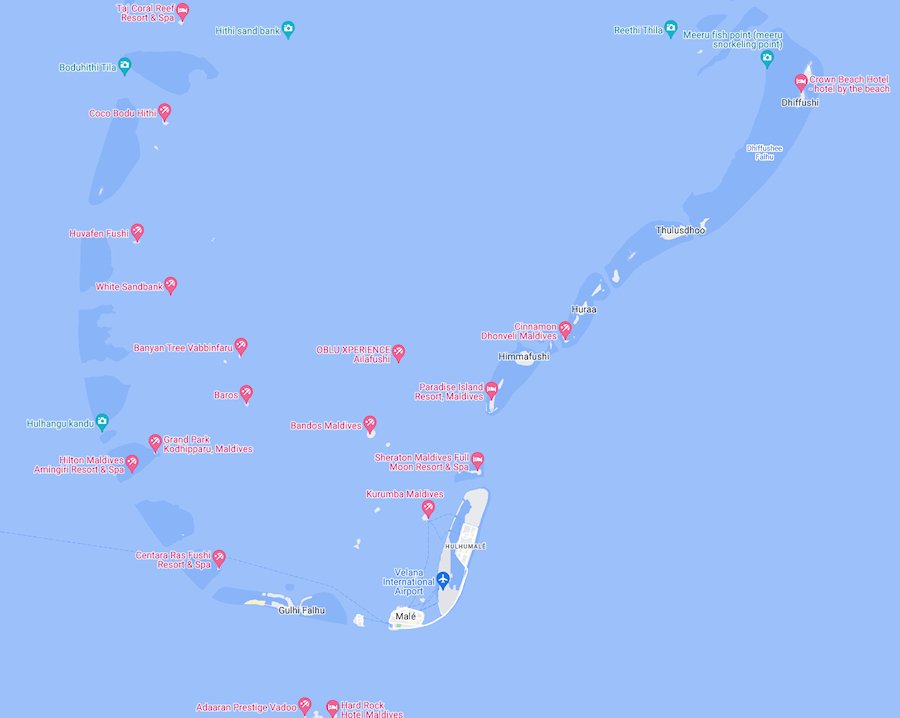 The Republic of Maldives is an archipelago consisting of 26 coral atolls, which are made up of more than 1,000 coral islands, just north of the equator; south-west of the southern tip of India.
Fishing still dominates the economy of Maldives; accounting for over 60% of all exports.
The capital city of Maldives is Malé.
The Maldives is a tropical paradise located in the Indian Ocean, south-west of Sri Lanka.
About The Maldives
Culture
The Maldivian culture is influenced by South Indian, Arab, and African traditions.
Maldivians are known for their warm hospitality.
The official language is Dhivehi, an Indo-European language related to Sinhalese, although English is widely spoken in tourist areas.
Islam is the official religion of the Maldives, and the country has a rich Islamic heritage.
Environmental Concerns
The Maldives is highly vulnerable to the effects of climate change, particularly rising sea levels. The government has been actively involved in advocating for climate action and sustainability.
In recent years, they have launched initiatives to reduce carbon emissions, protect coral reefs, and promote renewable energy.
Geography
The Maldives is the lowest country in the world, with an average ground level of just 1.5 metres above sea level.
The islands are known for their pristine white sandy beaches, crystal-clear turquoise waters, and abundant marine life.
Coral reefs surround the islands, making it a popular destination for snorkelling and diving.
Marine Life
The Maldives is home to a diverse marine ecosystem, with over 2,000 species of fish and a variety of coral species.
It is a popular destination for snorkellers and scuba divers, who can explore the vibrant coral reefs and encounter marine creatures such as manta rays, whale sharks, and turtles.
Tourism
The Maldives is renowned for its luxury resorts, which are typically located on private islands.
These resorts offer a range of amenities, including overwater villas, spa facilities, water sports, and fine dining.
Many visitors come to the Maldives to relax, unwind, and enjoy the natural beauty of the islands.
Transportation
The main international gateway to the Maldives is Velana International Airport, located on Hulhulé Island.
From there, visitors can travel to their respective resorts by speedboat or seaplane.
Within the islands, transportation is mainly done by boats and seaplanes.
The Maldives is an exquisite tropical paradise located in the Indian Ocean; a sought-after destination for its natural beauty, luxury resorts, and underwater wonders.
Visitors To The Maldives
With its pristine white-sand beaches, crystal-clear turquoise waters, and abundant marine life, Maldives has become a dream destination for many travellers; offering a perfect blend of relaxation, adventure, and cultural experiences for visitors from around the world.
Entry Requirements
Ensure that you have a valid passport with at least six months of remaining validity. Depending on your nationality, you may also require a visa.
However, most tourists visiting the Maldives are granted a free 30-day tourist visa upon arrival.
Flights
The Maldives has an international airport called Velana International Airport (MLE), located on Hulhulé Island near the capital city, Malé.
Many major airlines offer direct flights to the Maldives from various international destinations.
Once you arrive at the airport, you can reach your resort or destination by speedboat or seaplane.
Local Culture and Cuisine
While the resorts offer a luxurious escape, it's worth venturing beyond to experience the local culture.
Explore the capital city of Malé, where you can visit the Maldives National Museum, Hukuru Miskiy Mosque, and Sultan Park.
Try local Maldivian cuisine, which often features seafood, coconut, and spices.
Sample dishes like mas huni (tuna and coconut salad) and garudhiya (fish broth).
Sustainable Tourism
The Maldives is committed to protecting its delicate ecosystems and has implemented several initiatives for sustainable tourism.
Respect the marine life, follow responsible snorkelling and diving practices, and avoid damaging coral reefs.
Many resorts also have their own conservation projects that you can support or participate in.
Travel Advisories
Remember to check for any travel advisories or entry requirements specific to your home country before planning your trip to the Maldives.
Weather and Best Time to Visit
The Maldives has a tropical climate with two primary seasons; dry season (November to April) and wet season (May to October).
The dry season generally experiences less rainfall, making it the peak tourist season.
However, the wet season also has its charm, with occasional rain showers and lower prices.
Keep in mind that the Maldives is vulnerable to seasonal weather patterns, including monsoons.
Where to Stay
The Maldives is renowned for its luxury resorts, each situated on its private island.
These resorts offer stunning overwater villas and impeccable services.
You can select from a wide range of options depending on your preferences and budget.
It's advisable to book your accommodation well in advance to secure your desired resort.
Maldives Attractions
The Maldives is a haven for water sports enthusiasts.
You can indulge in snorkelling, scuba diving, jet skiing, parasailing, kayaking, and fishing.
The abundant coral reefs surrounding the islands provide incredible opportunities for underwater exploration.
Don't miss the chance to swim alongside manta rays or spot vibrant marine life.
Maldives National Museum
Situated in the only remaining structure of the Sultan's Palace, which was destroyed in 1968, the Museum's collection comprises items of historical and cultural interest from both the Pre-Islamic and Islamic eras of Maldivian history.
My Maldives - Paradise Found
If your idea of paradise is a pristine tropical island with swaying palm trees and pure white beaches surrounded by crystalline lagoons of varying shades of blue, then the Maldives Islands will definitely fit the bill.
The only problem you'll have is choosing from the many Maldives Resorts.
The Maldives - People and Festivals
While very little is known about the ancient history of the Maldives scholars and historians believe that the Maldives is an old nation populated well over 2,500 years ago.
Maldivians have great national pride. In all festival planning a feeling of family is sensed as women, men, and children share in the preparation of food, decoration, and entertainment programmes.
Visit Maldives
The Maldives is made up of one thousand two hundred islands, all different in their own unique ways.
Male was part of a British protectorate from 1887 to 1965, when it became the capital of the newly independent Maldive Islands, renamed Republic of Maldives in 1968.
Map of Malé
Flying to The Maldives
The capital of the Maldives is too small to host an airport, so visitors will land at Velana International Airport, on the nearby island of Hulhule.
Getting to Male
It takes about a quarter of an hour to reach Male by dhoni. These motorboats can accommodate 30-40 people and cost around $10 to charter, or less with bargaining.
Speed boats are faster, take less people, and cost a little more. Male is also linked by ship with Sri Lanka.
Trans Maldivian Airways
With the world's largest seaplane fleet, Trans Maldivian Airways takes you from Velana International Airport in Malé to your island holiday destination.
Trans Maldivian Airways currently offers transfer services to more than 80 Maldives resorts, flying over a million passengers per year to their holiday hideaways. Life is about the journey, and this will likely be the most scenic one in your life.
Maldives Domestic Airlines
There are two major domestic airlines operating in Maldives; Maldivian by Island Aviation Services and Fly Me by Villa Air.
The best time to visit Maldives is during April; as the weather is good and the price is relatively cheaper than during the peak season.
Hotels and Resorts in The Maldives.
Maldives Travel Guides - Maldives Maps.
Weather in Asia:
Local weather forecasts for destinations around Asia.
Travel Notes Online Guide to Travel
Africa - Asia - Caribbean - Europe - Middle East - North America - Oceania - South America.

The Travel Notes Online Guide to Travel helps visitors plan their trip with country and city travel guides, local tourist information, reviewed web sites, and regular travel articles.

Mongolia.
Travel and Tourism Guides on Travel Notes
If Travel Notes has helped you, please take a moment to like us on Facebook and share with your friends on social media.


Travel & Tourism With Industry Professionals.