Short URL: https://tnot.es/MV
Maldives Travel and Tourism on Travel Notes

Find Maldives Travel and Tourist Information with links to official travel and tourism websites and state resources for visitors to The Maldives.
About Maldives
Fishing dominates the economy of Maldives; accounting for over 60% of all exports, although the tourist trade is growing.
The Republic of Maldives consists of some 2,000 small coral islands just north of the equator; south-west of the southern tip of India.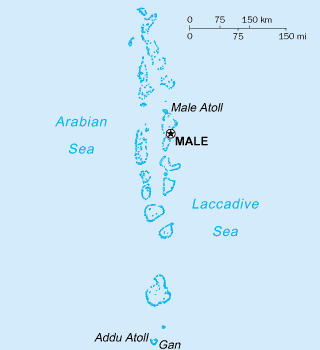 The official language of Maldives is Divehi, an Indo-European language related to Sinhalese.
Weather in Asia:
Local weather forecasts for destinations around Asia.
Male was part of a British protectorate from 1887 to 1965, when it became the capital of the newly independent Maldive Islands, renamed Republic of Maldives in 1968.
Maldives Airports:
The capital of the Maldives is too small to host an airport, so visitors will land on the nearby island of Hulhule.
It takes about a quarter of an hour to reach Male by dhoni. These motorboats can accommodate 30-40 people and cost around $10 to charter, or less with bargaining.
Speed boats are faster, take less people, and cost a little more. Male is also linked by ship with Sri Lanka.
Trans Maldivian Airways:
Let the world's largest seaplane fleet take you from Ibrahim Nasir International Airport to your island holiday destination.
There are two major domestic airlines operating in Maldives; Maldivian by Island Aviation Services and Fly Me by Villa Air.
The best time to visit Maldives is during April; as the weather is good and the price is relatively cheaper than during the peak season.
Sheraton Maldives Full Moon Resort & Spa - Male, Maldives.
Maldives National Museum
Situated in the only remaining structure of the Sultan's Palace, which was destroyed in 1968, the Museum's collection comprises items of historical and cultural interest from both the Pre-Islamic and Islamic eras of Maldivian history.
Maldives Interactive:
Unfortunately most of this site is in German but there are plenty of photographs and diagrams for you to peruse. If you can read German, then you'll get even more out of a visit here.
My Maldives:
If your idea of paradise is a pristine tropical island with swaying palm trees and pure white beaches surrounded by crystalline lagoons of varying shades of blue – then the Maldives Islands will definitely fit the bill.
The Maldives - Festivals:
Maldivians have great national pride. In all festival planning a feeling of family is sensed as women, men, and children share in the preparation of food, decoration, and entertainment programmes.

Add a Business Listing - Add a Destination Guide - Add a Place to Stay.



If you find Travel Notes useful, please take a moment to like us on Facebook and share with your friends on social media.
Asia Index - Asia Tourism - Asia Travel Websites.