Victoria Peak, Hong Kong by Florian Wehde on Unsplash.
Travel Notes: Asia - Hong Kong Travel Notes - Updated 04 August, 2023.

Short URL: https://tnot.es/HK
Hong Kong Travel and Tourism on Travel Notes

Find Hong Kong Travel and Tourist Information with links to official travel and tourism websites and state resources for visitors to Hong Kong.
About Hong Kong
Hong Kong is one of the most densely populated regions in the world - only neighbouring Macau beats it.
Hong Kong's dynamic atmosphere, stunning skyline, diverse culinary scene, and unique blend of cultures make it a fascinating destination for travellers from around the world.
From Nomadic Gatherings
Landing in Hong Kong - Around Hong Kong - People's Republic of China - Green Tea of China - British in Canton - Guangzhou.
Map of Hong Kong
Since its return to China, Hong Kong has been referred to as 'one country, two systems'.
Hong Kong is a special administrative region of the People's Republic of China, located on the south-eastern coast of the country.
It has an unique status, with a high degree of autonomy under the 'one country, two systems' principle.
The city is known for its vibrant economy, rich cultural heritage, and unique blend of Eastern and Western influences.
Brief History
Hong Kong was a British colony for over 150 years until its sovereignty was transferred to China in 1997.
Throughout its history, Hong Kong has been a major trading port and a gateway to China.
Cuisine
Hong Kong is a paradise for food lovers.
Its culinary scene is renowned worldwide, offering a diverse range of dishes, from traditional Cantonese cuisine to international flavours.
Dim sum, roasted meats, seafood, and street food are popular choices among locals and visitors to Hong Kong.
Culture
Hong Kong has a rich cultural heritage influenced by both Chinese and Western traditions.
Traditional Chinese customs and festivals are celebrated alongside Western holidays.
The city hosts numerous cultural events, including the Chinese New Year Parade, the Dragon Boat Festival, and the Mid-Autumn Festival.
Economy
Hong Kong has one of the world's most advanced and dynamic economies.
A global financial hub with a free-market capitalist system, low taxation, and a highly developed infrastructure, Hong Kong is a major centrer for international finance, trade, and commerce.
Language
Hong Kong has two official languages, English and Chinese (Cantonese).
English is widely spoken, especially in business and tourism sectors; making it relatively easy for international visitors to navigate the city.
Nature and Outdoor Activities
Despite being a bustling metropolis, Hong Kong also offers stunning natural landscapes and outdoor activities.
The city has several country parks, including the famous Victoria Peak, where you can enjoy panoramic views of the city.
The outlying islands, such as Lantau Island and Cheung Chau, provide opportunities for hiking, beach activities, and exploring traditional fishing villages.
Shopping
Hong Kong is a shopper's paradise with a wide array of shopping options, from high-end luxury brands to bustling street markets.
Areas like Causeway Bay, Tsim Sha Tsui, and Mong Kok offer a mix of luxury malls, department stores, and street markets where you can find anything from designer clothing to electronics and traditional Chinese crafts.
Skyscrapers and Skyline
Hong Kong's iconic skyline is famous worldwide.
The cityscape is dominated by tall skyscrapers, including the International Commerce Centre (ICC) and the Bank of China Tower.
The Victoria Harbour separates Hong Kong Island from the Kowloon Peninsula and provides a stunning backdrop to the city's skyline.
Transport
Hong Kong has an efficient and extensive public transportation system.
The Mass Transit Railway (MTR) is the backbone of the city's transport network, connecting various districts of Hong Kong Island, Kowloon, and the New Territories.
Buses, trams, ferries, and taxis are also widely available.
Unique Attractions
Hong Kong boasts several unique attractions, such as the Tian Tan Buddha statue (also known as the Big Buddha) on Lantau Island, the Symphony of Lights show in Victoria Harbour, the historical sites of the former British colonial era, and the vibrant nightlife in areas like Lan Kwai Fong.
If you intend to visit Hong Kong, there are some things you might want to consider.
With its vibrant culture, stunning skyline, and diverse attractions, Hong Kong offers a unique travel experience that you won't forget.
Accommodation
Hong Kong offers a wide range of accommodation options, from luxury hotels to budget hostels.
It is best to book your accommodation in advance, especially during peak travel seasons.
Best Time to Visit
The best time to visit Hong Kong is from October to December, when the weather is mild and comfortable.
Spring (March to May) and Autumn (September to November) are also good times to visit.
Culture
To experience the city's vibrant traditions, perhaps attend a traditional festival, like the Chinese New Year Parade or the Mid-Autumn Festival.
Immerse yourself in Hong Kong's unique culture by visiting historical sites, such as the Man Mo Temple and the Tai Kwun heritage site.
Food
Hong Kong is famous for its diverse culinary scene.
You can try traditional Cantonese cuisine, dim sum, seafood, street food, and international flavours.
Make sure to visit a local cha chaan teng, a Hong Kong-style tea restaurant, for an unique dining experience.
Hong Kong Sightseeing
Hong Kong has many iconic attractions that you won't want to miss, such as Victoria Peak, the Big Buddha on Lantau Island, Hong Kong Disneyland, and Ocean Park.
Don't forget to take a stroll along the scenic Victoria Harbour and enjoy the Symphony of Lights show.
Outdoor Activities
Hong Kong has many outdoor activities to offer, such as hiking, beach activities, and water sports.
Take a hike to the Victoria Peak or visit the outlying islands for a scenic escape.
Safety
Hong Kong is generally a safe city for travellers.
Be mindful of your belongings, especially in crowded areas, and be prepared for any current events or demonstrations that may impact your travel plans.
Shopping
Hong Kong is a shopping paradise, with many malls, street markets, and boutique shops.
Visit popular shopping areas like Causeway Bay, Tsim Sha Tsui, and Mong Kok for a retail therapy session.
Transportation
Hong Kong has an efficient public transportation system, including the MTR, buses, trams, and ferries.
Get an Octopus Card, a rechargeable stored value card, to make your travels more convenient.
Visa Requirements
Check if you need a visa to enter Hong Kong based on your country of origin.
Most countries have a visa-free arrangement with Hong Kong for stays of up to 90 days.
The capital of Hong Kong is Victoria, on Hong Kong Island. Most travellers to Hong Kong end up in Kowloon though.
Map of Victoria
The green and white Star Ferries run across Victoria Bay to the Island regularly, where buses connect to Aberdeen and Stanley.
Britain first used the island as a naval base during the opium wars with China.
The first opium war ended in 1842, and Hong Kong was ceded to the British by the treaty of Nanking.
After another conflict in 1860, Great Britain acquired Kowloon and Stonecutters island.
The 99 year lease on the New Territories expired on June 1st 1997, and Hong Kong was handed over to China; lock, stock and noon-day gun.
Hong Kong Airport
Kai Tak is out, and Chek Lap Kok Airport is in. Hong Kong's new International Airport, opened at Chek Lap Kok off the north coast of Lantau Island on 6th July, 1998.
Hong Kong Attractions
China Gateway
Many people enter China from Hong Kong. The visas are easy to obtain here, and you already feel a little of the culture before jumping over from the West, so to speak.
Where to Stay in Hong Kong
Peninsula Hotel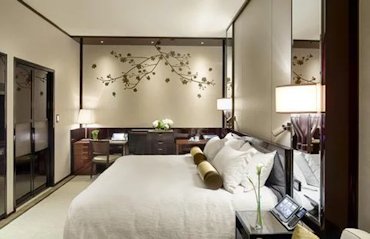 Peninsula Hotel: Salisbury Road, Kowloon.
Located on the tip of the Tsim Tsa Tsui peninsula, in Kowloon, the Peninsula Hotel offers Hong Kong's best views, and is close to all major businesses, attractions and shopping. The Star Ferry and Mass Transit Railway subway stations are only a short walk away, and a heliport is available on the roof of the hotel - for the discerning traveller.
Long hailed as one of the finest hotels in the world, with a fleet of Rolls-Royce limousines offering hotel guests luxurious transportation to and from Hong Kong International Airport and around Hong Kong itself.
Restaurants and bars at the Peninsula Hong Kong are among the most exclusive and most elegant in the city. High tea in the Peninsula Hotel Lobby is an Hong Kong institution.
From glamorous malls to bustling street markets, Shopping in Hong Kong is about the finest in all of Asia. In Hong Kong you can literally shop until you drop; with the weight of all your bargain purchases.
The Hong Kong Tourism Board (HKTB) is a government-subvented body tasked to market and promote Hong Kong as a travel destination worldwide and to enhance visitors' experience once they arrive.
Make the most of your visit to Hong Kong with this comprehensive travel guide to top tourist attractions, itinerary planning and booking accommodation, plus interactive maps and essential information on Immigration and Customs requirements.
Hong Kong - Cultural Kaleidoscope
In Hong Kong, you can simultaneously experience the old and the new. Experience the contrast between modern skyscrapers and centuries-old temples, as well as high-speed railways and colonial-era trams.
Discover Hong Kong's unique colonial heritage and architecture through its 'tong lau', from Wan Chai's coloured houses to Tai Ping Shan, Lai Chi Kok and more.
Hong Kong Heritage Tours
Many reminders of Hong Kong's colonial heritage can be seen on a do-it-yourself, Old Town Walking Tour.
Hong Kong Travel Guides - Hong Kong Maps.
Weather in Asia:
Local weather forecasts for destinations around Asia.
Travel Notes Online Guide to Travel
Africa - Asia - Caribbean - Europe - Middle East - North America - Oceania - South America.

The Travel Notes Online Guide to Travel helps visitors plan their trip with country and city travel guides, local tourist information, reviewed web sites, and regular travel articles.

India.
Travel and Tourism Guides on Travel Notes
If Travel Notes has helped you, please take a moment to like us on Facebook and share with your friends on social media.


Travel & Tourism With Industry Professionals.