Victoria Peak, Hong Kong by Florian Wehde on Unsplash.
Travel Notes: Asia - Hong Kong Travel Notes.

Short URL: https://tnot.es/HK
Hong Kong Travel and Tourism on Travel Notes

Find Hong Kong Travel and Tourist Information with links to official travel and tourism websites and state resources for visitors to Hong Kong.
About Hong Kong
Since its return to China, Hong Kong has been referred to as 'one country, two systems'.
From Nomadic Gatherings:
Landing in Hong Kong; Around Hong Kong; People's Republic of China; Green Tea of in Canton; Guangzhou.
Hong Kong is one of the most densely populated regions in the world - only neighbouring Macau beats it.
Map of Hong Kong
Hong Kong Travel Guides - Hong Kong Maps.
Weather in Asia:
Local weather forecasts for destinations around Asia.
The capital of Hong Kong is Victoria, on Hong Kong Island. Most travellers to Hong Kong end up in Kowloon though.
The green and white Star Ferries run across Victoria Bay to the Island regularly, where buses connect to Aberdeen and Stanley.
Britain first used the island as a naval base during the opium wars with China.
The first opium war ended in 1842, and Hong Kong was ceded to the British by the treaty of Nanking.
After another conflict in 1860, Great Britain acquired Kowloon and Stonecutters island.
The 99 year lease on the New Territories expired on June 1st 1997, and Hong Kong was handed over to China; lock, stock and noon-day gun.
Hong Kong Airport
Kai Tak is out, and Chek Lap Kok Airport is in. Hong Kong's new International Airport, opened at Chek Lap Kok off the north coast of Lantau Island on 6th July, 1998.
China Gateway
Many people enter China from Hong Kong. The visas are easy to obtain here, and you already feel a little of the culture before jumping over from the West, so to speak.
Where to Stay in Hong Kong
Peninsula Hotel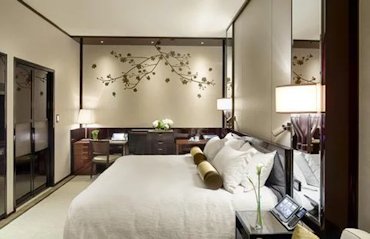 Peninsula Hotel: Salisbury Road, Kowloon.
Located on the tip of the Tsim Tsa Tsui peninsula, in Kowloon, the Peninsula Hotel offers Hong Kong's best views, and is close to all major businesses, attractions and shopping. The Star Ferry and Mass Transit Railway subway stations are only a short walk away, and a heliport is available on the roof of the hotel - for the discerning traveller.
Long hailed as one of the finest hotels in the world, with a fleet of Rolls-Royce limousines offering hotel guests luxurious transportation to and from Hong Kong International Airport and around Hong Kong itself.
Restaurants and bars at the Peninsula Hong Kong are among the most exclusive and most elegant in the city. High tea in the Peninsula Hotel Lobby is an Hong Kong institution.
From glamorous malls to bustling street markets, Shopping in Hong Kong is about the finest in all of Asia. In Hong Kong you can literally shop until you drop; with the weight of all your bargain purchases.
The Hong Kong Tourism Board (HKTB) is a government-subvented body tasked to market and promote Hong Kong as a travel destination worldwide and to enhance visitors' experience once they arrive.
Make the most of your visit to Hong Kong with this comprehensive travel guide to top tourist attractions, itinerary planning and booking accommodation, plus interactive maps and essential information on Immigration and Customs requirements.
Hong Kong - Cultural Kaleidoscope
In Hong Kong, you can simultaneously experience the old and the new. Experience the contrast between modern skyscrapers and centuries-old temples, as well as high-speed railways and colonial-era trams.
Discover Hong Kong's unique colonial heritage and architecture through its 'tong lau', from Wan Chai's coloured houses to Tai Ping Shan, Lai Chi Kok and more.
Hong Kong Heritage Tours
Many reminders of Hong Kong's colonial heritage can be seen on a do-it-yourself, Old Town Walking Tour.
Travel Notes Online Guide to Travel
The Travel Notes Online Guide to Travel helps visitors plan their trip with country and city travel guides, local tourist information, reviewed web sites, and regular travel articles.

Join Michel on Meta-Travel.

Airlines and Airports.

Add a Business Listing - Add a Destination - Add a Place to Stay - Add URL.



Affiliates - Asia Tourism - Asia Travel Websites.
If you find Travel Notes useful, please take a moment to like us on Facebook and share with your friends on social media.