Ruins of St. Paul's, Macau by Elina Sitnikova on Unsplash.
Travel Notes: Asia - Macau Travel Notes - Updated 16 July, 2023.
Short URL: https://tnot.es/MO
Macau Travel and Tourism on Travel Notes

Find Macau Travel and Tourist Information with links to official travel and tourism websites and state resources for visitors to Macau.
About Macau
Macau is a small peninsula in China, often referred to as the 'Las Vegas of Asia' due to its numerous casinos and entertainment options.
As well as the glitz and glamour of the casinos, Macau is also known for its rich history and culture, with an unique blend of European and Chinese influences.
Map of Macau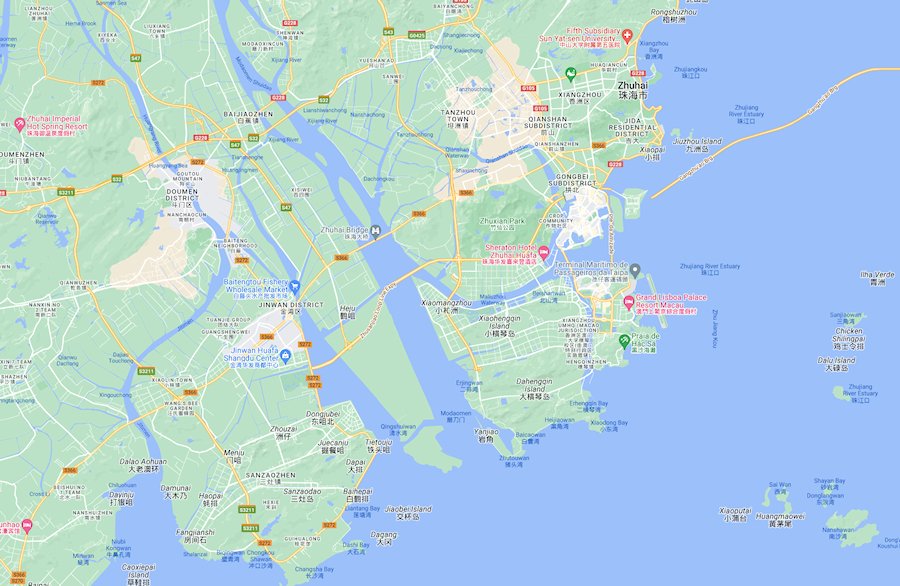 Macau is a former overseas territory of Portugal, on the south-eastern coast of China, 64 km west of Hong Kong.
In December 1999, Macau reverted back to China as another special administrative region.
Macau, also known as the Macao Special Administrative Region of the People's Republic of China, is a vibrant city located on the southern coast of China; across the Pearl River Delta from Hong Kong, and about 60 kilometers south-west of Guangzhou.
Macau is known for its unique blend of Chinese and Portuguese cultures, which is reflected in its architecture, cuisine, and lifestyle.
Brief History
Macau was originally a sparsely populated region inhabited by fishermen and farmers.
In the 16th century, Portuguese traders arrived in the area and established a settlement.
Macau became a Portuguese colony in 1557 and remained under Portuguese rule for over 400 years.
In 1999, Macau was handed over to China and became a Special Administrative Region, similar to Hong Kong.
Cuisine
Macanese cuisine is a delicious blend of Chinese and Portuguese flavours.
It features a wide variety of dishes, including African chicken, Portuguese-style egg tarts, bacalhau (salted codfish), and dim sum.
The city is also famous for its street food, such as pork chop buns and almond cookies.
Culture and Heritage
Macau's culture is a fusion of Chinese and Portuguese influences.
The city boasts a mix of traditional Chinese temples, colonial-style buildings, and modern architecture.
The Historic Centre of Macau, an UNESCO World Heritage site, showcases the city's unique cultural blend with its well-preserved architectural landmarks.
The Ruins of St. Paul's, a 16th-century church facade, is one of the most famous attractions in Macau.
Gaming and Entertainment
Macau is often referred to as the 'Las Vegas of Asia' due to its thriving gambling industry.
It is the world's largest gambling center, surpassing even Las Vegas in terms of revenue.
The city is home to numerous glamorous casinos, luxury resorts, and entertainment complexes.
Visitors from around the world come to Macau to try their luck at the blackjack tables, slot machines, and other games of chance.
Tourism
Aside from its casinos, Macau offers a range of attractions and activities for tourists.
The city is known for its vibrant nightlife, with plenty of bars, clubs, and live entertainment venues.
The Macau Tower, standing at 338 meters tall, provides breathtaking views of the city.
Other popular tourist destinations include Senado Square, A-Ma Temple, Macau Fisherman's Wharf, and the Cotai Strip.
Transportation
Macau has a well-developed transportation system.
The Macau International Airport serves as a gateway to the city, connecting it to various destinations in Asia.
Macau's compact size makes it easy to navigate, and public buses and taxis are readily available.
There are also ferry services that connect Macau to Hong Kong and mainland China.
Macau is a fascinating destination that offers an unique blend of history, culture, entertainment, and cuisine.
Macau Tourist Map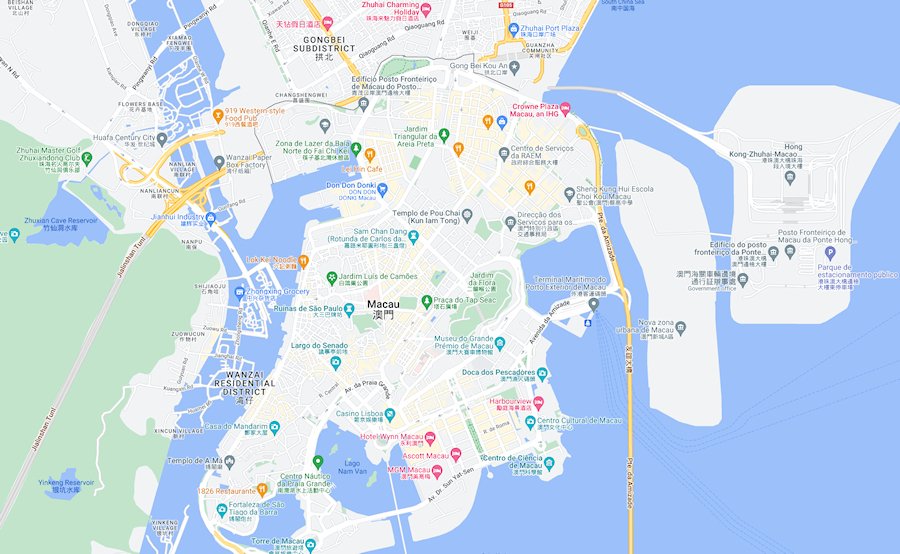 Its combination of Chinese and Portuguese influences, along with its vibrant casino industry, make it a truly distinctive city in the world.
Exploring Macau
A-Ma Temple
A-Ma Temple is one of the oldest Taoist temples in Macau. The temple is dedicated to the goddess of seafarers, and it offers a glimpse into Macau's spiritual side.
Explore its intricate architectural details and enjoy the serene atmosphere.
Coloane
Explore the natural beauty of Coloane, the southern-most part of Macau.
Hikers can enjoy the Coloane Trail and the Coloane Seac Min Pun Ancient Path, while beach lovers can chill out on Hac Sa Beach.
Coloane has several local restaurants along the shoreline and a small village that still maintains its serene vibe.
Cotai Strip
Macau is known as the 'Las Vegas of Asia' due to its glamorous casinos and entertainment resorts
Cotai Strip is lined with luxurious hotels, resorts, shopping malls, and entertainment venues; a complete contrast to the serenity of A-Ma Temple.
Macau Museum
Dive into Macau's history and culture by visiting the Macau Museum.
It's located within the Mount Fortress, an historic military fort, and offers a comprehensive overview of Macau's past through interactive exhibits and displays.
Macau Tower
Experience the thrill of Macau Tower, a landmark offering breathtaking views of the city.
Enjoy panoramic vistas from the observation deck.
Ruins of St. Paul's
Just a short walk from Senado Square, you'll find the iconic Ruins of St. Paul's, an UNESCO World Heritage Site.
This facade is the remains of a 16th-century church, and it's one of Macau's most famous landmarks.
Senado Square
In the heart of Macau Peninsula, Senado Square is a bustling pedestrian area surrounded by historic buildings.
Admire the beautiful Portuguese-style architecture, shop for souvenirs, and try local snacks like almond cookies or Portuguese egg tarts.
Taipa Village
Take a stroll through Taipa Village, a charming area known for its narrow streets, traditional houses, and delicious food.
Experience the fusion of Chinese and Portuguese influences, and sample some Macanese cuisine.
Macau is well worth the one hour boat ride from the former British colony of Hong Kong.
The gambling casinos in the territory contribute a large portion of the tax revenues, thanks in part to the visitors from Hong Kong. The big rollers come in by helicopter.
In the 18th century Macau was one of the world's richest cities, through trading between China and the west.
Macau lost its dominance in Chinese trade due to the silting of its harbour and the growth of the port of Hong Kong.
As its trade declined, Macau gained a reputation as a smuggling and gambling centre.
Macau Tourist Information:
The official government tourist office website.
TurboJet:
Sailings from Macau to Hong Kong and Shenzen.
The peninsula is linked by bridge to one of the Taipa islands, which in turn is connected by causeway with Coloane.
Two good beaches are on Coloane: Hac Sa and Cheoc Van. Windsurfing and horse riding are possible at Hac Sa.
The 400 year-old Kun Iam Temple is the city's most historic; dedicated to the queen of heaven and goddess of mercy.
Of Interest
Built in 1602, by Japanese Christians fleeing persecution in Nagasaki, the ruins of St. Paul's Church are the symbol of Macau. Only the facade and a large stairway up to it remain.
The Monte Fort overlooks this landmark and has a good view over most of Macau.
Macau Travel Guides - Macau Maps.
Weather in Asia:
Local weather forecasts for destinations around Asia.
Travel Notes Online Guide to Travel
Africa - Asia - Caribbean - Europe - Middle East - North America - Oceania - South America.

The Travel Notes Online Guide to Travel helps visitors plan their trip with country and city travel guides, local tourist information, reviewed web sites, and regular travel articles.

Malaysia.
Travel and Tourism Guides on Travel Notes
If Travel Notes has helped you, please take a moment to like us on Facebook and share with your friends on social media.


Travel & Tourism With Industry Professionals.