Short URL: https://tnot.es/PN
Pitcairn Travel and Tourism on Travel Notes

Find Pitcairn Travel and Tourist Information with links to official travel and tourism websites and state resources for visitors to Pitcairn Islands.
About Pitcairn Islands
Pitcairn is inhabited by descendants of the Bounty mutineers and their Tahitian companions.
Located halfway between New Zealand and South America, Pitcairn Island can only be accessed by sea.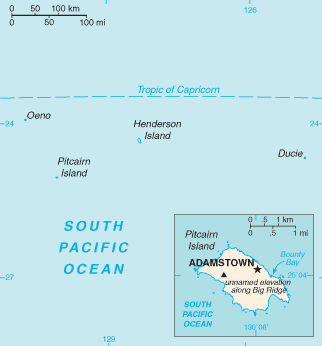 The Pitcairn Islands group is a British Overseas Territory. It comprises the islands of Pitcairn, Henderson, Ducie and Oeno.
The capital of Pitcairn Islands is Adamstown, on Bounty Bay.
For two months the Bounty Mutineers combed the Cooks, Tonga and the eastern islands of Fiji for a home; and it was almost in desperation that Christian, recalling or stumbling on Carteret's account, sailed eastwards again for Pitcairn, which he reached on 15 January 1790.
Bounty Mutiny and Pitcairn Island:
What has helped to perpetuate the romantic fascination with the mutiny is the existence of a small community on Pitcairn Island directly descended from the mutineers and their Tahitian wives.
Pitcairn Stamps:
Pitcairn Island's first postage stamps were issued on 15 October 1940, and issues have been sought after by philatelists, investors or those seeking a fascinating hobby, ever since.
Trip To The Pitcairn Islands:
It's extraordinarily hard to get there and even after travelling thousands of miles many travellers are forced to turn back a few hundred meters short of their goal, due to impossible conditions in Bounty Bay.
Visiting Pitcairn Island:
Visitors planning to land and stay in the Islands must first obtain a licence to land and reside there, from the office of the Commissioner for Pitcairn Island. Licences, for which a fee is payable, are valid for six months but may be renewed for further similar periods by the Governor.
Weather in The Pacific:
Local weather forecasts for destinations around the Pacific region.

Add a Business Listing - Add a Destination Guide - Add a Place to Stay.



If you find Travel Notes useful, please take a moment to like us on Facebook and share with your friends on social media.
Oceania Index - Oceania Tourism - Oceania Travel Websites.