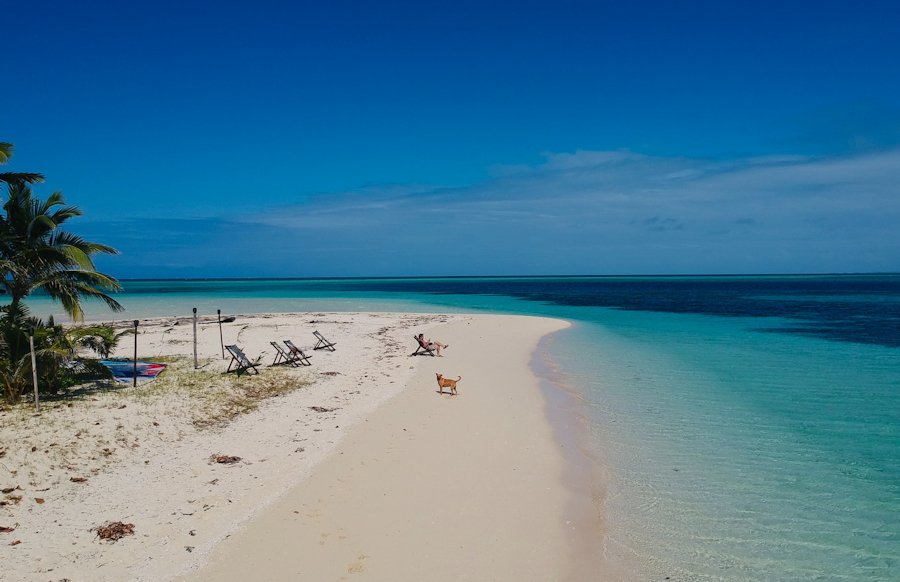 Leleuvia Island, Fiji by Josaia Cakacaka on Unsplash.
Travel Notes: Oceania - Fiji Travel Notes.

Short URL: https://tnot.es/FJ
Fiji Travel and Tourism on Travel Notes

Find Fiji Travel and Tourist Information with links to official travel and tourism websites and state resources for visitors to Fiji.
About Fiji
The Melanesian peoples are the original inhabitants of the Fijian islands; dating back some 3,000 years.
Fiji comprises more than 300 Islands and islets, halfway between Hawaii and Australia. Only about 100 of them are inhabited though.
Map of Fiji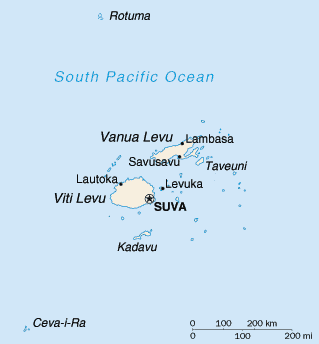 The first European to sight the islands was probably the Dutch navigator, Abel Tasman; in 1643.
James Cook, the British navigator, explored Turtle Island in 1774.
In 1874 Fijian King Cakobau allowed the islands to become a British Crown colony.
Fiji was an important supply base during the Second World War, and Fijians even served with the British forces.
Fiji gained full independence on October 10, 1970.
Set in the tropical South Pacific, Fiji is surely the essence of a tropical island paradise. White sandy beaches, swaying coconut trees, pristine oceans and waterways and a range of things to do and see that will appeal to the most discerning traveller.
Weather in The Pacific:
Local weather forecasts for destinations around the Pacific region.
Fiji Travel Guides - Fiji Maps.
Fiji Beaches:
Travel information with maps and pictures of Fijian beaches and islands.
Tourism Fiji:
The Fijian government's tourism promotion arm is responsible for promoting and marketing Fiji as a visitor destination around the world. Tourism Fiji has offices in Nadi, Sydney, Auckland, Los Angeles, London, Seoul, Mumbai and shortly Shanghai, reflecting the importance of visitors from these markets.
Fiji Airways:
Fiji's regional airline operates services to Tonga, Tuvalu and Vanuatu with routes to Wallis & Futuna, Samoa, Kiribati and Rotuma in the pipeline.
Viseisei village, at Vuda Point, is where the first Fijians arrived in their canoes some 350 years ago.
Suva
Suva, the capital of Fiji, is located on the south-east coast of Viti Levu Island.
Local attractions include the Fiji Museum, Parliament House, Tappoos Shopping Center and Colo-i-Suva National Park.
Holiday Inn Suva: Victoria Parade.
Situated on Suva Harbour's shoreline, the Holiday Inn Suva is within walking distance from the city centre. The lush tropical gardens and generous pool deck setting of the hotel's grounds combine with the scenic ocean outlook to provide a 'resort' style oasis in the midst of the hustle and bustle of city life.
Quest Suva Apartments: Renwick Road.
Located in central Suva, Quest Suva offers a range of fully equipped studio and one bedroom serviced apartments.
Nadi
Nadi, where the International Airport is situated, is the third-largest town in Fiji; located on the western side of the main island of Viti Levu.
Nadi is the tourism hub of Fiji and has a wide variety of resorts, activities, shopping and entertainment. The blend of Fijian and Western cultures offers a unique lifestyle attractive to tourists and locals alike.
Viti Levu Island
Viti Levu:
The largest island in Fiji is the arrival point for most visitors.
Vanua Levu:
The second largest island of the Fiji archipelago, and not visited by too many tourists. Visit before the hoards arrive.
Be careful when you get to the airport in Nadi. People who work there will suggest some drivers to bring you to the town of your choice often at an inflated price. Instead you should take a bus. You will save yourself a lot of cash.
By Fernando Candido.
Bukuya Village in Fiji:
Fiji relies on tourist dollars and it's the islands that bring in those tourist dollars. If people are going to fly all that way then maybe a visit to Bukuya, or a similar village, is worth consideration.
Travel Notes Online Guide to Travel
The Travel Notes Online Guide to Travel helps visitors plan their trip with country and city travel guides, local tourist information, reviewed web sites, and regular travel articles.

Join Michel on Meta-Travel.

Airlines and Airports.

Add a Business Listing - Add a Destination - Add a Place to Stay - Add URL.



Affiliates - Oceania Tourism - Oceania Travel Websites.
If you find Travel Notes useful, please take a moment to like us on Facebook and share with your friends on social media.