Short URL: https://tnot.es/WS
Western Samoa Travel and Tourism on Travel Notes

Find Samoa Travel and Tourist Information with links to official travel and tourism websites and state resources for visitors to Western Samoa.
About Western Samoa
Samoa (formerly Western Samoa) consists of two large islands, Savai'i and Upolu, and seven smaller islands.
The Samoans are the second largest group of the Polynesian people, after the Maori of New Zealand.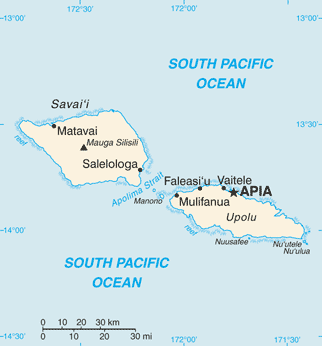 Most Samoans live in small coastal villages, and rely heavily on fishing.
Before World War I, Western Samoa was held by the Germans, and Eastern Samoa by the Americans.
At the start of the First World War, New Zealand forces entered Western Samoa and continued to administer the islands until Western Samoa achieved independence on January 1st, 1962.
If you speak English then you'll have no worries in Western Samoa, as it's the official language; along with Samoan.
Weather in The Pacific:
Local weather forecasts for destinations around the Pacific region.
Upolu is the main island in Western Samoa, although Savai'i is the largest.
Of the seven smaller islands that make up Samoa, only Apolima and Manono, are inhabited.
Exploring Upolu is easy, with a good coastal road and several roads crossing the middle of Upolu connecting Apia with the south coast.
Apia, the capital of Samoa, is on Upolu.
Apia has a large selection of hotels, inns and motels. Quite a few are pretty ordinary hotels in out of the way locations and aimed more at visiting Samoans and businessmen than tourists.
Samoa Airways, formerly Polynesian Airlines, is the state-owned flag carrier airline of Samoa with flights between New Zealand, Australia and Samoa.
Samoa Visitors Bureau:
Samoa's natural wonders of waterfalls, rainforests, mountains, volcanoes, and miles of white sand beaches beckon the adventurer seeking peace and quiet away from the hustle and bustle of modern society.
Savai'i is the third the largest Polynesian island, after Hawaii and New Zealand.
All visitors arrive at Salelologa, on the south-eastern point of Savai'i.
Five daily flights from Apia to Moata Airport take just 20 minutes. There are also ferries from Mulifanua Wharf, on the western side of Upolu.
Aggie Grey's Hotel:
Gary Cooper stayed at Aggies. So did William Holden, Raymond Burr, Cheryl Ladd, Robert Morley, Marlon Brando, Denholm Elliot, Ian Richardson and Royal Families. And many a John Citizen has stayed, felt like a star and been treated like royalty.
Sa'Moana Resort:
Sa'Moana Resort caters for up to 24 guests in high quality fales (bungalows)with private facilities. Decor is vibrant Polynesian tones to compliment the fales extensive timber features. Singles, couples, groups and families are all catered for.
Samoa Hotel Association:
Representing all accommodation and hotels in Samoa from luxury resorts to backpacker lodgings.
Travel Tip
Staying at one of the locally run beach fales around Samoa is a great way to see the natural beauty of the country and to immerse yourself in the local culture. There are few beach resorts outside of Apia Town, but at least 20 beach fales, so this is the way to go for backpackers and discerning travellers.

By Go Samoa.
American Samoa @ Travel Notes:
Six Polynesian islands, below the Equator, comprise the southern-most territory of the United States.

Add a Business Listing - Add a Destination Guide - Add a Place to Stay.



If you find Travel Notes useful, please take a moment to like us on Facebook and share with your friends on social media.
Oceania Index - Oceania Tourism - Oceania Travel Websites.