Short URL: https://tnot.es/AS
American Samoa Travel and Tourism on Travel Notes
Find American Samoa travel and tourist information with links to official travel and tourism websites and state resources for visitors to American Samoa.
Travel Notes: Oceania - American Samoa Travel Notes.
American Samoa Background Information

American Samoa at a Glance
Six Polynesian islands, below the Equator, comprise the southern-most territory of the United States.
Welcome to American Samoa.
American Samoa History
It is believed that, the first people on the Samoan Islands came by sea from southwest Asia some 3,000 years ago.
American Samoa Landscape
Unlike many island resort locations in the South Pacific, American Samoa has striven to manage its resources and maintain its scenic beauty in the most pristine condition possible.
As zoning is very strictly enforced tall, high-rise hotels and condominium buildings are not allowed to be built on the waterfront.
American Samoa Language and Culture
The Samoan culture is Polynesia's oldest.
American Samoans have a rich language that remains the main language of the people. English is the second language - spoken by all the islanders.
American Samoa Traditions and Customs
Fa'asamoa has kept Samoans strongly nationalistic and suspicious to changes that might threaten the traditional structure of their way of life.
Samoan weddings are generally a huge social event. Following the wedding service, a reception is usually held outdoors, because there's a lack of large enough facilities in most areas.
Map of American Samoa
Samoa Travel Guides - Samoa Maps.
American Samoa Hotels:
Compare hotel prices in Tafuna, Pago Pago.
The Capital City of American Samoa is Pago Pago
Pago Pago History
Pago Pago was the setting for Somerset Maughan's short story, Rain.
Pago Pago Location
Map of American Samoa
A collapsed volcanic crater makes an ideal deep-sea harbour for the capital of American Samoa.
Pago Pago Public Transportation
Pago Pago airport is situated on the south coast of Tutuila Island, about 25-minutes drive from Pago Town.
Pago Pago Sightseeing
The Samoan village leaders and the U.S. Congress have set aside the finest samples of the islands' land and seascapes as a national park.
National Park of American Samoa:
Located in Pago Pago, the two rain forest preserves and coral reef are home to unique tropical animals including the Flying Fox, Pacific Boa, sea turtles, and an array of birds and fish.
Out and About in American Samoa
American Samoa's islands are located in the heart of Polynesia, with Hawaii, Rapanui (Easter Island) and New Zealand making up the three points of the Polynesian triangle.
Islands of American Samoa
Tutuila is the largest and most populated island in American Samoa, with a rugged coast and few secluded beaches.
The mountain backdrop is steep and covered in tropical rain forest.
The Manu'a Group of islands lie about 100km east of Tutuila.
Ta'u, half National Park and spiritual centre of Polynesia, is the largest of the three islands (and furthest from Tutuila Island) but many travellers prefer the smaller islands of Ofu (wonderful sandy beach) and Olosega; which are conveniently connected by bridge.
Official American Samoa Government and Tourist Information Offices
American Samoa Government:
The official webpage of the American Samoa government.
American Samoa Visitors Bureau:
Visit American Samoa today and immerse yourself in an untouched island paradise.
Sightseeing - Top 10 Sights in American Samoa
Excursions Around American Samoa
Getting To and Around American Samoa
American Samoa by Air
Airlines and Airports - Flights.
Flights to Pago Pago - PPG
Samoa Airways flies from Pago Pago to Apia, in Western Samoa, with onward connections to Auckland, Brisbane and Sydney.
American Samoa by Road
American Samoa by Ship
American Samoa by Train
American Samoa Locals and Frequent Visitors Share Their Travel Tips
Travel safely with prior travel planning.
Prepare yourself with our essential travel tips and visitor guides from locals, other travellers, travel guide writers and bloggers.
Travel Tips

Join Michel on Meta-Travel.
Weather in American Samoa
American Samoa Resources
Samoa News Online:
Covers news from American Samoa, Samoa, and the Pacific region.
Western Samoa:
Western Samoa consists of two large islands, Savai'i and Upolu, and seven smaller islands.
Travel Notes Online Guide to Travel
The Travel Notes Online Guide to Travel helps visitors plan their trip with country and city travel guides, local tourist information, reviewed web sites, and regular travel articles.
American Samoa Accommodation
Hotels - Bed and Breakfast - Self Catering.
Most people visiting American Samoa will be looking for hotels in Pago Pago, the capital.

Official Hotel Websites
Hotel photo links direct to the official hotel website.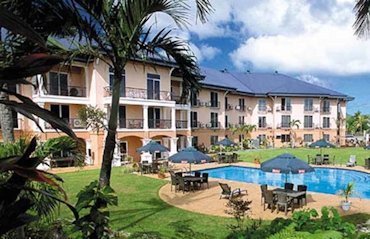 Tradewinds Hotel:
999 Ottoville Road, Pago Pago,
American Samoa.
Located on the beautiful island of Tutuila, Tradewinds Hotel is a tropical haven where guests can find peace and relaxation in style and comfort, with a superior service reflecting the spirit of American Samoa.

Affiliates - Oceania Tourism - Oceania Travel Websites.
If you find Travel Notes useful, please take a moment to like us on Facebook and share with your friends on social media.
Travel and Tourism with Industry Professionals