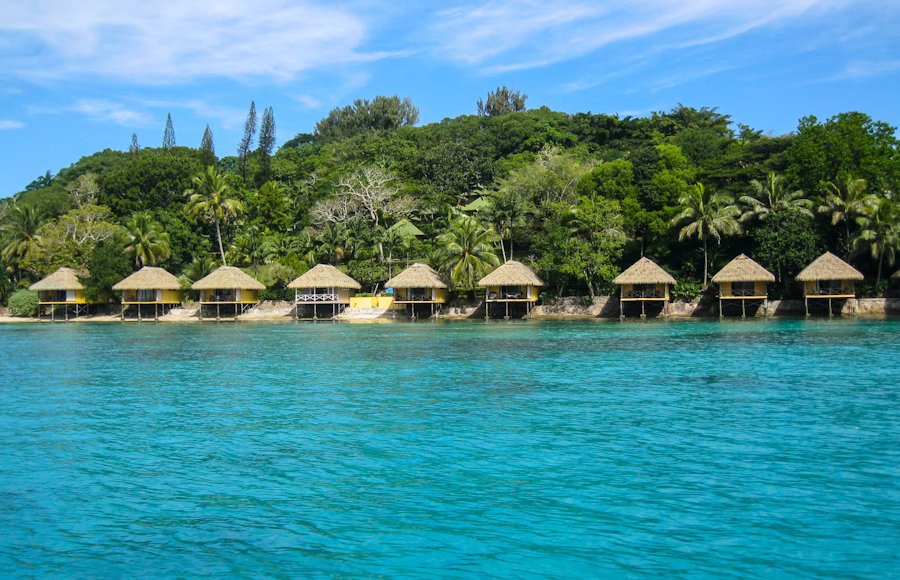 Holiday in Iririki, Vanuatu by Monika MG on Unsplash.
Travel Notes: Oceania - Vanuatu Travel Notes.

Short URL: https://tnot.es/VU
Vanuatu Travel and Tourism on Travel Notes

Find Vanuatu Travel and Tourist Information with links to official travel and tourism websites and state resources for visitors to Vanuatu.
About Vanuatu
Vanuatu consists of 83 islands in the South West Pacific; the four main islands being: Espiritu Santo, Malekula, Efate, and Tanna.
Map of Vanuatu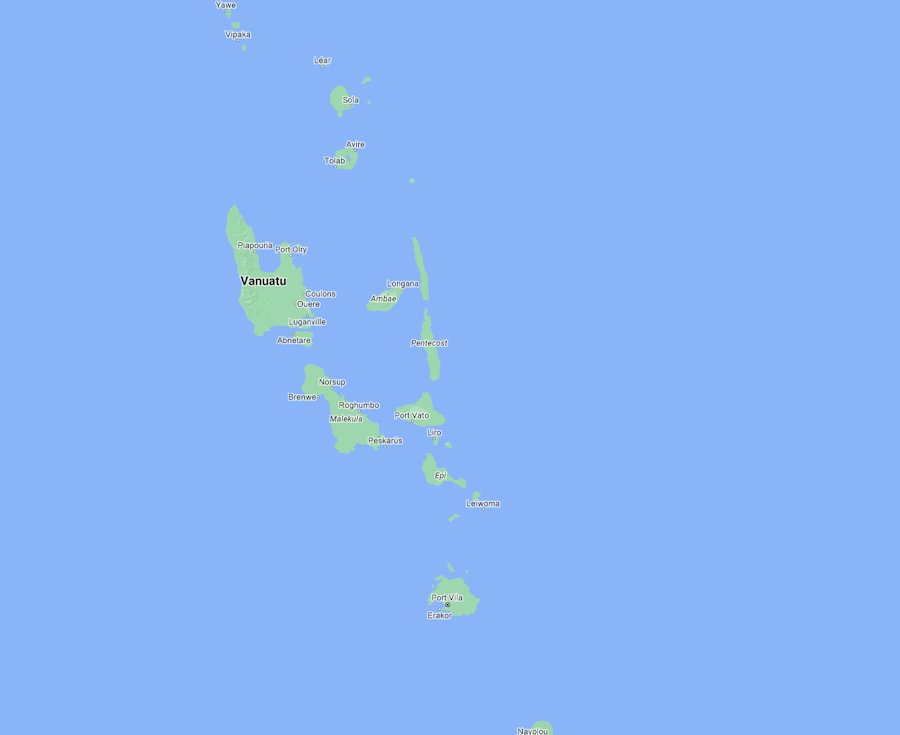 The Islands of Vanuatu
Espiritu Santo is the largest island but the capital of Vanuatu, Port-Vila, is on Efate.
The history of Vanuatu follows a course similar to many of the islands in the region.
A Portuguese explorer, Pedro de Queiros, sights them in 1606.
French navigator Louis Antoine de Bougainville sails around in 1768 and then along comes Captain James Cook, in 1774, thinking that the New Hebrides would be a fitting name for them.
The British and French jointly administer the islands; the Americans set up a base during World War II; and the New Hebrides finally becomes independent, as Vanuatu, on July 30th, 1980.
Getting to Vanuatu
Vanuatu's proximity to Australia and New Zealand makes reaching the country a breeze.
International flights connect Vanuatu with Auckland, Brisbane, Nadi, Noumea, and Sydney.
Affordable and emerging as a great holiday destination neighbouring Fiji, New Caledonia and the Solomon Islands also offer side-trip options from Vanuatu.
Cruising to Vanuatu
A number of cruise ships visit Vanuatu with calls at Luganville and Port Vila.
Getting Around Vanuatu
Domestically, Air Vanuatu connects Port Vila with Santo, Tanna, Valesdir (Epi), Norsup (Malekula) and Lonorore (Pentecost).
Vanuatu Tourism
From breathtaking beaches to heart-pumping adventures, every moment in Vanuatu is unforgettable.
Vanuatu is the land of so much to see, so much to do with a reputation for interesting, fun and educational activities to suit any traveller's expectations; from treks and abseiling to deserted beach picnics, wreck dive explorations and cultural village experiences.
Hiking in Vanuatu
From soaring, steamy mountain peaks to volcanic craters, beach trails to riverside meanders, Hiking in Vanuatu offers an excellent way to connect with the local community.
Where to Stay in Vanuatu
Many of the resorts in Vanuatu are child-free zones.
Breakas Beach Resort
Breakas Beach Resort: Pango Road, Port Vila, Vanuatu.
With all fifteen bungalows sitting along the tree-lined beach, this intimate tropical retreat provides the ultimate 'feet in the sand' beach holiday
Nestled amidst swaying palms fringed on a two kilometer private beach the Breakas Beach Resort backdrop is enhanced by the natural beauty of a private cove on Pango peninsular.
Iririki Island Resort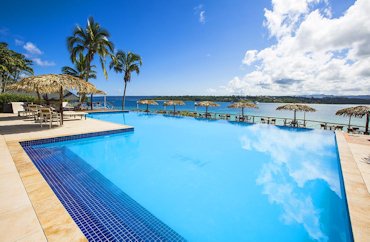 Iririki Island Resort: Lini Highway, Port Vila, Vanuatu.
Surrounded by crystal clear blue water, there's sixty-nine acres to indulge in at Vanuatu's favourite private island resort.
Just a three-minute ferry ride from Port Vila, Iririki Island Resort & Spa offers the perfect balance between peaceful seclusion and convenience.
Mangoes Resort Vanuatu
Mangoes Resort Vanuatu: Rue de Wales, Port Vila, Vanuatu.
Swap city life for South Pacific serenity in child-free Vanuatu accommodation, some with their own private plunge pools.
Overlooking Erakor Lagoon, Mangoes Resort Vanuatu features 29 bungalows and apartments with uninterrupted tropical vistas.
Vanuatu Travel Guides - Vanuatu Maps.
Weather in The Pacific:
Local weather forecasts for destinations around the Pacific region.
Travel Notes Online Guide to Travel
Africa - Asia - Caribbean - Europe - Middle East - North America - Oceania - South America.

The Travel Notes Online Guide to Travel helps visitors plan their trip with country and city travel guides, local tourist information, reviewed web sites, and regular travel articles.
Travel and Tourism Guides on Travel Notes
If Travel Notes has helped you, please take a moment to like us on Facebook and share with your friends on social media.


Travel & Tourism With Industry Professionals.

Wallis & Futuna.