Noumea, New Caledonia by Jeremy Bezanger on Unsplash.
Travel Notes: Oceania - New Caledonia Travel Notes.

Short URL: https://tnot.es/NC
New Caledonia Travel and Tourism on Travel Notes

Find New Caledonia Travel and Tourist Information with links to official travel and tourism websites and state resources for visitors to New Caledonia.
About New Caledonia
A piece of France in the South Pacific, New Caledonia is a beautiful destination with plenty on offer for active visitors, from water sports to overland hikes.
New Caledonia offers an unique blend of natural wonders, cultural diversity, and the influence of French colonial history.
It remains a captivating destination for travellers seeking adventure, relaxation, and an immersive cultural experience in the Pacific.
Map of New Caledonia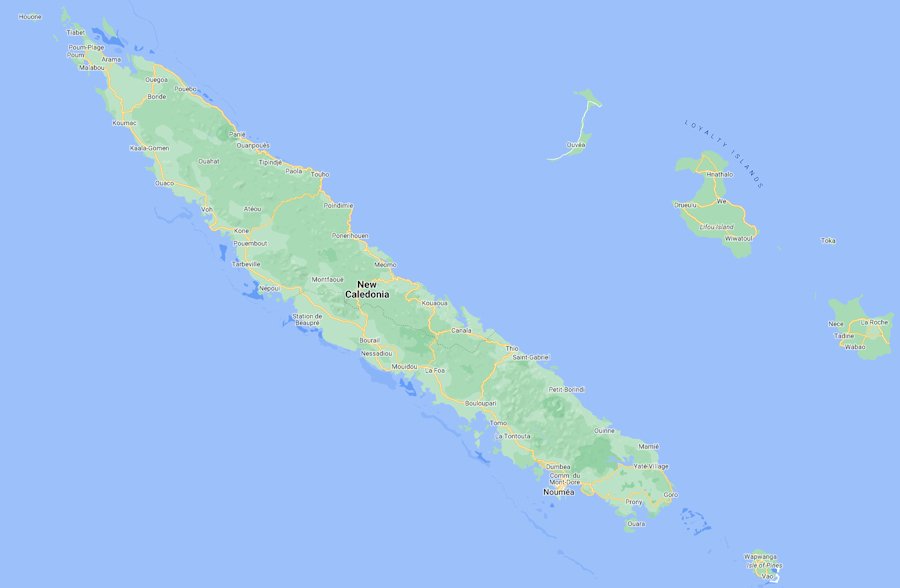 New Caledonia was given its Latin name for Scotland by the British navigator James Cook, who sighted the island in 1774.
With Nouméa as its capital city, New Caledonia is known for its stunning natural beauty, rich cultural heritage, and unique mix of French and Melanesian influences.
New Caledonia is a special collectivity of France located in the south-western Pacific Ocean.
A part of the Melanesian subregion New Caledonia comprises the main island of Grande Terre, the Loyalty Islands to the east, the Isle of Pines to the south-east, and several smaller islands; the Chesterfield Islands to the west, and the Huon Islands to the north-west.
Cultural Diversity
New Caledonia is home to a diverse population.
The indigenous Kanak people have a strong presence and contribute to the cultural richness of the region.
The French colonised the territory in the 19th century, and today there is a blend of French and Melanesian influences in the local culture, cuisine, and language.
Cultural Heritage
New Caledonia has a rich cultural heritage that is celebrated through various festivals, arts, and traditions.
The Kanak culture is deeply rooted in the territory, and visitors have the opportunity to learn about their customs, dances, and traditional crafts.
The Jean-Marie Tjibaou Cultural Centre in Nouméa is a notable institution that showcases Kanak art, history, and cultural practices.
Economy
The economy of New Caledonia is primarily based on mining, particularly nickel, which is one of the largest exports.
Tourism also plays a significant role, as visitors are attracted to the pristine natural environment and cultural heritage.
Agriculture, fishing, and light industry are other contributors to the local economy.
Geography and Climate
New Caledonia is situated about 1,200 kilometres east of Australia.
The main island, Grande Terre, is the largest in the archipelago and is characterised by rugged mountain ranges, lush rainforests, and beautiful white-sand beaches.
The climate is tropical, with warm temperatures and distinct wet and dry seasons.
Natural Beauty
New Caledonia is renowned for its breathtaking landscapes and marine biodiversity.
The lagoon surrounding the main island is an UNESCO World Heritage site and one of the largest and most diverse coral reef systems in the world.
The crystal-clear waters, vibrant coral formations, and abundant marine life make it a paradise for snorkelling, diving, and other water activities.
Outdoor Activities
With its diverse terrain and natural beauty, New Caledonia offers numerous outdoor activities.
Visitors can explore the pristine rainforests, hike through the mountainous landscapes, go horseback riding, and enjoy water sports such as sailing, kayaking, and fishing.
The Isle of Pines, in particular, is known for its stunning pine tree forests, pristine beaches, and tranquil atmosphere.
Status and Governance
New Caledonia is classified as a special collectivity of France, which means it has a certain level of autonomy while remaining an integral part of France.
The territory has its own New Caledonian Congress and a locally elected government.
It has been the subject of discussions regarding independence from France, with referendums held to determine its future status.
Unique Flora and Fauna
New Caledonia is home to a remarkable array of endemic species.
The region has a high level of biodiversity, with many plant and animal species found nowhere else on Earth.
The island is famous for its diverse flora, including the iconic New Caledonia palm (Kunzea ambigua) and the unusual cagou bird, which is a symbol of the territory.
New Caledonia is a diverse and enchanting destination that offers a perfect blend of natural beauty, adventure, and cultural experiences.
Remember to respect the local customs and traditions during your visit.
Who Goes There?
You could, if it's on your stop-over itinerary to Australia.
New Caledonia is a beautiful archipelago located in the South Pacific Ocean, known for its stunning natural landscapes, vibrant marine life, and unique blend of Melanesian and French cultures.
Best Time to Visit New Caledonia
New Caledonia enjoys a tropical climate, with warm temperatures year-round.
The dry season, from May to November, is considered the best time to visit when the weather is pleasant, and there is less rainfall.
The wet season, from December to April, can bring occasional heavy rain and cyclones.
Cultural Experiences
Immerse yourself in the unique Melanesian culture of New Caledonia by visiting traditional villages, attending local festivals, and experiencing Kanak music and dance performances.
Getting Around
Once you're in New Caledonia, you can travel between islands using domestic flights or ferry services.
To explore the main island, Grande Terre, renting a car is a convenient option.
Public transportation, including buses, is also available in and around Noumea.
Getting There
The main international gateway to New Caledonia is La Tontouta International Airport (NOU), located near Noumea, the capital city.
Several airlines operate regular flights from major cities in Australia, New Zealand, and other South Pacific countries.
Or you could visit New Caledonia on a cruise ship.
Isle of Pines
Considered one of the highlights of New Caledonia, the Isle of Pines is a pristine paradise with crystal-clear waters, white sandy beaches, and lush vegetation.
Take a dip in the natural swimming pool of Oro Bay, visit the stunning Kanumera Bay, and discover the island's rich cultural heritage.
Lifou
Another must-visit island is Lifou, known for its stunning cliffs, turquoise lagoons, and beautiful coral reefs.
Explore the picturesque Jokin Cliffs, relax on the secluded beaches, and engage with the friendly locals who belong to the Kanak indigenous culture.
Noumea
Start your exploration in Noumea, New Caledonia's vibrant capital city.

Map of Noumea, New Caledonia.
Stroll along the waterfront promenade, visit the famous Place des Cocotiers, explore the local markets, and enjoy the city's French-influenced cuisine in various restaurants and cafes.
Outdoor Activities
New Caledonia offers numerous opportunities for outdoor activities.
Go snorkelling or diving to discover the vibrant coral reefs and marine life, hike through the lush forests, or try your hand at kiteboarding, windsurfing, or paddleboarding.
Ouvea
Ouvea is famous for its breathtaking long stretches of white sand beaches and crystal-clear lagoon.
The UNESCO-listed site of Lagoons of New Caledonia, which includes Ouvea, showcases the incredible biodiversity and natural beauty of the region.
Travel Documents
Before travelling to New Caledonia, ensure you have a valid passport.
Depending on your nationality, you may also need to apply for a visa.
Check with the nearest New Caledonian embassy or consulate for specific requirements.
It's surprising how many people are content to soak up the cosmopolitan atmosphere of the French-style cafe society in the capital, Noumea, without looking around the rest of the island.
Visiting local villages and eating something new is what New Caledonia is about; if you make the effort to tour the island.
New Caledonia Travel Guides - Pacific Maps.
Weather in The Pacific:
Local weather forecasts for destinations around the Pacific region.
Travel Notes Online Guide to Travel
Africa - Asia - Caribbean - Europe - Middle East - North America - Oceania - South America.

The Travel Notes Online Guide to Travel helps visitors plan their trip with country and city travel guides, local tourist information, reviewed web sites, and regular travel articles.
Travel and Tourism Guides on Travel Notes
If Travel Notes has helped you, please take a moment to like us on Facebook and share with your friends on social media.


Travel & Tourism With Industry Professionals.

New Zealand.