Valensole in Provence, France by Antony BEC on Unsplash.
Travel Notes: Europe - France Travel Notes - Updated 04 August, 2023.

Short URL: https://tnot.es/FR
France Travel and Tourism on Travel Notes

Find France Travel and Tourist Information with links to official travel and tourism websites and state resources for visitors to France.
About France
From Paris to Bordeaux, France is a popular travel destination known for its rich history and culture, world-renowned cuisine, and picturesque countryside.
Popular tourist attractions in France include the Eiffel Tower, the Louvre Museum, the Palace of Versailles, the French Riviera, the Champagne region, and the Loire Valley.
Countries neighbouring France: Belgium, Luxembourg, Germany, Switzerland, Italy, Monaco, Andorra and Spain.
Driving Distances in Europe
Driving From Biarritz - Driving From Bordeaux - Driving From Calais - Driving From Le Havre - Driving From Lyon - Driving From Marseille - Driving From Nantes - Driving From Nice - Driving From Paris - Driving From Perpignan - Driving From Strasbourg - Driving From Toulouse.
Map of France
France Local Maps - French Departments.
There is something for everyone in France, whether you are interested in art, architecture, cuisine, or outdoor activities.
The United Kingdom is connected to France by regular ferry services across the North Sea and a train tunnel under it.
DFDS offers three routes to France from th UK: Dover to Calais or Dunkirk, and Newhaven to Dieppe.
Transportation
France has an extensive transportation system, with trains, buses, and domestic flights available to get you around the country.
If you plan on staying in one area, renting a car can be a convenient option.
Just be aware that driving in large cities like Paris can be challenging, so it may be best to use public transportation instead.
When to Visit France
The best time to visit France is during the spring (March to May) or fall (September to November) when the weather is mild and the crowds are smaller.
However, if you want to experience the famous French summer, which runs from June to August, be prepared for larger crowds and higher prices.
Where to Go in France
France has so many amazing destinations, it can be hard to choose just one.
Some of the most popular cities to visit include Paris, Lyon, Nice, and Marseille.
If you are interested in history, you might want to visit Normandy or the Loire Valley.
For outdoor activities, the French Alps and the Pyrenees offer hiking, skiing, and stunning views.
What to See and Do in France
France has an endless array of attractions to see and activities to do.
Some of the must-see sights include the Eiffel Tower, Notre Dame Cathedral, the Louvre Museum, and the Palace of Versailles.
Foodies will love exploring French cuisine, whether by dining in a Michelin-starred restaurant or visiting a local market.
And don't forget to take some time to relax and enjoy the French way of life, whether that means sipping coffee at a sidewalk café or strolling through a park.
Regional France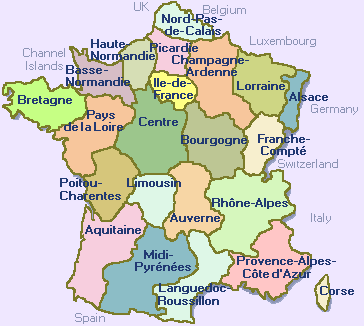 Pre 2016 Regions of France
On 1st January, 2016 France reduced the number of metropolitan regions from twenty-two down to thirteen.
Popular Regions in France
Chamonix and French Alps - French Riviera - Loire Valley and French Castles - Provence.
Destination Management Companies in France.
Bas-Rhin (67) - Haut-Rhin (68).
Dordogne (24) - Gironde (33) - Landes (40) - Lot-et-Garonne (47) - Pyrenees-Atlantiques (64).
Allier (03) - Cantal (15) - Haute-Loire (43) - Puy-de-Dome (63).
Calvados (14) - Manche (50) - Orne (61).
Cote-d'Or (21) - Nievre (58)- Saone-et-Loire (71) - Yonne (89).
Cotes-d'Armor (22) - Finistere (29) - Ille-et-Vilaine (35) - Morbihan (56).
Cher (18) - Eure-et-Loir (28) - Indre (36) - Indre-et-Loire (37) - Loir-et-Cher (41) - Loiret (45).
Ardennes (08) - Aube (10) - Marne (51) - Haute-Marne (52).
Corse-du-Sud (2A) - Haute-Corse (2B).
Doubs (25) - Jura (39) - Haute-Saone (70) - Territoire de Belfort (90).
Eure (27) - Seine-Maritime (76).
Essonne (91) - Hauts-de-Seine (92) - Paris (75) - Seine-et-Marne (77) - Seine-Saint-Denis (93) - Val-de-Marne (94) - Val-d'Oise (95) - Yvelines (78).
Aude (11) - Gard (30) - Herault (34) - Lozere (48) - Pyrenees-Orientales (66).
Correze (19) - Creuse (23) - Haute-Vienne (87).
Meurthe-et-Moselle (54) - Meuse (55) - Moselle (57) - Vosges (88).
Ariege (09) - Aveyron (12) - Haute-Garonne (31) - Gers (32) - Lot (46) - Hautes-Pyrenees (65) - Tarn (81) - Tarn-et-Garonne (82).
Nord (59) - Pas-de-Calais (62).
Loire-Atlantique (44) - Maine-et-Loire (49) - Mayenne (53) - Sarthe (72) - Vendee (85).
Aisne (02) - Oise (60) - Somme (80).
Charente (16) - Charente-Maritime (17) - Deux-Sevres (79) - Vienne (86).
Alpes-de-Haute-Provence (04) - Hautes-Alpes (05) - Alpes-Maritimes (06) - Bouches-du-Rhone (13) - Var (83) - Vaucluse (84).
Ain (01) - Ardeche (07) - Drome (26) - Isere (38) - Loire (42) - Rhone (69) - Savoie (73) - Haute-Savoie (74).
Parlez-Vous
Listen to them at neighbouring tables and in the shops. It's all Bonjour Madame, and very polite indeed.
Point to where you want to go on a map, and the French are very helpful.
Map of Paris
Try a little French first, and you will be surprised that the reply is often in English. Yes, they can tell our accents un kilometre away.
Disneyland Resort Paris
The number one tourist destination in Europe, Disneyland Paris incorporates two theme parks, seven themed hotels and a range of dining and entertainment options.
The resort also features the Disney Village entertainment and shopping complex and Golf Disneyland, a 27-hole golf course.
Paris Travel Tips
Try and visit Paris museums that have evening openings to avoid long queues and for a much less crowded atmosphere to enjoy the exhibits.
Paris Museums
The Louvre Museum should be top of the list for any visitor to Paris.
The Eiffel Tower
An object of discord, desire and fascination, the Eiffel Tower never fails to impress.
The Eiffel Tower was built by Gustave Eiffel for the 1889 Exposition Universelle; to celebrate the 100th year anniversary of the French Revolution.
Only intended to last 20 years, le Tour Eiffel was saved by the scientific experiments that Eiffel encouraged, in particular by the first radio transmissions, followed by telecommunications.
Getting Around Paris
To plan your Paris sightseeing effectively, it helps to study a map of Paris and get to know where the nearest Metro stations are.
Whether you take the metro, the bus or the RER suburban trains, Public transport in Paris covers the whole city of Paris and the Ile-de-France region.
Forget about taxis, you will discover a lot more on foot, and there is always the excellent Metro system when you need to go from one arrondissement to another.
Paris Airport Shuttle
The easiest and most economical way to move door-to-door from Roissy Charles de Gaulle and Orly Paris airports to Parisian hotels.
Where to Stay in Paris
La Baule Beach:
Located at the heart of a bay near Nantes, the 8km beach extends onto a young forest of 700 hectares of maritime pines.
Situated in the south-east of France, on the edge of the Orientale du Massif Central, the Ardeche is one of eight departments in the Rhone-Alpes region.
Ardeche-Guide:
The tourist board's official website for the Ardeche.
Oceanide Canoe:
Discover the Gorges of the Ardeche river - by canoe.
France Guide:
The Maison de la France is the official France tourism site.
About-France:
Plan a holiday in France, a business trip, or just discover the country through the pages of this online guide, packed with clear and practical information about France.
Gites de France:
Find out about accommodation options at the official website of Gites de France. Book a gite online or order one of their guides, to help you find places to stay when you're in France.
France Attractions
In the eighteenth century aristocrats came to Nice for it's mild winters. Today the attraction is the summer sun.
Where to Stay in Nice
Beyond the Riviera:
Get away from the casinos and the beaches, and discover the regions beyond the French Riviera. Alphabetical listing of the charming villages.
Monaco:
When on the Cote d'Azur, be sure to pay a visit to the Principality of Monaco.
Nice Ville:
Not only a land of tourism and leisure, Nice is also a city of creation, innovation, research and cultural exchange.
Weather Along The Coast:
Find out the weather forecast along the Riviera; from Meteo France.
Roya Valley
If you've had enough of the crowded beaches of the Cote d'Azur, you might want to head up into the hills and visit the villages in the Alpes-Azur.
Azur Car Service:
Located in Nice, Azur offers a wide range of limousine services on the French Riviera and surrounding areas.
Avignon Tourism:
Avignon is one of our favourite cities in the south of France. Located in the heart of Provence, this area produces some of the best Cotes du Rhone wines; including the popular Chateauneuf-du-Pape.
Palais-du-Papes:
Avignon was the second Rome, the seat of nine popes.
La Provence Verte:
Tucked away from the summer crowd between the Verdon, La Sainte-Baume and La Sainte-Victoire (famously painted by Cezanne), lies a region that has truly been blessed.
This 'Green' Provence consists of 37 communes (towns/villages) which have come together, combining their identities and values, in order to share with you their particular way of life and the pleasure found in a rest away from the crowd, and to help you explore and appreciate one of the most beautiful regions of France.
Most tourists travel to Corsica by sea, from Italy and mainland France.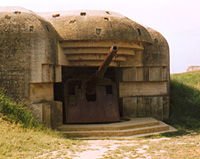 World War Battlefield Tours.
From the D-Day Landing Beaches in Normandy to poignant reminders of the First World War battlefields along the Somme - where fighting was intense from July to November, 1916 - Northern France not only attracts war veterans paying their respects to fallen comrades, but also the grateful baby boomers of the next generation for whom they fought for.
Chamonix, often regarded as the climbing capital of Europe, is a favourite with skiers and snowboarders in the winter, while hikers and mountain-bikers enjoy the trails in summer.
Only an hour from Geneva airport, Chamonix is ideally placed for charter flights from the UK.
Alpy Bus:
Revolutionary low cost airport transfer service that runs from Geneva Airport to the Chamonix Valley. Seats from as little as €19.50 one way.
If you prefer to put your skis on the roof-rack and drive, Chamonix is about 7 hours from Calais.
More than just a ski resort, Chamonix is part of a ski area - the Valle Blanche - in the shadow of Mont Blanc (4,808m); with most of the intermediate skiing around Le Brevent and La Flegere.
Compagnie du Mont-Blanc:
How to get to and around the Chamonix ski areas.
The Aiguille du Midi cable car is the highest in Europe and rewards adventurous skiers with a 20km glacier run, down the Valle Blanche.
Advanced skiers have endless possibilities in Chamonix, from the Grands Montets at Argentiere to ski-touring along the Haut Route - staying at mountain huts along the high route from Chamonix to Zermatt, in Switzerland.
Beginners are not left out and can practise on the easy runs at Le Tour and Les Houches.
Chamonix doesn't disappoint in the evening either and is lively in both summer and winter.
Built in the 19th century, Chamonix has plenty of shops, bars, cafes, restaurants and a casino.
The cobble-stoned town centre, straddling the river Arve, also has a large sports complex, ice rink, climbing-wall, cinema and bowling pub with 8 international alleys.
Chamonix Mont Blanc:
Tourist information for the Chamonix valley and Mont-Blanc massif.
Chamonix Networks:
This informative guide to Chamonix works like an A to Z of Chamonix, with hundreds of pages and links to related resources.
Pays du Mont Blanc
The Pays du Mont Blanc comprises 14 resorts and villages and more than 400 hamlets. Each mountain village has become a resort while preserving its own identity, authenticity and human dimension.
A La Carte France Tours:
Quality guided tours in France with your own private driver-guide.
France Cruises:
Florida-based company promoting barge cruises in France. Looking at the prices, you'd think the airfare was included.
Ophorus:
Based in Toulouse, the company offers intimate 'coast to coast' tours designed to expose the foreign traveller to the geographical and cultural diversity of France that few tourists see; from Bordeaux on the Atlantic seaboard, through the Midi and Provence to end on the French Riviera at Nice.
Undiscovered Mountains:
Specialists in adventure, wildlife and multi-activity holidays in beautiful and undiscovered parts of the Southern French Alps.
France Holiday Homes
Siblu Holiday Villages:
Carefully created family sanctuary for those who love contemporary camping holidays.
France Travel Guides - France Maps.
Weather in Europe:
Local weather forecasts for destinations around Europe.
Travel Notes Online Guide to Travel
Africa - Asia - Caribbean - Europe - Middle East - North America - Oceania - South America.

The Travel Notes Online Guide to Travel helps visitors plan their trip with country and city travel guides, local tourist information, reviewed web sites, and regular travel articles.

Georgia.
Travel and Tourism Guides on Travel Notes
Travel Professionals Based in France.
If Travel Notes has helped you, please take a moment to like us on Facebook and share with your friends on social media.


Travel & Tourism With Industry Professionals.