Short URL: https://tnot.es/AD
Andorra Travel and Tourism Information on Travel Notes

Find Andorra travel and tourist information with links to official travel and tourism websites and state resources for visitors to Andorra.
About Andorra
Andorra is only 468 square kilometres and has a population of around 65,000 inhabitants.
That's less people than there are in Barcelona's Nou Camp stadium every week; although during the ski season, visitors often overwhelm Andorra.
Map of Andorra La Vella - The Capital of Andorra
The Principality of Andorra is a duty-free country nestled in the Pyrenees between France and Spain.
There are no railways or airport in Andorra, but the roads are in excellent condition and there is a helicopter service if you want look at the country from the air.
The capital of Andorra is Andorra La Vella.
Parishes of Andorra
Andorra is divided up into seven territorial entities called Parishes. All seven are well differentiated and each has its own Comu - municipal council.
Andorra Guides and Directories:
Find out more about Andorra with these extensive resources.
Andorra offers a wide range of possibilities for visitors who enjoy new sights and experiences.
There are no airports in Andorra.
The closest airports to Andorra are Toulouse, Carcassone, Perpignan and Barcelona.
Visit Andorra:
Tourist information and suggestions for visitors to the Principality of Andorra.
Arinsal Ski Resort
The union of the Pal and Arinsal sectors by a twin 50-person cable-car, unique in the Pyrenees, has converted Pal-Arinsal into one of the largest skiable domains in Andorra.
Caldea is Europe's largest health spa located in the mountains and offers you 6,000 square metres of inside and outside lagoons, saunas, Jacuzzis, a grapefruit pool, an Aztecian pool, Indo-Roman baths, cascades, bubble beds and warm marble slates.
Encamp is a parish of 8,200 inhabitants located in the geographic centre of Andorra. The nearby ski station of El Pas de la Casa-Grau Roig has several slopes which are considered among the best ones in The Pyrenees.
Escaldes-Engordany
The 1978 unification of the ancient village of Engordany, situated in the Solana (sunny-side) and the little village of Les Caldes, situated in the Obaga (shade-side), makes this the youngest parish in Andorra.
Ski Andorra:
Although only a small territory, Andorra's ski resorts - Ordino-Arcalis, Pal-Arinsal, Pas de la Casa-Grau Roig and Soldeu el Tarter - offer a combined ski area of 279 km.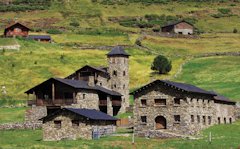 Andorra can easily be visited from Barcelona; in a day, if you're pushed for time.
What to do in Andorra:
Top sightseeing attractions and tourist activities for visitors to Andorra on short visits or longer stays. Start here to save time and explore more.
Nadal Autocars:
The Excursions section explains the routes to help you discover the authentic landscapes of Andorra, while the Scheduled Service section gives you all the information you need to travel to Andorra from Spain.
Where to Stay in Andorra
Most people visiting Andorra will be looking for hotels in Andorra La Vella, the capital.
Popular Hotels in Andorra La Vella

Add a Business Listing - Add a Destination Guide - Add a Place to Stay.



If you find Travel Notes useful, please take a moment to like us on Facebook and share with your friends on social media.
Europe Index - Europe Tourism - Europe Travel Websites.