Andorra by Jossuha Théophile on Unsplash.
Travel Notes: Europe - Andorra Travel Notes.

Short URL: https://tnot.es/AD
Andorra Travel and Tourism on Travel Notes

Find Andorra travel and tourist information with links to official travel and tourism websites and state resources for visitors to Andorra.
About Andorra
Andorra is a small landlocked country situated in the Pyrenees mountains between France and Spain.
The country is known for its ski resorts and its duty-free shopping, making it a popular tourist destination.
Map of Andorra
Andorra is a small sovereign principality located in the Pyrenees mountains between France and Spain.
The capital of Andorra is Andorra La Vella.
Andorra is one of the smallest countries in Europe, with a total area of just 468 square kilometers, and a population of around 77,000 people.
That's less people than there are in Barcelona's Nou Camp stadium every week; although during the ski season, visitors often overwhelm Andorra.
Andorra Economy
Andorra's economy is heavily dependent on tourism, with skiing being a major attraction in the winter months.
It is also a tax haven, and many foreign companies have offices in the country.
Andorra has no airport or train station, and is only accessible by road. The official currency is the euro.
Andorra Government
Andorra is a parliamentary democracy, with the head of state being the co-princes of Andorra, who are the President of France and the Bishop of Urgell, in Spain.
The government is led by a Prime Minister, who is appointed by the co-princes.
Andorra History and Culture
Andorra has a rich history and culture, with evidence of human habitation dating back to the Neolithic period.
The country was originally part of the Carolingian Empire, and later became a feudal state under the control of the Bishop of Urgell.
In 1278, Andorra signed a charter with the Count of Foix, which gave the country a degree of autonomy. The charter is still in effect today, making Andorra one of the oldest continuous democracies in the world.
The official languages of Andorra are Catalan, French, and Spanish.
Parishes of Andorra
Andorra is divided up into seven territorial entities called Parishes.
All seven parishes are well differentiated and each has its own Comu - municipal council.
Andorra Guides and Directories.
Andorra offers a wide range of possibilities for visitors who enjoy new sights and experiences.
There are no railways or airport in Andorra, but the roads are in excellent condition and there is a helicopter service if you want look at the country from the air.
The closest airports to Andorra are Toulouse, Carcassone, Perpignan and Barcelona.
Andorra is known for its stunning natural beauty, outdoor activities, and tax-free shopping.
Visit Andorra
To visit Andorra, you will need to fly into Barcelona or Toulouse and then take a bus or drive to Andorra.
The journey from Barcelona takes approximately three hours, while the journey from Toulouse takes about two hours.
Once you arrive in Andorra, there are many things to do and see.
You can explore the picturesque villages of Andorra, go hiking or skiing in the mountains, or visit Andorra's Romanesque churches and museums.
Andorra la Vella
Andorra la Vella is the capital of Andorra and is a great place to start your visit to the principality.
Map of Andorra La Vella
You can stroll through the historic streets, shop in the tax-free boutiques, and visit the Casa de la Vall; which is the seat of the Andorran parliament.
If you are interested in outdoor activities, you can head to the ski resorts of Grandvalira or Vallnord, which offer skiing, snowboarding, and other winter sports.
In the summer, you can go hiking, mountain biking, or fishing in the beautiful natural surroundings.
Overall, Andorra is a great destination for anyone who loves the outdoors, beautiful scenery, and unique culture.
Visit Andorra:
Tourist information and suggestions for visitors to the Principality of Andorra.
Arinsal Ski Resort
The union of the Pal and Arinsal sectors by a twin 50-person cable-car, unique in the Pyrenees, has converted Pal-Arinsal into one of the largest skiable domains in Andorra.
Caldea is Europe's largest health spa located in the mountains and offers you 6,000 square metres of inside and outside lagoons, saunas, Jacuzzis, a grapefruit pool, an Aztecian pool, Indo-Roman baths, cascades, bubble beds and warm marble slates.
Encamp is a parish of 8,200 inhabitants located in the geographic centre of Andorra. The nearby ski station of El Pas de la Casa-Grau Roig has several slopes which are considered among the best ones in The Pyrenees.
Escaldes-Engordany
The 1978 unification of the ancient village of Engordany, situated in the Solana (sunny-side) and the little village of Les Caldes, situated in the Obaga (shade-side), makes this the youngest parish in Andorra.
Ski Andorra:
Although only a small territory, Andorra's ski resorts - Ordino-Arcalis, Pal-Arinsal, Pas de la Casa-Grau Roig and Soldeu el Tarter - offer a combined ski area of 279 km.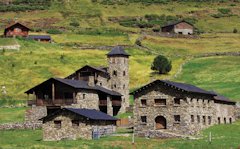 Andorra can easily be visited from Barcelona; in a day, if you're pushed for time.
Andorra Attractions
What to do in Andorra:
Top sightseeing attractions and tourist activities for visitors to Andorra on short visits or longer stays. Start here to save time and explore more.
Nadal Autocars:
The Andorra Tourist Bus operates from June to October.
Where to Stay in Andorra
Andorra Hotels:
Where to stay around the Principality of Andorra.
Budget Accommodation in Andorra.
Most people visiting Andorra will be looking for Hotels in Andorra La Vella, the capital.
Andorra Travel Guides - Andorra Maps.
Travel Notes Online Guide to Travel
Africa - Asia - Caribbean - Europe - Middle East - North America - Oceania - South America.

The Travel Notes Online Guide to Travel helps visitors plan their trip with country and city travel guides, local tourist information, reviewed web sites, and regular travel articles.
Travel and Tourism Guides on Travel Notes
If Travel Notes has helped you, please take a moment to like us on Facebook and share with your friends on social media.


Travel & Tourism With Industry Professionals.

Armenia.