Short URL: https://tnot.es/TV
Tuvalu Travel and Tourism on Travel Notes

Find Tuvalu Travel and Tourist Information with links to official travel and tourism websites and state resources for visitors to Tuvalu.
About Tuvalu
The cartographers put Tuvalu in Micronesia but sociologists would prefer to cart them off to Polynesia, as culturally that is where the majority of the inhabitants originated from.
Formerly known as the Ellice Islands, Tuvalu is a group of atolls, south of the Equator and north of Fiji. The main island of Funafuti is the capital.
The total land area is only about 26 square kilometres, but the nine islands on the coral atolls extend to almost 600 kilometres.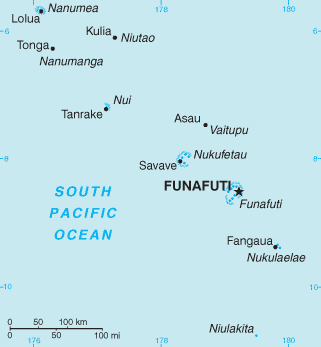 In 1974, ethnic differences within the British colony of the Gilbert and Ellice Islands caused the Polynesians of the Ellice Islands to vote for separation from the Micronesians of the Gilbert Islands.
The following year, the Ellice Islands became the separate British colony of Tuvalu.
Tuvalu achieved independence in 1978, but still relies heavily on a trust fund set up by Great Britain, Australia, and New Zealand.
Weather in The Pacific:
Local weather forecasts for destinations around the Pacific region.
Getting to Tuvalu
Fiji Airways, formerly Air Pacific, connects Funafuti with Nadi, Suva, Hong Kong and Auckland.
Getting Around Tuvalu
The Nivaga II and Manu Folau sail between the outer islands every couple of weeks.
Where to Stay in Tuvalu
The government-owned Vaiaku Lagi Hotel, in the centre of Funafuti town, is the only hotel in Tuvalu. Set on the lagoon side of the island, visitors have incredible views of the sunset.
One of the smallest and most remote countries on Earth; six of the nine coral atolls - Nanumea, Nui, Vaitupu, Nukufetau, Funafuti, and Nukulaelae - have lagoons open to the ocean; Nanumaya and Niutao have landlocked lagoons; while Niulakita does not have a lagoon.
Being made up of low lying coral atolls and islands Tuvalu's very existence is threatened by rising sea levels.
Timeless Tuvalu:
Government of Tuvalu's official Tourism web site.

Add a Business Listing - Add a Destination Guide - Add a Place to Stay.



If you find Travel Notes useful, please take a moment to like us on Facebook and share with your friends on social media.
Oceania Index - Oceania Tourism - Oceania Travel Websites.