London Channel, Kiribati by Anna Claire Schellenberg on Unsplash.
Travel Notes: Oceania - Kiribati Travel Notes.
Short URL: https://tnot.es/KI
Kiribati Travel and Tourism on Travel Notes

Find Kiribati Travel and Tourist Information with links to official travel and tourism websites and state resources for visitors to Kiribati.
About Kiribati
Kiribati, formerly the Gilbert Islands, is made up of thirty three atolls and coral islands, and one volcanic island, scattered over an area of 3.5 million square kilometers (1.35 million square miles) of ocean.
With such a large area of sea between the islands of Kiribati, it's not surprising that fish exports are a major source of currency.
Map of Kiritimati
Kiritimati, or Christmas Island, is the largest of the Kiribati group.
Kiribati, officially known as the Republic of Kiribati, is an island nation located in the central Pacific Ocean.
Around twenty of the Kiribati islands are permanently inhabited.
Banaba Island
In 1991, Britain agreed to pay for the damage done to Banaba Island by large-scale phosphate mining.
Residents of Banaba even had to be resettled on Rabi Island; a part of Fiji.
Climate Change
Kiribati is one of the countries most affected by climate change.
Rising sea levels pose a significant threat to its low-lying islands, leading to the government's concerns about the country's future and the potential need for relocation.
Culture
The I-Kiribati people have a rich cultural heritage, with traditional practices and customs deeply ingrained in their daily lives.
Dance, music, and storytelling play important roles in their cultural expression.
Economy
Kiribati's economy is primarily based on subsistence farming, fishing, and limited foreign aid.
The country faces challenges due to its remote location, limited natural resources, and vulnerability to climate change and rising sea levels.
Geography
Kiribati is divided into three island groups: the Gilbert Islands, the Phoenix Islands, and the Line Islands.
It is the only country in the world that is situated in all four hemispheres, as the Line Islands straddle the equator and the International Date Line.
The Phoenix Islands Protected Area is an UNESCO World Heritage Site.
International Dateline
Straddling the Equator at the International Date Line, Kiribati proclaimed that all of its territory lies in the same time zone as its Gilbert Islands group; even though the Phoenix Islands and the Line Islands, under its jurisdiction, lie on the other side of the International Date Line.
Language
The official language of Kiribati is English, although many of the islanders speak the native I-Kiribati, formerly known as Gilbertese.
Political System
Kiribati is a parliamentary representative democratic republic.
The President is the head of state and government, and the unicameral legislature is known as the House of Assembly.
Population
Kiribati has a population of around 120,000 people.
The majority of the population is of Micronesian ethnicity, primarily the I-Kiribati people, who are of Polynesian origin.
Tourism
Kiribati has untapped tourism potential due to its pristine beaches, coral reefs, and unique cultural heritage.
Visitors can enjoy diving, snorkelling, and finding out more about local Kiribati traditions and crafts.
Kiribati has three international gateways; located on Tarawa, Kiritimati and Kanton Islands.
The main airline that operates flights to Kiribati is Fiji Airways, with connections from Fiji and other nearby countries in the Pacific.
Most visitors typically fly into Tarawa.
Once you arrive in Kiribati, there are several things you can explore and enjoy.
Bird Watching
If you are a nature enthusiast, Kiribati offers unique opportunities for bird watching.
The remote Phoenix Islands are home to several bird species, including the rare and endangered Phoenix Petrel.
Cultural Experiences
Immerse yourself in the local culture of Kiribati by attending traditional dance performances, learning about traditional crafts, and participating in local ceremonies.
The Kiribati people have a rich cultural heritage, and you can learn a lot about their customs and way of life by engaging with the local communities.
Marine Activities
Kiribati offers excellent opportunities for snorkelling, scuba diving, and fishing.
The waters around the islands are teeming with colourful coral reefs and diverse marine species.
You can explore underwater wonders, spot tropical fish, and even swim with manta rays and sea turtles.
Tarawa Atoll
Explore Kiribati's capital of Tarawa, where you can visit the National Museum, Betio War Memorial, and the colourful local markets.
You can also learn about Kiribati's rich history and cultural heritage by visiting traditional villages and meeting the friendly locals.
The Outer Islands
Take a trip to the outer islands of Kiribati to experience the pristine beauty of the Pacific.
Each island has its unique charm, with white sandy beaches, crystal-clear waters, and abundant marine life.
Some popular outer islands to consider visiting include Butaritari, Abaiang, and Kiritimati (also known as Christmas Island).
Visit Kiribati
The Kiribati National Tourism Office (KNTO) is responsible for working with partners to encourage travellers to visit Kiribati and spend time exploring the country.
The KNTO has offices on both Tarawa and Kiritimati Atolls.
Best Time to Visit Kiribati
When planning your trip to Kiribati, it is essential to consider the weather and the best time to visit.
The country has a tropical climate with two main seasons: the dry season (April to October) and the wet season (November to March).
The dry season is generally considered the best time to visit, as the weather is more stable and suitable for outdoor activities.
The capital of Kiribati is Tarawa, which is an atoll in the Gilbert Islands.
Bairiki, an islet of Tarawa, serves as the administrative center.
Map of Tarawa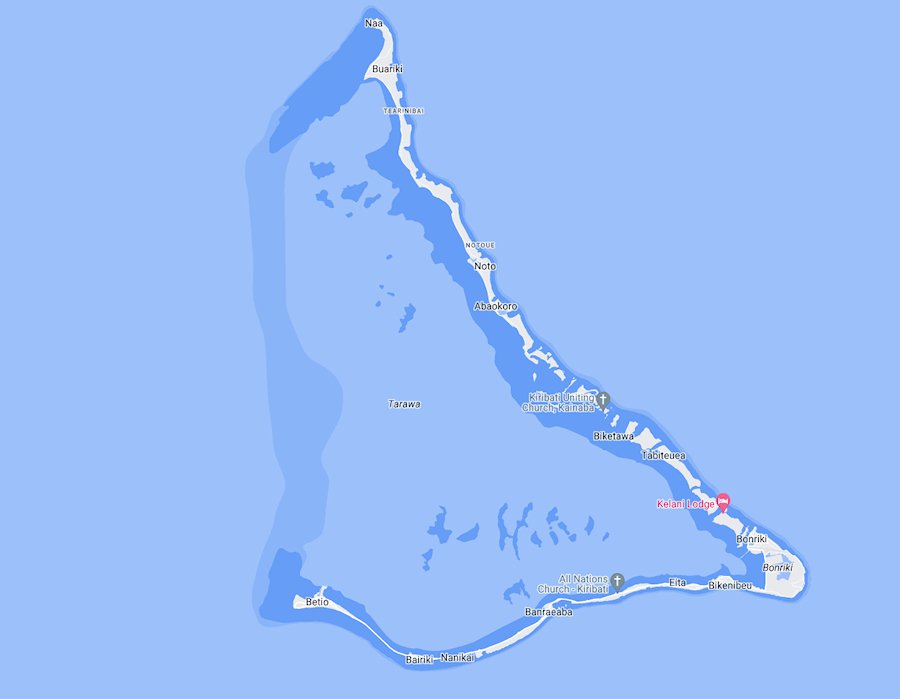 Battle of Tarawa
On November 20th, 1943, five thousand US marines stormed the beaches of Tarawa; a seemingly invincible Japanese island fortress barely the size of the Pentagon parking lots.
Before the first day ended, one third of the Marines who had crossed Tarawa's deadly reef under murderous fire were killed, wounded, or missing.
In three days of fighting, four Americans would win the Medal of Honour and six-thousand combatants would die.
Pacific Islands Travel Guides - Pacific Maps.
Weather in The Pacific:
Local weather forecasts for destinations around the Pacific region.
Travel Notes Online Guide to Travel
Africa - Asia - Caribbean - Europe - Middle East - North America - Oceania - South America.

The Travel Notes Online Guide to Travel helps visitors plan their trip with country and city travel guides, local tourist information, reviewed web sites, and regular travel articles.
Travel and Tourism Guides on Travel Notes
If Travel Notes has helped you, please take a moment to like us on Facebook and share with your friends on social media.


Travel & Tourism With Industry Professionals.

Mariana Islands.