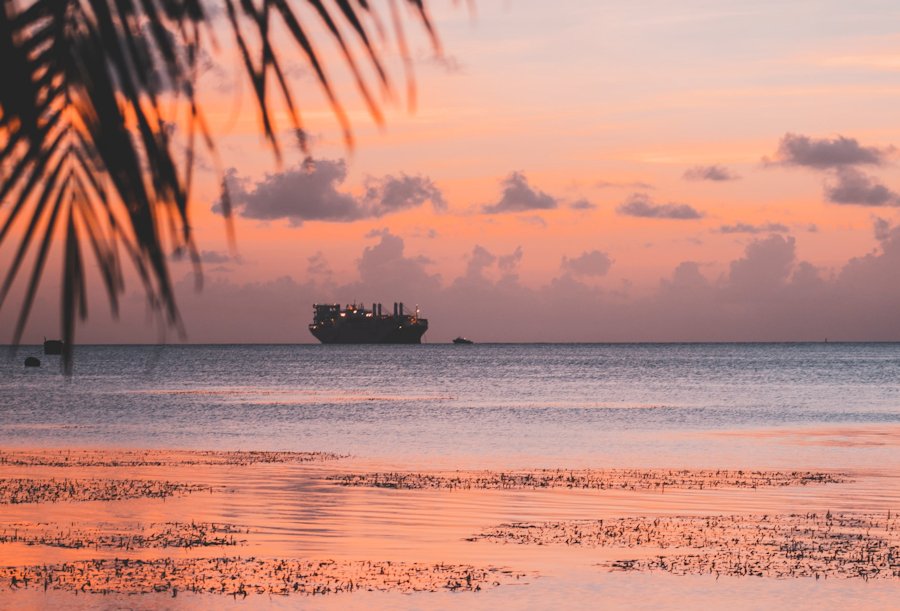 Saipan, Northern Mariana Islands by Vincent Camacho on Unsplash.
Travel Notes: Oceania - Northern Mariana Travel Notes - Updated 17 July, 2023.
Short URL: https://tnot.es/MP
Northern Mariana Islands Travel and Tourism on Travel Notes

Find Mariana Islands Travel and Tourist Information with links to official travel and tourism websites and state resources for visitors to Saipan, Tinian & Rota.
About The Mariana Islands
A Commonwealth of The United States, the Northern Mariana Islands, located in the western Pacific (east of the Philippines and south of Japan) are considered to be a part of Micronesia.
The main Mariana Islands are Saipan, Tinian and Rota.
Map of Mariana Islands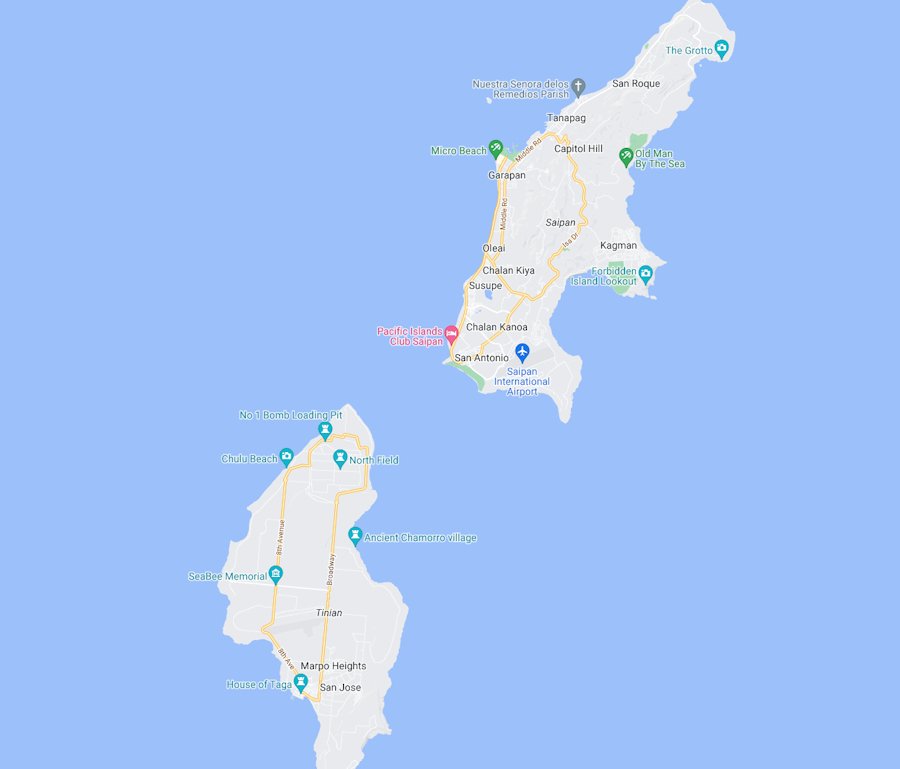 Ferdinand Magellan first sighted the Mariana islands in March 1521; and claimed 'Las Isles de las Velas Latinas' for Spain.
In 1668, the islands were called by their present name, in honour of Philip IV of Spain's widow, Mariana of Austria.
Germany bought the islands from Spain in 1899, but were forced out by the Japanese during the First World War. Guam had already been ceded to the Americans, after the Spanish-American War.
American forces entered the Mariana Islands on June 15th, 1944, and were met with fierce resistance by the Japanese.
In the following month the Americans managed to gain control of the islands; building bases and airfields as Pacific launching pads.
The Northern Marianas finally gained self government in January, 1978.
In 1986, the then US President, Ronald Reagan, proclaimed the Northern Marianas a United States commonwealth and its residents as US citizens.
The Commonwealth of the Northern Mariana Islands
The Commonwealth of the Northern Mariana Islands (CNMI) forms a chain of 14 volcanic islands: Agrihan, Alamagan, Anatahan, Asuncion, Farallon De Medinilla, Farallon De Pajaros (Uracas), Guguan, Maug (three islands), Pagan, Rota, Saipan, Sarigan and Tinian stretching over 375 miles north to south, with a land area of 181 square miles.
For stays of 30 days or less, non U.S. citizens need a valid passport and an onward ticket.
Visitors from the United States may enter the Commonwealth on proof of American citizenship.
Like a studded crescent moon upon a bed of glistening sapphires, The Marianas attracts visitors to its embrace. A tropical paradise offering the relaxing shores of magnificent beaches and crystal clear blue waters, as well as the lively bustle of night life, shopping, a wide range of ethnic restaurants, and a multitude of outdoor activities.
Relaxation, adventure, new cultural insights, and just plain fun are treasures offered in the Northern Mariana Islands. Once you've experienced this unique island spirit, the tropical warmth will be yours forever.
Getting to Northern Mariana Islands
Freedom Air and Pacific Island Aviation offer regular scheduled flights between Guam, Saipan, Tinian and Rota.
Freedom Air:
Saipan: (670) 234-8328; Tinian: (670) 433-0060; Rota: (670) 532-3801
Pacific Island Aviation:
Saipan: (670) 234-3601; Tinian: (670) 433-3600; Rota: (670) 532-0420
Located at the southern end of the island, Saipan International Airport: (SPN) receives direct flights from cities in Japan, South Korea, Hong Kong and Guam; with Japan Airlines, Continental, Northwest and Asiana.
Mariana Accommodation
Where To Stay in Mariana Islands
There are a good selection of hotels in Saipan, but only a few on Tinian.
Saipan is an ideal resort destination if you like hiking, spelunking, scuba diving or a round of golf.
Diving is probably the number one reason to come to Saipan, as the island caters to divers of all experience levels. Explore wrecks and reefs within protected lagoons or enjoy the dramatic drop-offs and blue-water dives.
The Saipan Chamber of Commerce is the largest private business organisation in the Commonwealth of the Northern Mariana Islands. With over 140 business members, the Chamber is an association aligned to make a difference in the Commonwealth community.
The Saipan Tribune is The Commonwealth of Northern Mariana Islands' first daily newspaper.
Diving in Saipan
Since 1996, Stingray Divers has been dedicated to offering western and European style diving to divers from all over the world.
If you're not a diver you can still enjoy the wonders of the deep on the yellow Submarine Sirena; an underwater tour of the Saipan lagoon in air-conditioned comfort, and marvel at the beautiful corals, schools of tropical fish in their natural environment, and historical sunken wrecks.
Saipan Sunset Cruise
Operating since 1990, Saipan Sunset Cruise offers a variety of cruises and marine sports activities for the whole family at competitive prices.
Where to Stay in Saipan
Aqua Resort Club Saipan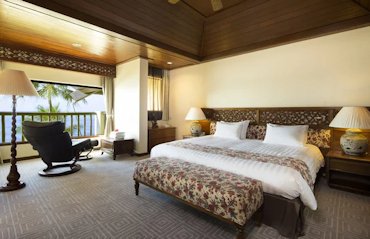 Aqua Resort Club Saipan: Achugao Beach, Saipan.
Saipan's premier beachfront resort hotel is located at Achugao Beach, with stunning views overlooking the Pacific Ocean.
Guests at the Aqua Resort Club Saipan enjoyed the sea-view swimming pool, health spa and choice of restaurants.
Not the smallest of the Northern Mariana Islands, but the most laid back, until the casino came on the scene.
The first nuclear weapon was dropped on Hiroshima from a B-29 taking off from one of the airfields on Tinian.
The Navy maintains a training area on Tinian, within the Military Lease Area, with limited activities in San Jose Harbour.
Tinian International Airport
For a long time just serving inter-island passenger traffic between Saipan, Rota and Guam, the newly completed Tinian International Airport (TIQ) runway positions Tinian for direct flights from Asia; for its casino-hotel facility.
Rota is getting to be more than just a day trip from Saipan. The diving is said to be excellent, and there is plenty to see on land.
Rota is still considered by many to be Micronesia's best kept secret. If only the population of 3,000 knew that we were spreading the word about this island paradise, only 30 minutes by air from Saipan or Guam.
Rota Airport: (ROP) handles passenger traffic from Saipan and Guam.
Rota Resort and Country Club:
Nestled on a lush green hillside, the Rota Resort & Country Club sweeps over 560 acres of swaying coconut trees, golden beaches, and a kaleidoscope of tropical flowers.
Weather in The Pacific:
Local weather forecasts for destinations around the Pacific region.
Travel Notes Online Guide to Travel
Africa - Asia - Caribbean - Europe - Middle East - North America - Oceania - South America.

The Travel Notes Online Guide to Travel helps visitors plan their trip with country and city travel guides, local tourist information, reviewed web sites, and regular travel articles.

Marshall Islands.
Travel and Tourism Guides on Travel Notes
If Travel Notes has helped you, please take a moment to like us on Facebook and share with your friends on social media.


Travel & Tourism With Industry Professionals.