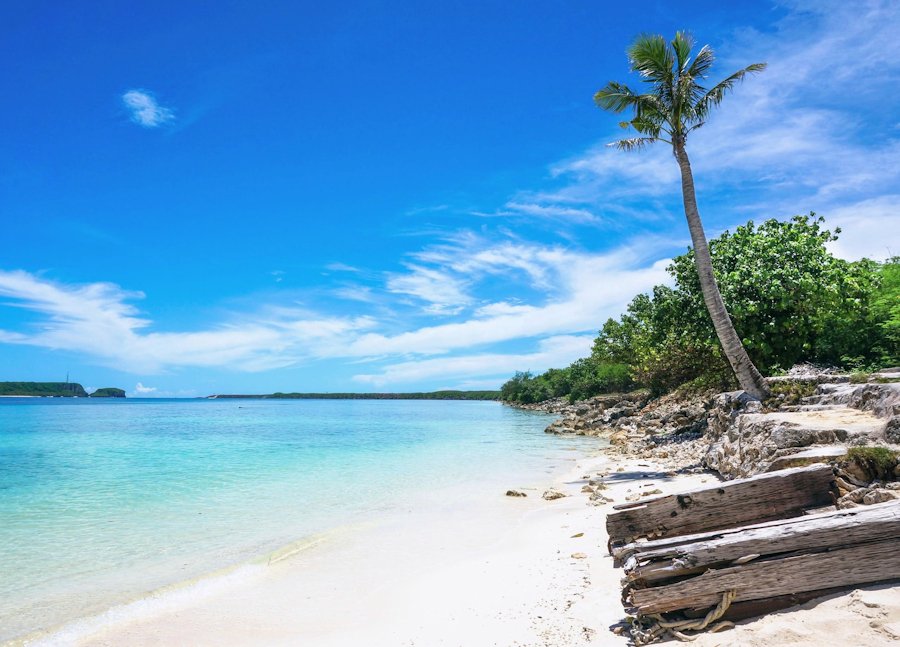 Family Beach, Piti, Guam by Danny Mc on Unsplash.
Travel Notes: Oceania - Guam Travel Notes.
Short URL: https://tnot.es/GU
Guam Travel and Tourism on Travel Notes

Find Guam Travel and Tourist Information with links to official travel and tourism websites and state resources for visitors to Guam.
About Guam
Guam, a territory of the United States located in the western Pacific Ocean, is known for its beautiful beaches, lush landscapes, and rich cultural history.
Guam is a popular tourist destination, offering various activities such as snorkeling, diving, and water sports.
In addition, the island has several historical sites related to its role in World War II and its indigenous Chamorro culture.
Map of Guam
Home to a large US base, Guam is the largest and southernmost of the Mariana Islands; situated about 1,500 miles east of the Philippines.
Guam has a population of around 170,000 people and its capital city is Hagatna.
The American day begins in Guam.
Guam may be an unincorporated territory of the United States, but the islanders still call areas of the island after parts of the body.
The capital, Agana or Hagatna, means blood. The seat of government being the blood line of the country.
Guam is a United States territory located in the western Pacific Ocean.
Brief History
The Portuguese navigator, Ferdinand Magellan, was working for Spain when he spotted the island, originally settled by the Chamorro people, in 1521.
Spain later claimed Guam as part of its empire, and the island remained under Spanish control until 1898, when the United States acquired it as part of the Treaty of Paris following the Spanish-American War.
The Japanese captured Guam in December 1941, and the Americans didn't retake it completely until the summer of 1944.
Citizens
The islanders of Guam have been US citizens since 1950.
American citizens do not need a passport to enter Guam, although they are well advised to carry one if they intend to travel anywhere else. Non US citizens will of course need a valid passport, with a US visa too.
Tourism
Guam has a tropical climate and is known for its beautiful beaches and natural landscapes.

Map of Hagatna.
Tourism is an important industry for the island, and visitors can enjoy activities such as snorkelling, diving, and hiking.
If you are interested in visiting Guam, there are many things to see and do on the island.
Guam has something for everyone. An ancient and rich cultural heritage, great beaches, warm, crystal clear waters, some of the best scuba diving and golf in the world, many other leisure activities, duty free shopping, wide range of dining and nightlife and warm, friendly people.
Boat Tours
Explore the waters around Guam on a boat tour, which may include opportunities to swim, snorkel, or even see dolphins and whales.
Chamorro Village
The Chamorro Village was created as an entity of the Guam Department of Commerce in 1978 and has since become a popular tourist attraction and gathering place for locals and visitors alike.
Chamorro Village features a variety of local merchants, artists, and craftsmen who specialize in creating and selling traditional Chamorro goods, including clothing, jewellery, and food.
One of the main events at Chamorro Village is the Wednesday Night Market. Local vendors set up food stalls and offer a variety of Chamorro and other Pacific Islander dishes, along with live entertainment and cultural performances.
Festivals and Events
Guam has several festivals throughout the year, including the Guam Micronesia Island Fair and the Guam International Marathon.
Guam Activities
Guam boasts a number of world-class golf courses, some of the best scuba diving and snorkelling in the world, underwater parks and submarine tours, sunset dinner cruises, jet skiing, wind surfing, kayaking, parasailing, sky diving, and deep-sea fishing.
Guam Museum
Located in Hagåtña, the Guam Museum focuses on the history and culture of the island.
The museum features a range of exhibits and displays that cover topics such as the island's indigenous Chamorro people, Spanish colonialism, and the role of the island in World War II.
Hiking
Guam has several hiking trails that offer beautiful views of the island's natural beauty.
The most popular trails include Mount Lamlam and Tarzan Falls.
Historical Landmarks
Guam has an ancient history and rich cultural heritage with 118 sites currently listed on the U.S. National and 155 on the Guam Registers of Historical Sites.
Ritidian Point Wildlife Refuge
This protected area is home to several species of wildlife, including green sea turtles and the Mariana fruit bat.
Shop for Souvenirs
Visit the Guam Premier Outlets or the Chamorro Village Night Market to pick up souvenirs and local crafts.
Tumon Bay
This area is known for its beautiful beaches and crystal-clear waters, and is a popular spot for snorkeling and diving.
Two Lovers Point
This scenic lookout offers stunning views of the Pacific Ocean, and is a popular spot for romantic walks and proposals.
War in the Pacific National Historical Park
This park includes historic sites from World War II, including the Fonte Plateau and the Asan Bay Overlook.
Visit Guam:
Get an idea of what's in store from the Guam visitor's bureau.
Chamorro cuisine is popular on the island, which includes dishes such as red rice, chicken kelaguen, and shrimp patties.
Betelnut:
Chewing is as common in Guam as in many other Asian countries, especially with the older grannies.
Weather in The Pacific:
Local weather forecasts for destinations around the Pacific region.
Travel Notes Online Guide to Travel
Africa - Asia - Caribbean - Europe - Middle East - North America - Oceania - South America.

The Travel Notes Online Guide to Travel helps visitors plan their trip with country and city travel guides, local tourist information, reviewed web sites, and regular travel articles.
Travel and Tourism Guides on Travel Notes
If Travel Notes has helped you, please take a moment to like us on Facebook and share with your friends on social media.


Travel & Tourism With Industry Professionals.

Kiribati.